Weekly Auctions of Exceptional Items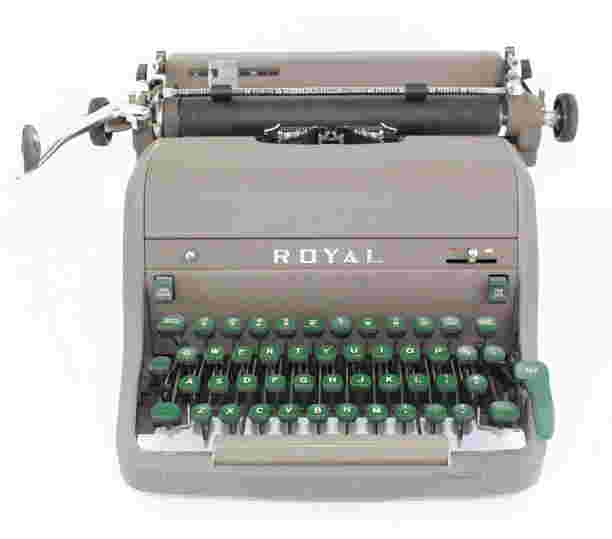 Lot 0109
Description
Hemingway Ernest
Ernest Hemingway's Typewriter, Impeccable Provenance, Used to Write "A Moveable Feast", From His Biographer A. E. Hotchner
Hemingway's "Royal" typewriter HH Serial #HHP-4938968. Circa mid-1950's used by him to write "A Moveable Feast". Superb condition with the original typewriter ribbon. Provided to Hemingway in the fall of 1959 by his close friend, A.E. Hotchner, who had found Hemingway an apartment at 1 East 62nd Street, just off Fifth Avenue. Hotchner and Hemingway both furnished the apartment just after they were in Spain for "The Dangerous Summer". Hotchner lent Hemingway this "Royal" typewriter which he used for many months working on "A Moveable Feast", his tale of early days spent among writing giants the likes of F. Scott Fitzgerald, Gertrude Stein, and James Joyce. Hemingway returned the typewriter to Hotchner in 1960, and it has remained cherished in his friend's possession since that time. Provenance: Accompanied with the typewriter is a signed letter of authenticity by A.E. Hotchner who includes the above information in the body of his LOA dated "December 23, 2019, and which he signed and had notarized; and a Signed Letter of Authenticity by John Reznikoff who personally received this photo directly from Hotchner. Both letters are transcribed below and are shown as images within this lot.
In the spring of 1948, A.E. Hotchner as a  20-something journalist, was assigned by Cosmopolitan to get from Ernest Hemingway an article on ""The Future of Literature"". He never did manage to finagle the predictive think piece from Hemingway --it burgeoned into two substitute short stories and came out Across the River and Into the Trees, which Cosmo ran in three parts -- but ""Hotch"" got to know ""Papa"" and ""Papa"" came to respect ""Hotch."" They drank together. And how they talked! Hemingway trusted Hotchner and opened up to him in Cuba, New York, Paris, Venice, on the Riviera, in Madrid, Sun Valley, and finally at the Mayo Clinic.
Letter of Authenticity from Hotcher:
" …Date Dec 23, 2019
To Whom it may concern:
The item photographed below, a "Royal" Typewriter HH Serial  #HHP-4938968, circa mid 1950's was owned by me and I used it for much of my typing in that period. In the fall of 1959, I found an apartment for Hemingway at 1 East 62nd Street, just off Fifth Avenue. I even helped furnish the place. This was after we were in Spain for "The Dangerous Summer". Hemingway needed a typewriter at this time, so I lent him my trusty Royal. Hemingway used this very typewriter for many months working on "A Moveable Feast". This was his tale of early days spent among writing giants the like of F.Scott Fitzgerald, Gertrude Stein and James Joyce. It would have been returned to me at some time in 1960. I have kept and cherished this relic for 60 years and hope the new owner will hold it dear as I did.
A.E. Hotchner "
Letter of Authenticity from Reznikoff:
December 10, 2019
To Whom It May Concern:
The following is a memorialization of my meeting with famed author A. E. Hotchner on December 9, 2019.
I have known Hotchner, or "Hotch", as he would have his friends address him, myself included, for nearly 30 years.  I first met him through an introduction from my sister, who was helping to launch the Newman's Own brand.  Hotchner was partners with Paul Newman on this venture.  It's interesting to note that Hotchner had two best friends in his life, first Ernest Hemingway, then Paul Newman.  His friendship with Hemingway and certain associated artifacts are the purpose of this letter. 
Over the years, I have sold for Hotchner many artifacts related to Hemingway or Newman.  I have also appraised many items that Hotchner donated, and even accompanied him to the Library of Congress when Jack Hemingway donated Ernest's first book inscribed to his first wife.  Hotchner is nearly 103 years old now, and has lived in Westport, near my office, for many decades.  The stories I have concerning him are too many to fill a single letter, but I'm certain it's a chapter in my book, if I ever write one. 
I arrived at his house on the morning of December 9, 2019, and while not that mobile, Hotchner was as spry, lucid, and funny as ever.  He had communicated to me that he did not plan on living this long, and the expenses of old age were catching up to him.  He communicated this in the most dignified and respectful way possible.  The items that I picked up on this trip were kept by Hotchner for nearly 60 years and represent those things having to do with Hemingway that he loved most.  The photos were inscribed by his pal "Papa" directly to him, and the matador outfit was his favorite because he could clearly see Antonio Ordonez, the greatest bullfighter of all time, wearing this very outfit in photographs from "The Dangerous Summer".  While it was a bit sad for me to see him let these treasures go, I assured him that I would provide wonderful photocopies for his entire family. 
What the future holds for Hotch I am not sure, but one thing I'm positive about is I love that man.
Yours truly,
John Reznikoff
Biography of A.E. Hotchner:
Aaron Edward "A.E." Hotchner is an American editor, novelist, playwright, and biographer
Hotchner was born in St. Louis, Missouri, in 1917 the son of Sally (née Rossman), a Sunday school administrator, and Samuel Hotchner, a jeweler and lawyer. He attended Soldan High School. In 1940, he graduated from Washington University in St. Louis with degrees in both history (A.B.) and law (J.D.). He was admitted to the Missouri State Bar in 1941, and briefly practiced law in St. Louis in 1941–42. After the outbreak of World War II, he served in the U.S. Army Air Corps as a journalist, attaining the rank of major. When the war was over, he decided to forgo law and pursue a career in writing.
Hotchner has been an editor, biographer, novelist and playwright. In 1948, he met Ernest Hemingway, and the two were close friends until Hemingway's death in 1961. Hotchner is perhaps best known for Papa Hemingway, his 1966 biography of Hemingway, whose work he had also adapted for plays and television.
Hotchner's play Sweet Prince was produced Off-Broadway in 1982, at the Theater Off-Park, starring Keir Dullea and Ian Abercrombie.
The 1993 film, King of the Hill, directed by Steven Soderbergh, is a screen adaptation of Hotchner's 1973 autobiographical novel of the same name. A Depression-era, bildungsroman memoir, it tells the story of a boy struggling to survive on his own in a hotel in St. Louis after his mother is committed to a sanatorium with tuberculosis. His father, a German immigrant and traveling salesman working for the Hamilton Watch Company, is off on long trips from which the boy cannot be certain he will return.
In 1982, with his friend and neighbor, actor Paul Newman, Hotchner founded Newman's Own, Inc. All profits from this successful line of food products and other ventures are donated to charities.
In 1988, Hotchner and Newman also co-founded the Hole in the Wall Gang Camp, a residential summer camp and year-round center for seriously ill children located in Ashford, Connecticut. The original camp was later expanded to become a number of other Hole in the Wall Camps at other locations in the U.S., Ireland, France, and Israel. The camps serve 13,000 children every year, free of charge.
Hotchner has been honored with a star on the St. Louis Walk of Fame.
Hotchner resides in Westport, Connecticut.
This item comes with a Certificate from John Reznikoff, a premier authenticator for both major 3rd party authentication services, PSA and JSA (James Spence Authentications), as well as numerous auction houses.
WE PROVIDE IN-HOUSE SHIPPING WORLDWIDE!
Ernest Hemingway's Typewriter, Impeccable Provenance
Estimate $50,000 - $100,000
Get pre-approved to bid live on

Wed, Feb 26, 2020 10:30 AM '

.
Register For Auction
Ships from
Westport , CT, US
University Archives
TOP RATED
49 Richmondville Avenue
Westport , CT 06880
USA
1,004 Followers
Auction Curated By:
Discover Items You'll Love
Discover Related Items Available Now
See All