Weekly Auctions of Exceptional Items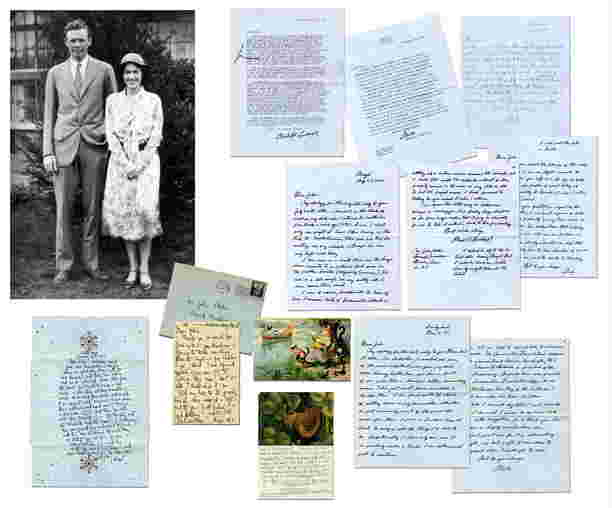 Lot 0173
Description
Lindbergh Charles
Charles Lindbergh and Anne Lindbergh Share Life and Loss with Connecticut Neighbor and Author
CHARLES A. LINDBERGH, Archive of thirty-four letters, notes, and postcards, most written by Charles A. Lindbergh and Anne Morrow Lindbergh, to John Oldrin, 1951-1980, from a variety of locations. Of the letters, six are written or signed by Charles Lindbergh, twenty by Anne Lindbergh, and a few more by Lindbergh children; most with envelopes; includes two poems, one each by Anne Morrow Lindbergh and Reeve Lindbergh. Approximately 50 pp. Some tears on envelopes from opening, but overall very good.
This charming collection of letters includes Charles Lindbergh's reflections on conservation and fame and Anne Lindbergh's love of writing and nature, as they write to their friend and Darien, Connecticut, neighbor John Oldrin over three decades. Oldrin wrote a series of successful children's books regarding animals and shared a love of poetry and children with Anne Lindbergh and a love of nature with all the Lindbergh family.
Highlights and Excerpts:
Charles A. Lindbergh letters:
           August 24, 1968, Brazil, 2 pp.
"Since I spent only one night at home before leaving on this trip to South America, there was no time for writing; and my schedule in Brazil has been very tight until today. I am now in a small plane over the Amazon river, enroute to a national park area on the northern frontier (adjoining Surinam). The air is a bit rough, so my writing will be even worse than usual."
"I am, of course, disappointed to learn of Mrs. [Ioccoci's?] lack of fundamental interest in setting up a nature reserve around the swamp; but I hope that with the definite interest of other property owners in the area we may still be able to put the project across. I look forward to talking to you about it when I return. I'm afraid this letter may be still more delayed in reaching you. Our fueling stops ahead are so far from major centers that it may be advisable for me to take it with me back to Rio for mailing."
[P.S.] "I expect to fly to the Far East after leaving Brazil. But I will be back in Scotts Cove by early October at the latest."
           May 18, 1969, Philippines, 1 p.
"This is a much-too-late reply to your April 10th note, but I have been travelling a great deal and it has been difficult to find time for writing. I am now in a small plane over the China-Sea coast of Luzon, returning to Manila. The air is a bit rough for writing; but I won't have another chance and I want to get something off to you."
           December 15, 1969, Switzerland, 3 pp.
"In desperation, I scooped up some of the more important mail from my desk before leaving Scotts Cove, and have in front of me more than a hundred letters demanding an answer. There just weren't hours available to handle them. I am faced with the choice of cutting down on my conservation activities or not answering most of the mail that arises from them. I need a hundred lives, at least, to carry on all the things I'd like to do. Unfortunately I have only one, and it is working under a tempo I am determined not to continue."
"Personally, I am not a man for anniversaries, ceremonies, and celebrations. There are always ways in which I would rather spend my time. However, I respect fully the viewpoints of people who do care for these things, and I wish you every success in the anniversary you are planning for. I think your idea of using it to emphasize the essential need of conservation and preservation is excellent."  Oldrin served as co-chairman of the 150th anniversary celebration of the town of Darien, Connecticut, incorporated in 1820.
           n.d. [ca. 1969], "I will mail this letter in Europe" [Switzerland], 1 p.:
"Sorry again about the lateness of this reply to your letter. I was on flight 2 enroute to Hong Kong when you left it in the box at Scotts Cove. It's the old problem of mail piling up beyond my ability to handle it when I return from these trips abroad. Replying to your questions in regard to the Darien celebration, I am most anxious to hold down personal publicity in my home area so far as possible. The distractions that impinge on home and on me when we are at home in Connecticut have already mounted so high that we will probably have to live elsewhere if we are to find the time we want to devote to thinking and writing."
The Lindberghs purchased land on Maui, Hawaii, in 1971 and built a vacation home there. Over the next several years, they spent more and more time there. Charles Lindbergh died there in 1974.
           February 28, 1972, Hana, Maui, Hawaii, 1 p., Typed Letter Signed
"As usual, I have been abroad and travelling almost constantly, with stops of only a few rushed days at a time in Connecticut and the city of New York. Mail has stacked up in hopelessly high piles. I have taken a few selected letters with me to Hawaii, and am now trying to answer them in addition to working on long-neglected manuscripts."
"I am embarrassed, as I know I have written on a number of occasions before, to find myself answering a letter from you, months late -- Your November 30th letter enclosing the map related to wetlands restrictions, and explaining the effect of the restrictions on our property and the swamp. Very many thanks for both the map and the explanation. As you know, the more wetlands and conservation-oriented restrictions the better as far as Anne and I are concerned."
           October 10, 1972, Vermont, 1 p., Typed Letter Signed
"I have reluctantly been forced to the conclusion that to carry on the activities and interests that mean most to me, I will be forced to move my permanent residence away from pressures of the New York area. I say reluctantly because our home on the Cove, where we have now lived for twenty six years, has come to mean a great deal to Anne and to me."
"I have devoted so much of my time and money to conservation activities, which I feel are of such fundamental importance to human welfare – even to human existance – that I do not feel able to take part in other activities such as the library project."
"Since time does not permit my taking part in the activities of the Connecticut Conservation Association, much as I try to assist conservation activities wherever possible, I will have to decline to become an honorary chairman – with emphasis on my deep appreciation of the offer."
Anne S. Murrow Lindbergh letters:
           April 9, 1951, Note in Card
"It is rare that anything in life is just perfect. But the budding magnolia branch in this vase was. It came in a time "In darkest February" (Far worse than darkest Africa!) when the trees were bare – and I could not even smell the blossoms! I return late but with gratitude for that February moment – your vase!"
           February 5, 1951, Note in Card
"I know this isn't enough and I don't know how to thank you for letting Scott, Anne, Miss Knobel & I be children for a whole afternoon we wont any of us forget it. I send you a poem I wrote once on the importance of remaining a child! you don't need to be reminded of it!"
           May 1, 1952, Scotts Cove, Connecticut, Autograph Letter Signed, 3 pp.
"I have just learned – this beautiful Spring morning – of Mrs. Oldrin's death. I know – from my sisters long forewarned death – that no matter how much one may be prepared beforehand and how much one may with one's rational mind feel and know & even be grateful for the release from suffering for the person who has gone – even so – the tearing away of a life one has shared is an amputation – a tearing of oneself in half – almost physical – so it is hard to walk & function alone in new patterns. I want to stretch out my hand to you, though I know of course that you are strong and will be able to meet and carry this as you have so much else – so unbelievably much."
Oldrin's first wife, Edna Young Brenchley Oldrin (1881-1952), died on April 29.
           February 18, 1953, Darrien, Connecticut, Postcard in Envelope
"Thank you so much for your note & your kindness in offering to take something down to Captiva for Charles or me. Alas, I am afraid neither of us can get to Captiva this year. Isn't it sad. I shall miss it so. Give my love to its pearly beach, dove-colored & soft. And to you, good fishing & good shelling & - most of all – good writing!"
Both the Lindberghs and Oldrins vacationed on Captiva Island, off Fort Myers, Florida.
           March 28, 1954, "Little House," Postcard in Envelope
"I liked the King Conch very much. (Except for the title which does not suggest its imaginative & yet real-life beauty) Why not do a book of Captiva sketches – shells – birds – etc? Perhaps you already have enough? I am working myself (Between weddings & ski-trips!) on a book that grew out of Captiva, but it is so slow & so hard to find time to write."
Lindbergh published Gift from the Sea in 1955.
           March 1, ca. 1952-1955, Note in Card
"your own story of 'Eight Rings on His Tail.' I am sorry to have kept it so long. I think it is excellent. Perhaps even better than your first. At least it gets going to a better start. Seems easier, more relaxed, than Dasher to begin with (First Drafts, I mean). You have a practiced hand now and must go on and on – I hope! My only question was if the episode on the island is really necessary. The book seems complete without it and it is such a dramatic and out-of-the-way incident that it doesn't quite seem in tune with The Meadow."
           May 3, 1956, Scotts Cove, Connecticut, Note in Card
"Thank you for The Happy One which I have read with pleasure & absorption. I watched Scott read it with his usual deep sense of responsibility – and pride that you had asked him! He confided to me that he felt it was your best book. I asked him to elaborate – after I had read it. He said: 'It's more realistic – and you really know how chipmunks live and it has exciting things too – it held my interest.'"
"I said, 'I think he has gone deeper into the animal world in this book.' What I meant by this is that you write more & more not as an adult human being trying to impersonate an animal – nor do you make children out of the animals (you do not patronize either animals or children – as many nature writers do.) You do not write down to them or of them. No, you are the chipmunk – and we go with her into her dark forsythia-rooted cosy world. Congratulations!"
Oldrin published Chipmunk Terrace in 1958.
           August 29, 1958, Scotts Cove, Connecticut, Postcard in Envelope
"Thank you for your acute perception of Scott – and for putting it on paper for me. You are right. Scott is coming into his own. 'His own,' was something you have always perceived, fed, and strengthened through the years. So you can best perceive its maturing – and feel a creative pride in it, too. You have given to all the children, but Scott needed what you had to give most – and was most blessed by it -as I have been, too, watching."
           January 11, 1959, Scotts Cove, Connecticut, Note in Card
"All of us at Scott's Cove are very grateful for the beautiful Heritage book of the American Revolution that came to us for Christmas from Round Meadows. Scott – as you may know – feels that the American Revolution is his special period (chiefly through Kenneth Roberts). At one point this Fall he considered writing a poem about it. I countered, a little timidly that he might do better writing about 'something he knew about.' – a cold sail – or a trip West? He said he was tired of writing of things he knew about! Besides, he did know something about it! Now, he will know more. It is a fascinating book."
The editors of American Heritage magazine published The American Heritage Book of the Revolution in 1958. Kenneth Roberts (1885-1957) wrote historical novels, and published three novels—Arundel (1929), Rabble in Arms (1933), and Oliver Wiswell (1940)—and an essay, The Battle of Cowpens (1958), on the American Revolutionary War.
           August 22, 1960, Les Paccots, Switzerland, Postcard
"I am writing you from a steep meadow to a round one. On my meadow these flowers grow. I am sad to have them cut (by great scythes) as you were long ago on your tractor with Scott. I never hear a story of my children – like the one you wrote me of Scott – without rejoicing that you have Lucy and will have another child. You and Virginia deserve such happiness & not only deserve it but will make such wonderful children & be the most wonderful parents any children ever had. The world seems very right when one thinks of your family. I was touched that you should write me the news."
           June 28, 1974, Tellina, Darrien, Connecticut, Note in Card with Envelope
"Charles is still in the hospital – much better but has occasional fever and they want to get it stabilized before he comes home.... I have been terribly busy – working all day at my manuscript – correcting & editing & notes – except when I go to see Charles at the Hospital."
Charles Lindbergh died two months later in Hawaii.
           October 30, 1980, "Tellina," Darrien, Connecticut, Note in Card
"Every time I walk into your meadows I feel grateful to you and Ginnie for all you have given to the community. I have recently been walking around the meadows with a cane (due to a malfunction – Meniere's Syndrome – of the center of balance in my ears!) Even with a cane it is still beautiful. But I am afraid my dog 'Berwick' chases the squirrels (He never gets one but it gives him exercise!)"
Also includes a wedding announcement for Anne Spencer Lindbergh, December 23, 1963, in both English and French.
           Reeve Lindbergh to John Oldrin, ca. 1961, Switzerland, Autograph Letter Signed, 2 pp.
"If I knew how to write welcome letters to people like John Wood Oldrin, I would have written him long ago, but I've tried, and I can't. So I wish you'd let him know I made an effort, and I want to say welcome, and see if he'll let me get away with that. I agree, it's terrible manners, but I did try. I wish I were home to meet him, but fairly soon I will be."
"Here in Switzerland Spring is really coming, and it's very sad for us skiiers, who have to start packing away the skiis and talking about something else.... Water skiing?.... The skiing has been wonderful this year. Beautiful deep snow, long runs, wonderful weather. But I think there was more snow in New York this winter than there will ever be in the Swiss Alps! Last Wednesday afternoon (the school skiis all afternoon on Wednesday) I got an unbelievable sunburn which kept me in the house for four days. It was worth it though! In Switzerland you come to practically breathe skiing. Noone talks of anything else. Maybe I can interest Round Meadows' future 'Uncle John Jr.'? He'd probably be wonderful on skiis!"
Charles A. Lindbergh (1902-1974) was born in Detroit, Michigan, and grew up in Minnesota and Washington, D.C., the son of a Swedish immigrant and later Congressman. He studied at the University of Wisconsin but dropped out early in 1922 to begin flight training in Lincoln, Nebraska. He flew solo for the first time in Americus, Georgia, where he had gone to purchase a World War I surplus biplane. After barnstorming, Lindbergh took a year of military flight training with the United States Army Air Service in San Antonio, Texas. He graduated first in his class of eighteen (out of 104 cadets that began the training), and received his commission as a 2nd lieutenant in the Air Service Reserve Corps. After working as a barnstormer and flight instructor, Lindbergh joined the Missouri National Guard and received promotion to captain in July 1926. From 1926 to 1927, he flew mail routes between St. Louis and Chicago. Lindbergh flew his plane Spirit of St. Louis from Long Island, New York, to Paris, France, in May 1927, to win the Orteig Prize for the first solo flight across the Atlantic Ocean, making him an instant world-wide celebrity. Congress awarded him the Medal of Honor for his thirty-three-and-a-half-hour flight, and Time magazine named him its first and still youngest Man of the Year in 1928. Dwight Morrow, U.S. Ambassador to Mexico in 1927, invited Lindbergh on a goodwill tour to Mexico, where he met Morrow's daughter Anne (1906-2001). They married in May 1929 and had six children between 1930 and 1945. The kidnapping in 1932 of the Lindberghs' young child from their home and the subsequent discovery of his dead body riveted the nation as the "Crime of the Century." After living in Europe from 1935 to 1939, Lindbergh returned to active duty to evaluate the Army Air Corps' readiness for war. He also traveled to Germany several times and observed Hitler's development of the German Luftwaffe. Hermann Goring presented Lindbergh with the Cross of the Order of the German Eagle on one visit. In 1938, the year of the Munich Conference, Lindbergh wrote a confidential memo to British and French diplomats warning them to take the German air threat seriously, and to avoid war. At home he was condemned as a Nazi sympathizer, and President Roosevelt banned him from rejoining the military. He was more an isolationist and anti-communist than a full-blown Nazi sympathizer, though some of his speeches were sprinkled with anti-Semitic references. He was a leading spokesman for the America First Committee, which opposed U.S. entrance into World War II. During World War II, Lindbergh served as a consultant but also flew fifty combat missions in the Pacific as a civilian. After the war, he served as a consultant to both military and civilian air forces and became deeply involved in conservation movements.
Anne Spencer Morrow Lindbergh (1906-2001) was born in New Jersey to Dwight Morrow, a partner in J. P. Morgan & Co., U.S. Ambassador to Mexico, and U.S. Senator, and Elizabeth Morrow, a poet and teacher, who served as acting president of Smith College. Anne Morrow graduated from Smith College in 1928 and married Charles Lindbergh in May 1929. That year, she also flew an airplane solo for the first time, and in 1930, became the first American woman to earn a first-class glider pilot's license. Together, the Lindberghs were the first to fly from Africa to South America and explored polar air routes from North America to Asia and Europe. She published her first book, North to the Orient, in 1935. Their first child, Charles Jr., was born on Anne Lindbergh's birthday in June 1930. After the kidnapping of their child in March 1932, the discovery of his body in May 1932, and the press frenzy surrounding the "crime of the century," the family moved to England. There, both Lindberghs developed isolationist views about American involvement in World War II, harming their public image. The Lindberghs had five more children—sons Jon (b. 1932), Land (b. 1937), and Scott (b. 1942), and daughters Anne (1940-1993) and Reeve (b. 1945). After the war, Anne Morrow Lindbergh returned to her literary career, receiving acclaim for the inspirational Gift from the Sea (1955), and writing other poems and essays. She published her diaries and letters in five volumes between 1971 and 1980. Over the course of her marriage to Charles Lindbergh, they lived in New Jersey, New York, England, France, Maine, Michigan, Connecticut, Switzerland, and Hawaii. In the early 1990s, she suffered a series of strokes and required continual care at her home in Connecticut, before moving to live near her younger daughter in Vermont in 1999.
John Oldrin (1901-1985) was born in Connecticut and became a banker and civic leader in Darien, Connecticut, where his home was called Round Meadow. During World War II, he worked for Pan-American Air Ferries in the Africa-Orient division. After the war, he worked as an executive for Pan American in New York City. In 1951, he published a children's book entitled Round Meadow about the adventures of a spotted fawn named Dasher. He followed it with Eight Rings on His Tail: A Round Meadow Story (1956) about a raccoon, and Chipmunk Terrace (1958). He married Edna Young Brenchley (1881-1952), in 1932. After she died in April 1952, Oldrin married Virginia Johnson Knowlton (1924-2009) in 1956, and they had two children, Lucy Royer Oldrin and John Wood Oldrin (b. 1961).
This item comes with a Certificate from John Reznikoff, a premier authenticator for both major 3rd party authentication services, PSA and JSA (James Spence Authentications), as well as numerous auction houses.
WE PROVIDE IN-HOUSE SHIPPING WORLDWIDE!
Charles Lindbergh and Anne Lindbergh Share Life and
Get pre-approved to bid live on

Wed, Feb 26, 2020 10:30 AM '

.
Register For Auction
Ships from
Westport , CT, US
University Archives
TOP RATED
49 Richmondville Avenue
Westport , CT 06880
USA
1,003 Followers
Auction Curated By:
Discover Items You'll Love
Discover Related Items Available Now
See All