Weekly Auctions of Exceptional Items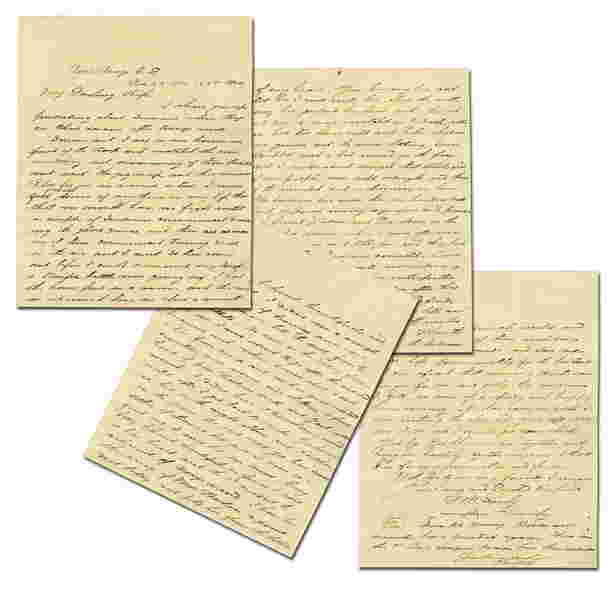 Lot 0198
Description
Native American
Wounded Knee Massacre Same Day Eyewitness Account by Participant, "the 7th needn't be ashamed of today's record."
[WOUNDED KNEE.] WINFIELD SCOTT EDGERLY, Autograph Letter Signed, to his wife, Grace Edgerly, December 29, 1890, Pine Ridge, South Dakota. 4 pp., 8" x 10". With envelope, postmarked at "Pine Ridge Agency, Dak." Expected folds; small tears on center fold of each page; very good; envelope torn on end when opened.
On December 29, 1890, the 7th U.S. Cavalry Regiment attempted to disarm Lakota Indians near Wounded Knee Creek on the Lakota Pine Ridge Indian Reservation in South Dakota. The tense situation soon erupted into violence that left 250-300 Lakota men, women, and children dead and 25 cavalrymen dead. In the days that followed, another 7 of the 51 wounded Lakota died, as did 6 of the 39 wounded troopers. It was the largest domestic massacre in U.S. history.
Captain Winfield S. Edgerly, a West Point graduate who commanded Troop G, wrote this riveting account of the events that same evening to his wife at Fort Riley in Kansas. It displays all of the unit pride and racism that led to the conflict, as well as the poignant cost, as he grieves for a fallen fellow captain and his newly widowed wife, also at Fort Riley.
Complete Transcript:
Pine Ridge S. D.
Dec. 29, 1890. 10 55 P.M.
My Darling Wife:
I shall give up predicting about Indians when they are Ghost dancers after today's work.
Brewer and I sat on our horses in front of the tents and watched the surrounding and disarming of those and said "The jig is up and this means Riley for us in a week or two. "I never felt much surer of anything in my life than that we would have no fight until a couple of Indians commenced dancing the ghost dance and then all at once one of them commenced tossing dust in the air and I said "It has come" and before I could dismount my Troops a terrific battle was going on I had the horses put in a ravine and the men in skirmish line in about a minute and they behaved beautifully and shot to kill. I didn't see a single case of lack of bravery and saw several Indians bite the dust from G. Troop bullets. As soon as the heavy firing was over I was ordered to go after the escaped Indians and when I was about a mile or two from camp and we has just captured nineteen men women and children I first heard of poor Wallace's death and Garlington's wound. I didn't hear of Hawthorne's wound until after I got back to camp. Garlington is hit in the right elbow and Hawthorne in the groin. We don't know yet how serious either of them is but just as soon as I find out I will let you know.
Everybody behaved beautifully as far as I saw or have heard and the 7th needn't be ashamed of today's record. I have been thinking of Mrs. Wallace a great deal today and pity her from the bottom of my heart. Give her my love and tell her I will write her about the noble way her gallant husband died. We didn't have a man scratched in G Troop altho' we had two horses killed and holes shot in our guidon and the men's clothing. Serg't Campbell rec'd a bad wound in the face and I understand tonight that twenty five of our people were killed outright and three of the wounded died on their way in here. The Indians lost more than one hundred bucks and a great many squaws and papooses.
I found Jackson and Donaldson at the end of a ravine, where I went after runaway Indians as I told you, and they had the nineteen Indians corralled. Lieut. Taylor with his scouts was under my command and thro' his interpreter we got them to surrender after they had killed one of Jackson's men, Defreide. A spent bullet hit Donaldson's belt and he has the bullet and Doctor Hoff was hit in the belt twice but not hurt. When the report of our fight got here the Indians here were very much excited and a large number of them including some of Little Mound's and Two Strike's bands left, presumably for the bad lands.
I am afraid that means a Winter campaign for us and only this morning I felt so sure of a speedy and happy home coming. Nowlan came in while I was writing the above and just left  it is now 12.40 and I must get some sleep. Good bye. God bless us all together and bring us happily together very soon. I thank Him for my preservation and for you.
With love to all my friends I remain
Your Loving and Devoted Husband,
W. S. Edgerly

Captain 7th Cavalry
Good Love Kiss.
Dec. 30. Morning. Boots and saddles have sounded again. They say the 9th Cav'y wagon train has been attacked
Your Loving Husband
Winfield
Lieutenant Edwin P. Brewer (1854-1932) was the first lieutenant of Edgerly's Troop G. He retired at the rank of colonel in 1919.
Captain George D. Wallace (1849-1890), an 1872 graduate of West Point and commander of Troop K, was killed in the battle.
Lieutenant Ernest A. Garlington (1853-1934) of Troop A, an 1876 graduate of the U.S. Military Academy, was severely wounded in the battle. He was one of twenty men who received the Medal of Honor for his actions at Wounded Knee. He retired as a brigadier general in 1917.
Lieutenant Harry L. Hawthorne (1859-1948) was an 1882 graduate of West Point and was commanding a battery of two Hotchkiss steel mountain rifles when he was severely wounded in the battle. He also received the Medal of Honor for "distinguished conduct" at Wounded Knee. He retired from the army as a colonel in 1914.
Captain Henry Jackson (1837-1908) and 2nd Lieutenant Thomas Q. Donaldson Jr. (1864-1912) commanded Troop C at Wounded Knee.
Lieutenant Charles W. Taylor (1856-1939) was a member of the 9th Cavalry but commanded Troop A, U.S. Indian Scouts, a group of Native American scouts and interpreter Philip F. Wells, at Wounded Knee. He retired from the army as a colonel in 1916.
The "Defriede" Edgerly mentions was Jan DeVreede (1858-1890), a Belgian immigrant and private in Captain Jackson's Troop C, killed at Wounded Knee. He was buried in the post cemetery at Fort Riley.
Captain John Van R. Hoff (1848-1920) was an assistant surgeon with the 7th Cavalry at Wounded Knee. He retired from the army medical corps as a brigadier general in 1912.
Chief Two Strike (1831-1915) was a Brulé Lakota chief. His band was among those who united north of Wounded Knee and attacked the Drexel Mission near White Clay Creek and routed a squadron of the 7th Cavalry. The 9th Cavalry, composed of African American "buffalo soldiers" reinforced the 7th and drove away the Lakota.
Captain Henry J. Nowlan (1837-1898), born in Greece and an 1854 graduate of the Royal Military Academy Sandhurst in England, commanded Troop I at Wounded Knee.
Winfield Scott Edgerly (1846-1927) was born in New Hampshire and graduated from the United States Military Academy in 1870. He served on the frontier in the Indian Wars, including with the 7th U.S. Cavalry at the Battle of Little Big Horn (1876) and the Wounded Knee Massacre (1890). In 1875, he married Grace Corey Blume (1856-1939). They had their only child in 1881, but the child died in 1885. He served as professor of military science at Maine State College from 1895 to 1896. As a career army officer, Edgerly also served in the Spanish-American War in Cuba, in the Philippine Insurrection, and briefly in World War I. He rose through the ranks and retired in December 1909 as a brigadier general, a rank he achieved in 1905. After his retirement, he returned to New Hampshire, where he served on a military emergency board in 1917 and commanded a mobilization camp in Concord from July to September 1917. He died in 1927 and is buried in Arlington National Cemetery.
Grace Corey Blume Edgerly (1856-1939) was born in Otsego, New York and married Winfield Scott Edgerly on October 27, 1875, in St. Paul, Minnesota. Their only child, Winifred, was born in 1881 and died at Fort Leavenworth, Kansas, in 1885. Edgerly died at Walter Reed Hospital in Washington, D.C. and is buried with her husband in Arlington National Cemetery.
This item comes with a Certificate from John Reznikoff, a premier authenticator for both major 3rd party authentication services, PSA and JSA (James Spence Authentications), as well as numerous auction houses.
WE PROVIDE IN-HOUSE SHIPPING WORLDWIDE!
Wounded Knee Massacre Same Day Eyewitness Account by
Estimate $10,000 - $12,000
Get pre-approved to bid live on

Wed, Feb 26, 2020 10:30 AM '

.
Register For Auction
Ships from
Westport , CT, US
University Archives
TOP RATED
49 Richmondville Avenue
Westport , CT 06880
USA
1,003 Followers
Auction Curated By:
Discover Items You'll Love
Discover Related Items Available Now
See All