Weekly Auctions of Exceptional Items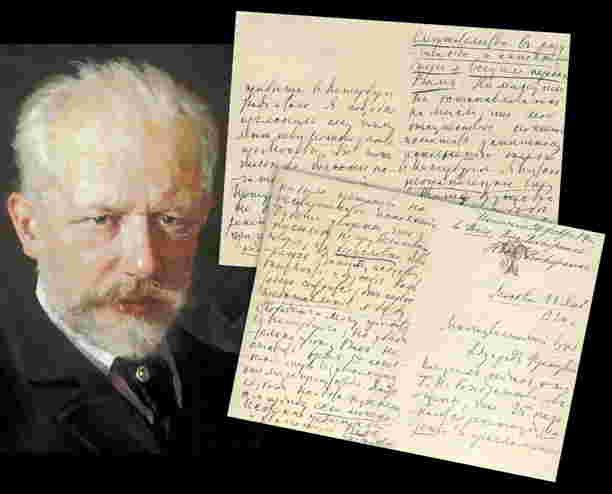 Lot 0269
Description
Tchaikovsky Piotr
Superb Tchaikovsky ALS to Napravnik 4 pages on Mazeppa!
Famed Russian Composer Tchaikovsky Urges Friend to Open His Opera Mazepa in St. Petersburg
PYOTR ILYICH TCHAIKOVSKY, Autograph Letter Signed, to Eduard Frantsevich Nápravník, February 3 [OS January 22], 1884, Moscow. 4 pp. In Romanized Russian, on "PT" stationery. Includes 3 metal plaques, ready for professionally framed display and a copy of the envelope.
In this fantastic letter on his personal stationery, Tchaikovsky tells his friend and fellow conductor Eduard Nápravník that he cannot leave Moscow to rehearse his opera Mazepa in St. Petersburg, because he has to remain in Moscow for rehearsals of the same opera there. Mazepa is a tale of love, abduction, persecution, execution, and murder based on Poltava (1828-29), a narrative poem by famed Russian poet Alexander Pushkin (1799-1837). Pushkin based his poem on the 1709 Battle of Poltava, where Tsar Peter I of Russia defeated forces under King Charles XII of Sweden. In the battle, Ukrainian Cossack hetman Ivan Mazepa, learning that Tsar Peter I was going to replace him in command, deserts with part of his army to side with King Charles XII. Pushkin's poem romanticizes the story of Mazepa's love for the much younger daughter of a Ukrainian nobleman.
Tchaikovsky composed the opera between June 1881 and April 1883, and Viktor Burenin (1841-1926) wrote the libretto, which Tchaikovsky revised again and again, even after the opera's premieres. Mazepa premiered at the Bolshoi Theatre in Moscow on February 15 [OS February 3], 1884, with Ippolit Altani as conductor. Four days later, on February 18 [OS February 6], it premiered in St. Petersburg at the Mariinsky Theatre, with Eduard Nápravník as conductor. A similar letter of Tchaikovsky to Napravnik about Mazepa sold at Christies London July 11, 2018 for over $33,000!
Complete Translation
Moscow, Jan. 22, 1884.
Dear friend Eduard Frantsevich!
I have just received a notice from G. P. Kondratyev, that on the 25th the rehearsal of "Mazepa" will begin, and an invitation to go to St. Petersburg for this. I have explained to him in detail, why it is impossible for me to leave Moscow, where rehearsals are due to begin any moment now, too. My earnest request to you is to rehearse my opera without waiting for me, meanwhile I am transferring all my rights of authorship concerning interference into studying for and performing of the opera entirely to you. I regard it as inconceivable, that my absence can prejudice the success of the opera performance in Petersburg. I nourish absolute trust in your friendly sympathy for the fate of my opera, and I positively relinquish my right to have in the future any claims whatsoever about the imperfection of the performance.
Be assured, that I am not in the least exaggerating saying that I unconditionally trust your craftsmanship, experience and friendship. As soon as the first performance takes place here, I will be free and will be able to arrive in Petersburg, but please do not make the time of the first performance of the opera dependent on my presence. Give it whenever you find it necessary, and I will come, if I can.
Faithfully yours,
P. Tchaikovsky
Gennady Petrovich Kondratyev (1834-1905) was the chief director of the Imperial Theatres in Saint Petersburg from 1872 to 1900. He oversaw the premiere of Tchaikovsky's opera The Queen of Spades at the Mariinsky Theatre in 1890.
Although both premieres were marred by uneven vocal and acting performances, the audiences responded positively, as did critics in Moscow. Critical reviews in St. Petersburg were so bad that Tchaikovsky's brother hid them. When Tchaikovsky later learned the truth, he wrote to his brother, "You did well, the truth might have killed me." Tchaikovsky attended the premiere in Moscow but left the next day to travel abroad. Mazepa was first performed in England in 1888 by a touring Russian Opera company, and in the United States in 1922 at the Boston Opera House.
Pyotr Ilyich Tchaikovsky (1840-1893) was born in the Russian Empire and educated by a governess. He began piano lessons at age five and was fluent in French and German by age six. In 1850, his parents sent him to the Imperial School of Jurisprudence in St. Petersburg to prepare for a career in civil service. After two years at a preparatory school, he spent seven years at the Imperial School. After graduation, he worked for three years in the Ministry of Justice. In 1862, he enrolled in the initial class at the Saint Petersburg Conservatory, where his musical talent impressed his instructors. He graduated in 1865 and took a position as Professor of Music Theory in the Moscow Conservatory. From 1867 to 1878, he also wrote musical criticism and continued to compose. His works were performed frequently, and he began to publish songs and piano music for the home market, increasing his popularity. In the late 1860s, he also began to compose operas. From 1877 to 1890, the wealthy widow of a railroad magnate became his patroness, allowing him to focus exclusively on composing. He also toured Europe and the United States in the late 1880s and early 1890s as a conductor. In the mid-1880s, he received a lifetime annual pension from Tsar Alexander III. Tchaikovsky's masterpieces include the ballets Swan Lake (1875-76), The Sleeping Beauty (1889-90), and The Nutcracker (1892), and the concert overture The Year 1812 Solemn Overture (1880), popularly known as the 1812 Overture. His works include six symphonies, eleven operas, three ballets, two piano concertos, a violin concerto, and several tone poems.
Eduard Frantsevich Nápravník (1839-1916) was born in what is now the Czech Republic to a village schoolmaster, and in 1854 enrolled at the Prague Organ School. He later studied and taught at the Maydl Institute in Prague. In 1861, Nápravník emigrated to Russia, where he conducted an amateur orchestra and taught music. In 1863, he became assistant conductor and in 1869, principal conductor at the Mariinsky Theatre in Saint Petersburg. Between 1874 and 1892, Nápravník directed the premiere of five of Tchaikovsky's operas at the Mariinsky Theatre. Tchaikovsky dedicated his opera The Maid of Orleans (1881) to Nápravník, and Nápravník's wife Olga and children were among Tchaikovsky's friends. Nápravník retired from the Mariinsky Theatre in 1914.
This item comes with a Certificate from John Reznikoff, a premier authenticator for both major 3rd party authentication services, PSA and JSA (James Spence Authentications), as well as numerous auction houses.
WE PROVIDE IN-HOUSE SHIPPING WORLDWIDE.
Superb Tchaikovsky ALS to Napravnik 4 pages on Mazeppa!
Estimate $12,000 - $15,000
Get pre-approved to bid live on

Wed, Feb 26, 2020 10:30 AM '

.
Register For Auction
Ships from
Westport , CT, US
University Archives
TOP RATED
49 Richmondville Avenue
Westport , CT 06880
USA
1,003 Followers
Auction Curated By:
Discover Items You'll Love
Discover Related Items Available Now
See All