Rare KURTZMAN Original EC Vellum Roughs, GUYNEMER, 1953
Don't Miss Your Next Treasure.
Set up a search alert to hear when Vellum Comic Books & Illustrations items arrive.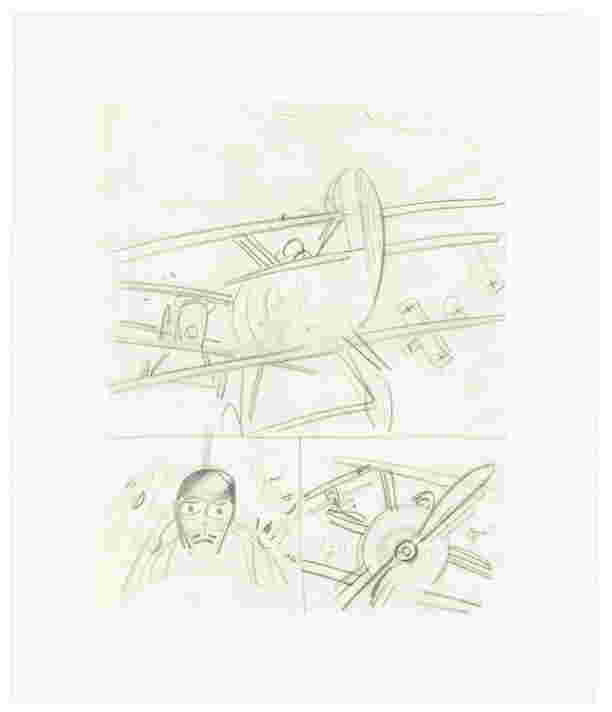 Lot 0144 Details
Description
Heading: Author:
[Original Comic Art] Kurtzman, Harvey
Title:
Original Layouts for "GUYNEMER!" (Two-Fisted Tales No. 34), Seven Pages, Conte Crayon on Large Vellum Sheets, Rare
Place Published: Publisher:
[Entertaining Comics]
Date Published:
1953
Description:

Full seven-page layouts. Conte crayon on vellum sheets. 14" x 18.5". Pages 1, 3 & 5 in excellent condition; pages 2 & 5 have taped-on vellum patches with corrected artwork; pages 6 & 7 have marginal chips.

According to publisher Denis Kitchen, Harvey Kurtzman's storyboarding process for every story he wrote involved two preliminary stages: first he created small "thumbnail" breakdowns of the full story in pencil. Then he created much larger layouts on vellum sheets, using blunt pencil or conte crayon. These layouts are about the same size as the completed original art. Artists were expected to adhere faithfully to Kurtzman's layouts.
"This is a Story of Miracles!"
-H. Kurtzman, "Guynemer!"
For scholars of the comic art medium, Kurtzman's layouts are masterpieces of bold and confident form, bristling with a manic energy that sometimes gets subsumed in the finished artwork. Kurtzman created these large vellum layouts as a story blueprint for "Guynemer!" artist George Evans. Evans later complained about Kurtzman's insistence upon absolute fealty to his layouts. "He had put all this time and effort and so on into his meticulous layouts, and he would go over them and he would explain what he had in mind," Evans said. "You were allowed to do it in your own style, but he did not want one facet of his pictures changed... and that I didn't like."
Although they often disagreed, and Evans occasionally defied Kurtzman by making unwelcome changes to his designs, a comparison of these roughs with Evans's final renderings shows that Kurtzman's vision prevailed. Denis Kitchen, who inventoried Kurtzman's estate, says that "because such layouts were not considered of value in the 1950s, they were routinely tossed by collaborators. Of the hundreds of such EC layouts Kurtzman created, only seven sets survived." Of the seven surviving sets, "Guynemer!" is the most significant, offering a window into Kurtzman's most fruitful period as an artist.
"Guynemer!" was written and storyboarded by Kurtzman in 1953 when he was suffering from a serious bout of acute short term hepatitis. As Bill Schelly relates in Harvey Kurtzman: The Man Who Created MAD and Revolutionized Humor in America, "While working on Two-Fisted Tales #34, Kurtzman's exhaustion turned into real illness... He checked into Mount Vernon Hospital for what turned out to be an extended stay." Bill Gaines described the episode in an editorial note in TFT #34: "A few words about the unique and unprecedented circumstances surrounding the production of this issue! Harvey Kurtzman... Two-Fisted's brilliant writer-artist-editor, who generally masterminds the mag from cover to cover... suddenly developed a serious case of yellow jaundice and has quickly retired to a hospital bed! Harvey managed to write the Guynemer story for Evans while the nurse wasn't looking...."
In Kurtzman's foundational myth, the birth of MAD and the genesis of "Guynemer!" were inextricably twined. He liked to tell the story of how he dreamed up MAD when he was bedridden with yellow jaundice and needed a publishing project that didn't require the extensive research of the war comics. The story was repeated by the New York Times: "Mr. Kurtzman, who had been interviewing Korean War veterans for combat comic books, came down with jaundice and decided to create something that he could write from his sickbed" [NYT, Feb. 23, 1993]. Although Kurtzman's memory of events was incorrect (MAD was already on its fifth issue when Kurtzman was hospitalized), it is significant is that, in Kurtzman's imagination, the three things were somehow conflated: the hospital bed, the WWI ace, MAD.
For a man confined to his sickbed, the idea of flight may offer a sort of escape. The story of the chronically ill Georges Guynemer, who triumphed over sickness to achieve glory, must have had special resonance to the ailing Kurtzman. As the story's introduction proclaims: "This is a story of miracles! For how else could you explain the strange career of this consumptive young man, twice rejected from the army... who rose to be one of France's greatest aces of World War I!" Kurtzman's illness forced him to surrender control of three of the stories in Two-Fisted Tales #34 to his assistant editor, Jerry DeFuccio, but he insisted on handling "Guynemer!" himself, which suggests his level of personal engagement with the material.
"Guynemer!" was the cover story for TFT #34, another indicator of Kurtzman's attachment to the story. 20 years later, when East Coast Comics spearheaded the revival of interest in EC by reprinting a dozen classic EC comics, TFT #34 was selected as the sole representative of Kurtzman's EC output. When Russ Cochran issued his Complete Two-Fisted Tales hardcover set of four volumes, the cover to TFT #34 was chosen to illustrate the third volume's binding. Thus has "Guynemer!" become one of the most prominent and emblematic stories of Kurtzman's non-MAD oeuvre.
Considering that only seven complete examples of Kurtzman's EC vellum layouts survive, the existence of this key piece of Kurtzmaniana seems almost providential. More than a layout guide, it's an artifact of the artistic process of a comics genius at the peak of his creative abilities.
Provenance: From the Harvey Kurtzman Estate
Consignments Accepted for PBA's Next Comic Book Auction. Golden Age, Silver Age, Pre-Code, Original Art, Interesting Ephemera Sought. Contact ivan@pbagalleries.com for details.
PBA COMICS March 26th Comic Book Sale catalogues available. style="box-sizing: border-box; font-family: Arial, sans-serif; color: rgb(34, 34, 34);">Supplies Limited. Softcover catalogues limited to 200 copies ($45 + $5 postage/handling). Hardcovers limited to 26 lettered copies, dust jackets, special limitation plates ($150). Contact ivan@pbagalleries.com .
Rare KURTZMAN Original EC Vellum Roughs, GUYNEMER, 1953
Estimate $5,000 - $8,000
Jun 04, 2020
Shipping, Payment & Auction Policies
Ships from
Berkeley, CA, United States