lots of lots
Welcome to the world's largest marketplace for fine art, antiques & collectibles.
238: AUTOGRAPH LOT VINCENT PRICE GAIL PATRICK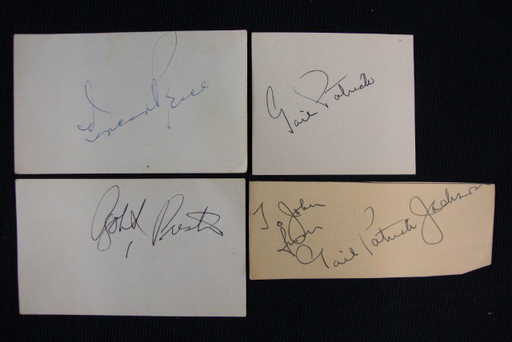 See Sold Price
Don't Miss Your Next Treasure.
Set up a search alert to hear when Mid-Hudson Auction Galleries lists new auctions.
Discover Related Items Available Now
Auction ended on February 5th, 2011 UTC
238: AUTOGRAPH LOT VINCENT PRICE GAIL PATRICK

Vincent Price in blue ink. Gail Patrick in black ink. Robert Preston in black ink. Gail Patrick Jackson in grey ink. Varying sizes of paper and card. 5 x 3 to 3-1/2 x 3-1/2. All VF-F
Buyer's Premium
20% up to

$99,999.00

20% above

$99,999.00
Shipping
Shipping is the sole responsibility of the buyer. Shipping can be arranged at the buyer's expense at reasonable rates. Purchases must be paid for and you will then be contacted by the shipper with a quote.br All arrangements for shipping can be made by contacting:brbr The UPS Store 5869 610 BROADWAY NEWBURGH, NY 12550 - USA Pack Ship Promise Location Phone: (845)561-5950 Att: Will
Payment
You may pay with cash, travelers checques, cashiers check, certified funds, wire transfer or business and personal checks if known to us. We reserve the right to hold merchandise until business or personal checks clear. You may also pay by Visa, Master Card and Discover. Paypal is available utilitizing a transfer of funds from your account, e-checks, or the credit card of your choice (if accepted by Paypal).
Accepted payment methods
CONDITION LEGEND
ABOUT CONDITION OF POSTERS: Condition for movie ephemera is an important factor in the prices which will be realized. Grading a poster is very subjective and standards may differ. We list this information in general. The following legend used in this catalogue for condition is recognized by poster collectors and dealers and is taken from MOVIE POSTER PRICE ALMANAC edited by John Kisch (2002 Edition). Mint (M) An unused poster. As pristine as the day it was printed with little exception (Though there may be some posters and lobby cards as well as photographs in this collection that are mint, we have not used this (M) code as a rule. Near Mint (NM) Basically unused or carefully used showing some signs of age or storage but no abuse of any kind. Clean folds (standard and not considered a flaw for posters pre-1980). Post 1980 posters are rolled and the same standards apply. Linen backed posters with no restoration needed, fall into this category. Gallery Note Many posters in this auction which are linen backed may have been categorized as VF or VF-NM for no particular reason. They probably could have all been (NM) as outlined here but if anything we have chosen to downgrade condition in the interest of being on the side of caution. If you have specific questions about linen backed posters, please call 914 882 7356. Very Fine (VF) Minimal signs of wear and usage with usually no pinholes, fold damage or paper loss. Image area is still bright and paper quality not brittle. Posters that have been linen backed usually fall into this category as minor restoration to the fold lines and borders may be likely and evident to a discerning eye. Fine (F) Average used and aged condition showing signs of edge wear, pinholes, slight hairline tears, minor discoloration. Paper is not brittle. Image is still striking and linen backed restoration more evident or has never been linen backed Very Good (VG) Below average, used, trimmed or weathered condition showing little paper loss, slight stains or soiling, larger pinholes, extra prominent folds, light ink or pen marks, tape on the back and prominent border damage. In need of restoration. Good (G) Overly used, worn or brittle, including chunks of missing paper, dirt, dry mounted or laminated , water stains, flaking or discoloration. Poor might be a better term. In the instance of photographs, VF would indicate that there is no flaw worth noting. REGARDING CONDITION OF BOOKS: We have just recently become aware of the process that book sellers use to grade their offerings. Please call if you need VF-G conditions to aid you in your bidding. We would be more than happy to help.
LEGEND TO LOTS IN THE CATALOG
LEGEND TO LOTS IN THE CATALOGUE: 1S 1 Sheet Poster 27in. x 41in.; 3S 3 Sheet Poster 41in. x 81in.; 6S 6 Sheet Poster 81in. x 81in.; Half S Half Sheet Poster 22in. x 28in.; IN Insert 14in. x 36in.; WC Window Card 14in. x 22in.; MWC Mini Window Card 14in. x 8in.; JWC Jumbo Window Card 22in. x 28in.; LC Lobby Card 11in. x 14in.; ISP Inscribed Sgd. Photo Varying sizes ; P.P. or p. p. publicity photo; p.s. publicity snipe; cu close up;
Taxes
You will be responsible for NYS sales tax (8.125%) unless you have a re-sale certificate exempting you from said tax. You must present this re-sale certificate at the time of registration and fill out a re-sale exemption form to be kept on file with the gallery.
Terms
By bidding at the auction, whether present in person or by agent, or by written bid, telephone, internet or by other means, the buyer agrees to be bound by the conditions of sale. 1. All properties are sold as is, and neither we nor the consignor make any warranties or representations with respect to any lot sold including but not limited to the correctness of the catalogue description, the physical condition, size, quality, rarity, attribution, authorship, importance, medium, provenance, exhibitions, literature or historical relevance of the property, and no statement anywhere, whether oral or written, shall be deemed such a warranty or representation. All sizes listed are approximate. Prospective bidders should inspect the property before bidding to determine its condition, size, and whether or not it has been repaired or restored. We and the consignor disclaim any and all warranties, expressed or implied, including but not limited to the implied warranty or merchantability or fitness for any particular purpose, no warranties are made that any of the merchandise complies with any applicable governmental rules, regulations or guidelines of any kind or nature whatsoever. Mid-Hudson Auction Galleries as agent, nor the consignor is responsible for any faults or defects in any lot or the correctness of any statement as to the origin, authorship, date, age, attribution, genuineness, provenance or condition of any lot. 2. A buyer's premium of 20% on any amount bid will be added to the purchase price of all lots in the sale. This premium is payable by the purchaser as part of the total purchase price. Mid-Hudson Auction Galleries also receives a commission from the Consignor. 3. We reserve the right to withdraw any property before the sale. 4. Unless otherwise announced by the auctioneer all bids are per lot as numbered in the catalogue. 5. All bids placed and all payments made must be in U.S. dollars drawn on a U.S.Bank unless payment in U.S. dollars wired from a foreign bank has been pre-arranged. Internet bills may be paid via PayPal with PayPal funds or credit card. 6. We reserve the right to reject any bid. The highest bidder acknowledged by the auctioneer will be the purchaser. In the event of a dispute between bidders, or in the event of doubt on our part as to the validity of any bid, the auctioneer will have the final discretion whether to resell the article in dispute. If any dispute arises after the sale, our sale records are conclusive. Although in our discretion we will execute order bids or accept telephone bids and internet bids as a convenience to clients who are not present at the auctions, we are not responsible for any errors or omissions in connection therewith. 7. If the auctioneer decides that any opening bid is below the value of the article offered, he or she may reject the same and withdraw the article from sale, and if having acknowledged an opening bid , he or she decides that any advance thereafter is insufficient, he or she may reject the advance. 8. On the fall of the auctioneer's hammer, title to the offered lot will pass to the highest bidder acknowledged by the auctioneer subject to fulfillment by such bidder, of all the conditions set forth herein, and such bidder thereupon a) assumes full risk and responsibility thereof, but not limited to, insurance, fire, theft, removal and storage or damage from any and all causes and b) will pay full purchase price thereof. In addition to other remedies available to us by law, we reserve the right to impose a late charge of 1 1/2% per month of the total purchase price if payment is not made in accordance with the conditions set forth. 9. Unless exempted by law purchasers will be required to pay NYS sales tax and other local taxes as required. 10. If bidding by internet, the purchaser shall have consented to the exclusive jurisdiction of The State of New York. 11. We are not responsible for the act or omissions of carriers or packers of purchased lots, whether or not recommended by us. Packing and handling of purchased lots by us or by someone else is at the entire risk of the purchaser. Shipping Information: All arrangements for shipping can be made by contacting The UPS Store 610 Broadway Newburgh, New York 12550 845 561-5950 Att: Will 12. Any further questions of a prospective internet bidder need to be addressed prior to bidding and a complete set of terms and conditions of sale will be sent for your review. We are happy to help you on the telephone or via e-mail with condition reports or any other information if you cannot attend in person. 13. We can no longer accept the return of items purchased. Please verify any conditions or other information prior to the sale. We are happy to help you by e-mail or by phone until 5PM the day prior to the sale. We have been very generous about refunds in the past and allowing credits against future purchases but delays in returns and decisions have made bookkeeping tasks difficult so please do all necessary research before bidding
Discover Items You'll Love

Bid Anywhere, Anytime. Download the LiveAuctioneers App.
Available on the App Store
Android App on Google Play