ATTR TO Dora Carrington (UK,1893-1932) oil painting
Don't Miss Your Next Treasure.
Set up a search alert to hear when Oil Paintings items arrive.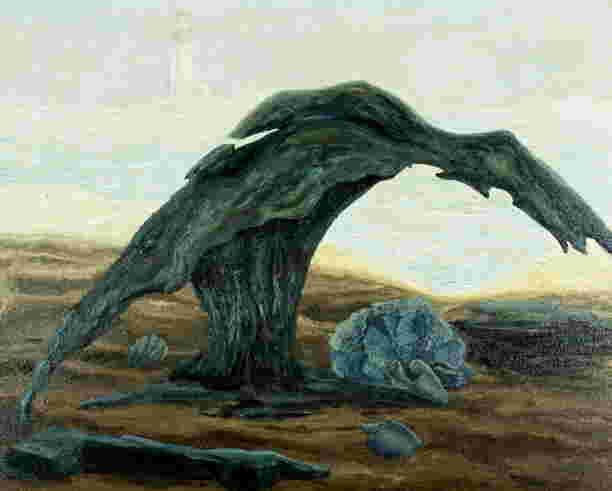 Lot 0067 Details
Description
ARTIST: ATTRIBUTED TO Dora de Houghton Carrington (British, 1893 - 1932)
NAME: Abstract Composition
MEDIUM: oil on board
CONDITION: Very good. No visible inpaint under UV light.
SIGHT SIZE: 24 x 30 inches / 60 x 76 cm
FRAME SIZE: 29 x 35 inches / 73 x 88 cm
SIGNATURE: lower right
SIMILAR ARTISTS: Kenneth Armitage, Joe Tilson, Laurence Stephen Lowry, Wilhelmina Willie Barns-Graham, Sir Terry Frost, Lynn Russell Chadwick, Keith Vaughan, Gillian Ayres, Sir William Nicholson, Austin Osman Spare, William Scott, Paul Nash, Sandra Blow, Gwen John, Carel Victor Marlais Weight, Roger
Hildesheim Hilton
CATEGORY: antique vintage painting
SKU#: 116585
WARRANTY: 7 days returns accepted if item doesn't match description

US Shipping $120 + insurance.

BIOGRAPHY:
English woman, Dora de Houghton Carrington was an artist and a Bloomsbury bohemian who loved and was loved by both men and women. She even managed to make her name interesting. She was born Dora de Houghton Carrington but was known in Bloomsbury only by her surname. She was the fourth
of five children born to Samuel Carrington and Charlotte Houghton, and in 1902 the family moved to Bedford, England where she attended a girls' high school, which emphasized sports, music, and drawing. The teachers encouraged her drawing and her parents paid for her to attend extra drawing classes in
the afternoons. In 1910 she won a scholarship to the Slade School of Art in London and studied there with Henry Tonks.
The Slade at that time was a centre of what we would now call radical chic. She started a new fashion at the school by cutting her hair into a kind of pudding-bowl cut. She did well at the Slade, winning several prizes and moving quickly through the courses. When Carrington was eighteen she met Mark
Gertler (1897-1939), who was a very strong influence on this first phase of her life as an artist. He introduced her to the society hostess Lady Ottoline Morrell, and thus into the Bloomsbury group.
Carrington acquitted herself well at the Slade, winning several prizes and moving quickly through the courses. She left school in 1914 and returned to her parents' home to decide on her next step. She enjoyed being in the country but felt stifled by the lack of intellectual stimulation in general and her mother
in particular. Gertler introduced her to Lady Ottoline Morrell, and thus into the Bloomsbury group of artists and writers. It was while visiting Morrell at Garsington Manor in 1915 that Carrington was introduced to Lytton Strachey, a writer and confirmed homosexual. Gertler, feeling that Strachey could act as
a safe go-between for himself, encouraged their friendship. To his dismay, Carrington fell inexplicably and deeply in love with Strachey, a love that would last for the rest of her life and cause her to follow him from life into death.
In 1917 Carrington's relationship with Gertler ended and when Strachey rented Mill House, Tidmarsh, she moved in with him. Carrington met Ralph Partridge, an Oxford friend of her younger brother Noel, in 1918. Partridge fell in love with Carrington and, accepting that she was still in love with Strachey and
would not give up her platonic relationship or living arrangements with him, married her in 1921. In 1924 he and Strachey purchased the lease to Ham Spray House, near Hungerford, and all three lived out their lives there.
Over the next eight years Carrington divided her time between domestic chores, caring for Strachey whose health was erratic, and her art work. She painted on almost any medium she could find including glass, tiles, pub signs, and the walls of friends' homes; she also made woodcuts for Hogarth Press and
did some leather work. She had two well-known affairs, one with Gerald Brenan, an army friend of Partridge's, and the other with a sailor, Beakus Penrose. In 1926 Partridge formed an attachment to Frances Marshall, ending his marriage with Carrington in spirit, if not in law, but maintained his role of
manager for Ham Spray House, visiting most weekends.
In November 1931 Strachey became suddenly and violently ill. Doctors fluctuated between diagnoses of typhoid fever and ulcerative colitis, but his condition--stomach cancer--was not accurately diagnosed until an autopsy was performed. Round the clock nurses were hired and various treatments were
tried. In late December he took a turn for the worse and on December 20 Carrington attempted suicide by shutting herself in the garage with the car running. Partridge rescued her and she recovered enough to spend the last few days of Strachey's life taking her turn watching over him. On January 21,
1932, Strachey died. The greatest concern of their friends now became preventing Carrington from killing herself; arrangements were made to keep her occupied and attended. In March Carrington was planning for a trip to France and her friends began to feel less concern, but she also borrowed a gun
from a neighbor, ostensibly to shoot rabbits in her garden. On March 11, 1932, she shot herself fatally. She was found before she died and Ralph Partridge, Frances Marshall, and David Garnett arrived at Ham Spray House in time to say good-bye.

ATTR TO Dora Carrington (UK,1893-1932) oil painting
Estimate $1,450 - $1,600
Jul 05, 2020
Shipping, Payment & Auction Policies
Ships from
Dania Beach, FL, United States
Free Local Pick-Up
Dania Beach, FL, United States