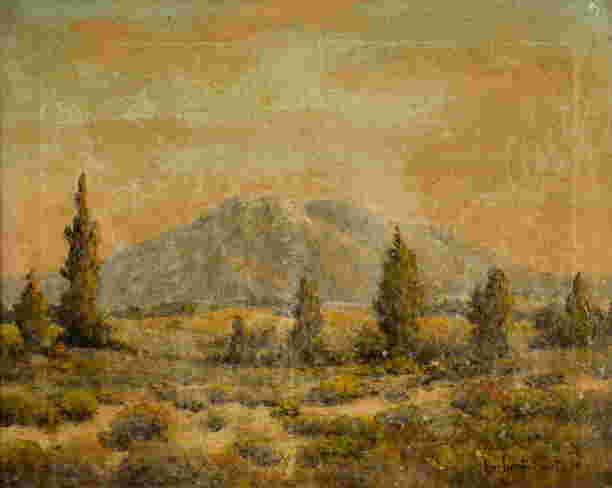 Lot 0253 Details
Description
ARTIST: Herbert Sartelle (California, 1885 - 1955)
NAME: Desert Landscape
MEDIUM: oil on canvas
CONDITION: Minor craquelure. No visible inpaint under UV light. Would benefit from cleaning.
SIGHT SIZE: 16 x 20 inches / 40 x 50 cm
FRAME SIZE: 20 x 24 inches / 50 x 60 cm
SIGNED: lower right
SIMILAR ARTISTS: Dalhart Windberg, Nell Gertrude Walker Warner, Mischa Askenazy, Victor Clyde Forsythe, Abel Warshawsky, George Gardner Symons, Hanson Puthuff, George Thompson Pritchard, Millard Sheets, Rinaldo Richard Cuneo, Benjamin Chambers Brown, John Englehart, William Coulter, Erle Loran
CATEGORY: antique vintage painting
SKU#: 114504
WARRANTY: 7 days returns accepted if item doesn't match description

US Shipping $60 + insurance.

Herbert Sartelle (California, 1885 - 1955)
Landscape painter. Born in Buffalo, NY on April 24, 1885, the son of Martha Sartelle and Earl Herbert Burdick. Named after his father, Earl Jr. was 16 when he moved to NYC with his family. As an assistant to his father, he entered show business there as a stage hand. At 18 he left home to join the Barnum & Bailey Circus where he worked with magicians and soon became an accomplished one himself. In 1909 he returned to NYC to work for Rogers & Hammerstein and later on the R.K.O. circuit. During his 25 years in show business he worked avocationally as a painter, sketching and painting for his own pleasure. Upon leaving show business in 1928, he settled in Los Angeles. At that time Earl Burdick Jr. changed his name to his mother's maiden name and adopted his middle name. As Herbert Sartelle, he traveled about southern California painting nature as he saw it while continuing to book dates as a magician. A highly skilled and prolific landscape painter, from his brush came many desert scenes which are infused with light and capture the beauty of the Palm Springs and San Diego areas. He also found great inspiration in the area's purplish mountains and its rolling hills with poppies and lupines. The artist died in Los Angeles on Oct. 15, 1955. In: Santa Cruz City Museum. Invw.

Herbert Sartelle (CA,1885-1955) oil painting
Estimate $300 - $320
Coming Up: 19 Lots Away
Live bidding started at

11:45 AM EDT today

. Get approved to bid.

Register For Auction
Shipping, Payment & Auction Policies
Ships from
Dania Beach, FL, United States
Free Local Pick-Up
Dania Beach, FL, United States
Sun, Aug 09, 2020 11:45 AM EDT