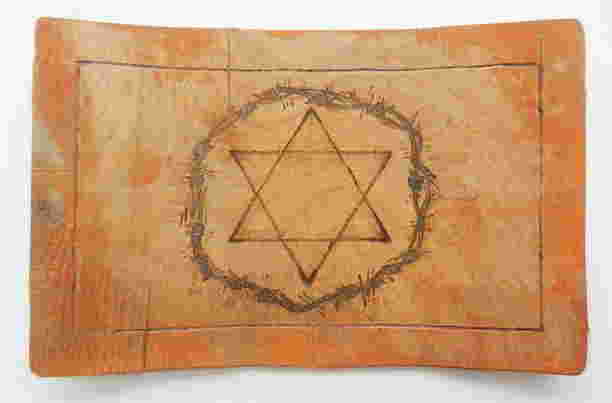 Lot 196401 Details
Description
UNIQUE JEWISH WW2 PLYWOOD POSTCARD with STAR of DAVID and BARBED WIRE
It is very unusual item, handmade from Plywood. We never seen the item like that before. We have to know our History. Please note: last image is for sample only.
Postcard is unique item and made only in one sample !!
CONDITION: The item is described to the best of our knowledge. Please refer to pictures and email with any questions.
SIZE: 137 x 88 mm.
ESTIMATE PRICE: $300 - $400.
OFFER: If an item is NOT SOLD, you can still give us a reasonable offer - please save the link of this page.
PAYMENT: Credit Card payment, Wire transfer, Check or Money Order payment are also available. International bidder can use PayPal for payment.
PAY in PARTS: You can pay for any item during 2-3 months. Just make a deposit 10% and the item will wait for you.
SHIPPING: Let us Handle Your Shipping. We are one of the few places that offer full service shipping. For your convenience we will ship your item - shipping costs will be included in the invoice. Combined shipping is available - next item will be ONE DOLLAR for shipping.
PLEASE NOTE: If you want to buy this item, please make a bid now. Any offer is welcome. Some lots, that do not have any bids on them, will be closed before the auction is started and will not be included in it. Now, there are 1000+ items for preview, but there will be only 450 items in the Live Auction.
NEW: Returning customer will have FREE SHIPPING in USA and 50% DISCOUNT on international shipping.

WIKIPEDIA: A Star of David, often yellow, was used by the Nazis during the Holocaust to identify Jews. After the German invasion of POLAND in 1939, there initially were different local decrees forcing Jews to wear distinct signs (e.g. in the General Government, a white armband with a blue Star of David; in the Warthegau, a yellow badge, in the form of a Star of David, on the left breast and on the back). If a Jew was found in public without the star, he could be severely punished. The requirement to wear the Star of David with the word Jude (German for Jew) was then extended to all Jews over the age of six in the Reich and in the Protectorate of Bohemia and Moravia (by a decree issued on September 1, 1941 and signed by Reinhard Heydrich) and was gradually introduced in other Nazi-occupied areas.
Buyer's Premium
24.5% up to $50,000
18.5% up to $100,000
14.5% above $100,000
UNIQUE JEWISH WW2 POSTCARD w. STAR of DAVID
Shipping, Payment & Auction Policies
Ships from
Blaine, WA, United States
N O W - EUROPEAN and RUSSIAN COLLECTIBLE