after R.SCHADOW, Draft for a relief medallion, Hebe
Don't Miss Your Next Treasure.
Set up a search alert to hear when Paper Drawings items arrive.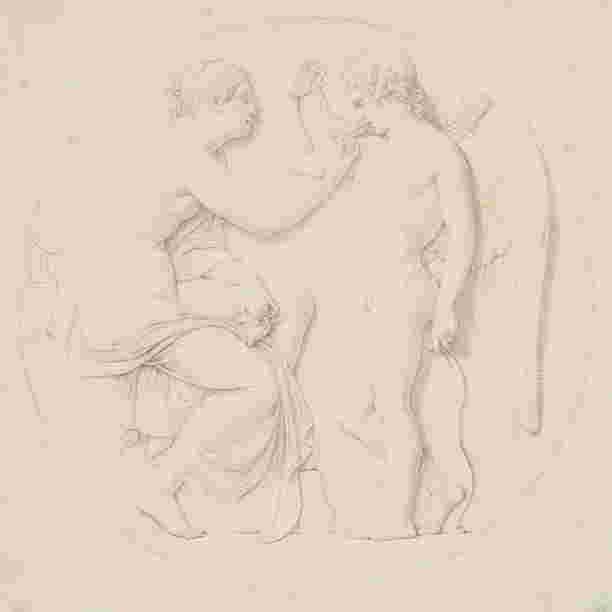 Lot 0443 Details
Description
after Rudolf Schadow, Draft for a relief medallion, Hebe gives Cupid to drink, 19th century, Pencil drawingTechnique:
Pencil drawing on paper
Size:
7 3/4 x 7 1/2 in
Condition:
Good condition. Slight foxing and pale discolouration. In the corners dark discolorations of a liquid glue on the back. The upper left corner of the sheet has a restored tear in the margin.
Description:
The young Rudolf Schadow was already in early childhood encouraged by his father, the celebrated Prussian sculptor Johann Gottfried Schadow (1764-1850), to perform accurate drawing exercises and was obviously brought up artistically with great rigour. Copies after antiquities as well as body studies were as much a part of his father's ambitious programme as was his supportive participation in his ongoing projects. Rudolf remained one of the most important pillars in his father's workshop, adapting to the perfectionist and grumpy character of the senior. In 1807, the young Schadow was sent to Dresden for a study visit, and until 1810 a trip to Italy was planned, which Rudolf took together with his younger brother, the painter Friedrich Wilhelm (1788-1862) in November. The brothers arrived in Rome in January 1811. Already in autumn, Rudolf, probably plagued by melancholy, returned home for a few months and did not travel back to Rome again until January 1812, together with Christian Daniel Rauch (1777-1857). He remained in the Eternal City until his death and visited Prussia only in relatively short trips.
In 1814 Rudolf sent some designs, which had been created soon after his return to Rome, to Crown Prince Ludwig in Munich in order to show zeal and willingness to work, hoping for courtly commissions. From a letter dated February 15, 1814, it appears that he had, among other things, devised a relief of a seated Hebe offering refreshment to a cupid. The relief, already pleasing to the eye because of its tondo shape, shows the two mythological figures in a moment of pause, with idealized antique features. The love personified in Cupid can be refreshed by the divine nectar of ambrosia and enlivened by the goddess of youth. The design of this meaningful mythological scene has probably never exceeded the stage of the model and was probably not executed.
The drawing of Hero Achilles with the Amazon queen Penthesilea shows an outstanding sculpture from Schadow's late work, which the artist was unable to complete himself. At his father's request, the nephew Emil Wolff (1802-1879) completed the work with the advisory assistance of Bertel Thorvaldsen (1770-1844). The stirring theme of the group of figures is the death of Penthesilea, queen of the Amazons, who died before Troy in a duel against Achilles. Already in the fall of his opponent, the victor admires Penthesileen's bravery and grace and defends himself against the army of the Greeks, which wants to desecrate his body. The pathetic composition of the two figures is based on the Hellenistic sculpture of the Gallic group of Ludovisi, in which the Gallic warrior plunges the sword into his own chest after killing his wife to escape the hands of the victorious Roman army. Both drawings share the fate of showing sculptures of Schadow, which have been lost to us today. The last one was destroyed at its place of installation in the Berlin City Palace during the Second World War; the relief Hebe with Cupid may never have been executed. As fine drawings by a skilled, albeit unknown, hand, both sheets nevertheless allow a dreamy glimpse into the multifaceted work of Rudolf Schadow.
Keywords:
Classicism, mythology, antiquity, Italy, Rome, relief, sculptor, Rudolf Schadow, figures
nach Rudolf Schadow, Entwurf eines Reliefmedaillons, Hebe gibt Amor zu trinken, 19. Jahrhundert, BleistiftzeichnungTechnik:
Bleistiftzeichnung auf Papier
Bezeichnung:
Der junge Rudolf Schadow wurde schon in früher Kindheit vom Vater, dem gefeierten preußischen Bildhauer Johann Gottfried Schadow (1764-1850), zu akkuraten Zeichenübungen angehalten und offenbar mit großer Strenge künstlerisch erzogen. Kopien nach Antiken sowie Körperstudien gehörten gleichsam zum ehrgeizigen Programm des Vaters wie die unterstützende Mitarbeit bei dessen laufenden Projekten. Rudolf blieb eine der wichtigsten Stützen in der Werkstatt des Vaters und passte sich dem perfektionistischen und bärbeißigen Charakter des Seniors an. Im Jahr 1807 wurde der junge Schadow zu einem Studienaufenthalt nach Dresden entsandt und bis 1810 plante man eine Reise nach Italien, die Rudolf gemeinsam mit seinem jüngeren Bruder, dem Maler Friedrich Wilhelm (1788-1862) im November antrat. Im Januar 1811 kamen die Brüder in Rom an. Schon im Herbst kehrte Rudolf, vermutlich von Melancholie geplagt, für einige Monate in die Heimat zurück und reiste erst im Januar 1812 zusammen mit Christian Daniel Rauch (1777-1857) wieder nach Rom. Bis zu seinem Tode verblieb er in der ewigen Stadt und suchte Preußen nur in verhältnismäßig kurzen Reisen auf.
Im Jahre 1814 sandte Rudolf einige, bald nach seiner Rückkehr nach Rom entstandene, Entwürfe an den Kronprinzen Ludwig nach München, um, hoffend auf höfische Aufträge, Eifer und Arbeitsbereitschaft zu zeigen. Aus einem Brief vom 15. Februar 1814 geht hervor, dass er unter anderem ein Relief einer sitzenden Hebe die einem Amor eine Erfrischung reicht, ersonnen hatte. Das schon durch seine Form als Tondo gefällig wirkende Relief zeigt mit idealisierten antikischen Zügen die beiden mythologischen Gestalten in einem Moment des Innehaltens. Die in Cupido personifizierte Liebe lässt sich durch den göttlichen Nektar Ambrosia erquicken und von der Göttin der Jugend beleben. Der Entwurf dieser vielsagenden mythologischen Szene hat das Stadium des Modells wohl nie überschritten und wurde vermutlich nicht ausgeführt.1
Die Zeichnung des Heros Achilles mit der Amazonenkönigin Penthesilea zeigt eine herausragende Skulptur aus dem Spätwerk Schadows, die der Künstler nicht mehr selbst vollenden konnte. Auf den Wunsch des Vaters brachte der Neffe Emil Wolff (1802-1879) das Werk unter beratender Hilfe Bertel Thorvaldsens (1770-1844) zu Ende. Das aufwühlende Thema der Figurengruppe ist der Tod der Amazonenkönigin Penthesilea, die vor Troja im Zweikampf gegen Achilles gefallen ist. Bereits im Niedersinken der Gegnerin bewundert der Sieger Tapferkeit und Anmut Penthesileens und stellt sich abwehrend gegen das Heer der Griechen, das den Leib schänden will. Die pathetische Komposition der beiden Figuren orientiert sich an der hellenistischen Skulptur der Galliergruppe von Ludovisi, 2bei der der gallische Krieger das Schwert in die eigene Brust stößt nachdem er seine Frau getötet hatte, um den Händen der siegreichen römischen Armee zu entgehen.3 Beide Zeichnungen teilen das Schicksal, dass sie Skulpturen Schadows zeigen, die uns heute verloren gegangen sind. Die letzte wurde an Ihrem Aufstellungsort im Berliner Stadtschloss während des Zweiten Weltkrieges zerstört, das Relief Hebe mit Amor vielleicht niemals ausgeführt. Als feine Zeichnungen von geübter, wenn auch unbekannter, Hand erlauben beide Blätter nichtsdestoweniger einen verträumten Blick in das vielseitige Werk Rudolf Schadows.
1??Vgl. Eckardt 2000, S. 79f.
2??Galliergruppe Ludovisi, um 220 v.Chr., Marmor, Höhe: 211cm, Nationalmuseum Rom.
3??Vgl. Ebd., S. 109f.
Schlagworte:
Klassizismus, Mythologie, Antike, Italien, Rom, Relief, Bildhauer, Rudolf Schadow, Figuren
Größe:
20 x 18,9 cm,
Zustand:
Guter Zustand. Leicht stockfleckig und blass verfärbt. In den Ecken dunkle Verfärbungen eines rückseitigen Flüssigklebers. Die linke obere Blattecke weist einen restaurierten Randeinriss auf.
Condition
Good condition. Slight foxing and pale discolouration. In the corners dark discolorations of a liquid glue on the back. The upper left corner of the sheet has a restored tear in the margin.
______

Guter Zustand. Leicht stockfleckig und blass verfärbt. In den Ecken dunkle Verfärbungen eines rückseitigen Flüssigklebers. Die linke obere Blattecke weist einen restaurierten Randeinriss auf.
after R.SCHADOW, Draft for a relief medallion, Hebe
Estimate €7,500 - €10,000
Jul 17, 2020
Shipping, Payment & Auction Policies
Ships from
Frankfurt , Germany
Free Local Pick-Up
Frankfurt , Germany