633: Oldrich Farsky, Oil on Canvas,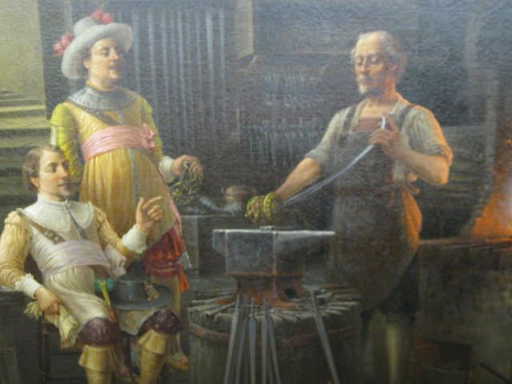 See Sold Price
Don't Miss Your Next Treasure.
Set up a search alert to hear when Richard D. Hatch & Associates lists new auctions.
Auction ended on March 5th, 2011 UTC
633: Oldrich Farsky, Oil on Canvas,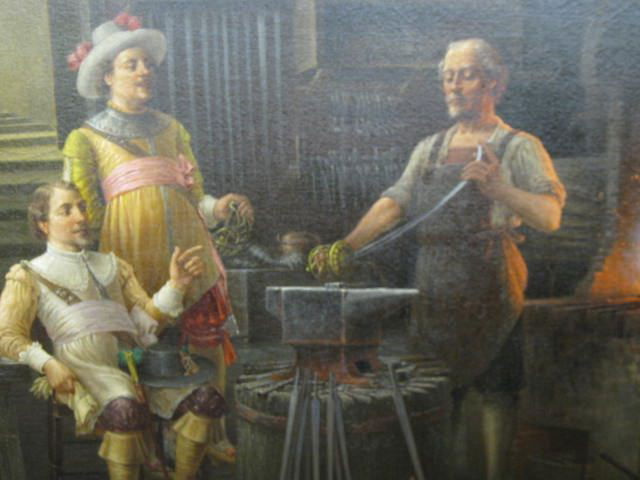 scene of blacksmith repairing a sword for knights, illuministic style, well listed artist 1860-1930, image area 40" x 42". See info: The following was submitted by Chris Woodman, who has done extensive research on the artist and his sons: Oldrich Farsky was a Czech immigrant to the United States who was born in 1860 and died sometime after 1930. Oldrich Farsky (b 1860 (Serbian Soil) d 1930+) c 1877-1879 Studied at the Art School in Prague, Bohemia under Director Von Svarts, Prof Brozik and Prof E. Rone. 1880's Had a studio in Carlsbad, Bohemia and traveled and painted in Italy, France and Holland 1890 Dated painting called The Duck Pond exists as earliest example of signed "O.Farsky" work. This is 5 years before Aldrich was born. 1893 Oldrich moves to Chicago, Ill during the time of The World's Fair. 1894 Finished painting of Gen William T Sherman wearing his G.A.R. uniform. Possibly the last portrait of Sherman. In 1978, this painting was owned by The State Historical Society of Colorado. 1900 Oldrich appears in U.S. Census from Cook County (Chicago) His son, Aldrich is listed as being 5 years old. 1904-1905 Oldrich has an ad in publication called The Reform Advocate. Oldrich is listed in the Chicago Blue Book Directory as being an artist with a business advertisement "Fine Oil Paintings and Water Colors" The business was located at 205 E 35th St. nr Grand Blvd Chicago. Oldrich is mentioned in a publication called Charities: A Review of Local and General Philantrophy (July 1, 1905) in an article titled: "The Culture Which the Slav Offers America" Oldrich is mentioned as providing art work in an Exhibition held in Cleveland by The Slavic Alliance of Cleveland. It is heralded as the 1st Slavic Exhibition of it's kind in America with 162 original paintings and pieces of sculpture by Bohemian, Slovak and Polish artists. 1908 Oldrich is mentioned as being a special guest at a Grand Traverse Area, MI event that was attended by Bohemians (Czechs). He is also listed as writing an article in a Czech paper called Amerikan Kalander called "A Story of Traverse City, Michigan and Some of the Early Settlers" It mentions that the article has examples of his paintings. 1910 Oldrich is listed in the U.S. Census as being from Grand Traverse, Michigan 1914 Oldrich participated in an art exhibit at Dvorak Park in the Chicago Park District. 1916 Oldrich submits a sketch for a bid on decorative work to be done on the auditorium and vestibule of The Harrison Technical High School in Chicago, Ill. His sketch is voted most artistic and beautiful, but, is not accepted by the school board due to some technicality. However, his design was used in another part of the School. 1918 Oldrich is mentioned as being a member of The Czech Artists Club (Chicago) Had a painting of a Michigan Landscape that was dated 1918. This possibly solidifies his already strong Michigan connection. 1920 Oldrich is listed in the U.S. Census as being from Cook County, Ill (Chicago) He is also mentioned in a book The Czechs in America: A Study of their National, Cultural, Political, Social, Economic and Religious Life by Thomas Capek. He is mentioned as a Czech Immigrant Artist of note in Chicago. His son, Aldrich would not have been considered an Immigrant as he was born in the United States in Chicago. 1924 Oldrich presents a painting of either himself or of listed artist Professor Antonin Sterba (Art Institute of Chicago, American Academy of Art in Chicago)(1875-1963) to Sterba. Sterba was a fellow Czech who lived in Chicago and also in Pasadena,CA in 1928, the last year that Oldrich is believed to have been in CA. Their relationship appears to date back to at least 1905, when they both had paintings exhibited in a Cleveland Exhibition and both were likely members of the Czech Art Club in Chicago together. 1925-1928 Aldrich (the son) is listed in a book as being an artist who was in Los Angeles, California during this time. However, the works signed "O. Farsky" from this time period, which would be Californian landscapes, have what appear to be the same signature as the works from the obviously earlier periods (1890-1920) 1930 Oldrich is listed in the U.S. Census as being from Berrien County, MI In conclusion, we know 2 things for sure. Oldrich Farsky was an artist of some note in the Czech community and had his own store or studio in Carlsbad, Bohemia and Chicago, Ill. In an undated article from an Art Exhibit Farsky held at the Aurora Public Library, Ill, he is said to have traveled from America's east coast to the mountains of Colorado and into Canada. We also know that one of his son's names was Aldrich whose birth and death dates match those given by all the resource books, auction houses and art galleries. Somewhere along the line in history, someone researched a painting signed "O. Farsky" and came to the wrong conclusion as to which family member was the artist. I came across this comment on May 26, 2009. "I happen to be a great grandson of Oldrich Farsky, and I believe your observations are correct. He did have a son with a similar name who did allegedly dabble in paintings of religious clerics and a couple of other subjects (two of which my cousin owns). All of the other portraiture and landscapes of the Santa Monica area, etc. should be attributed to the elder Oldrich. I have seen a copy of my grandfather's privately placed advertisement in a Chicago circular around 1918-19 offering O. Farsky paintings for sale, stating that everyone should want "a Farsky". The younger Farsky even if he tried painting would not have been established enough to warrant attention. And you are right to point out that the themes and look and feel are older than the mid-20th century. The elder Farsky's most prominent legacy in Chicago is a portrait, probably the last, of Genl. Wm. T. Sherman in retirement, wearing his G.A.R. uniform. Interestingly, it was not completed until 1894, about 3 years after Sherman's death. That is probably why the lower sections with sash and sword appear more fanciful than the head and shoulders likeness with the fierce eyes and demeanor still amazingly intact. I had not known about the Michigan connection, but then he did get around in a time when fewer did." This biography from the Archives of AskART: The following is from Mrs. Glenna Holbury who writes: "This is only a bit of information that I have to offer on Oldrich Farsky. I am not a dealer or with a museum. Even though it is very little, the information may fit in with whatever else you may have on him. " I have a print of Mr. Farsky, himself. He is dressed in a handsome suit and is holding a palette and a paint brush. It is not a full length or a bust, but is from his hips up. If one just glanced at his picture they would think it is an actual photo. I am quite sure it is a print of some kind. His picture is adhered to a gray, but yellowing mat like photographers used. What is interesting is that he must have presented it to a friend. He has written at the bottom of the mat in ink: Maloval professor Ant. Sterba Under that he says: Svemu milemu Triteli venuje (or vemye, or veniye): (and signed it) Oldrich Farsky 7 Dubna 1924 I have not typed this correctly, since I believe it may be Czechoslovakian and there are marks over some of the letters. There are little circles over each "u", and other marks that I am not familiar with. I hope this helps you somehow. Mrs. Glenna Holbury ---------------------------------------------------------------------- The following is from Edan Hughes, "Artists in California 1786-1940" Oldrich Farsky was a landscape painter who was formerly from Chicago and was a resident of Los Angeles in 1925-1928. His paintings include scenes of Antelope Valley near Palmdale. He died in Berwyn, Illinois and is the father of Edward Otto Farsky (1900-1973) and Aldrich Farsky (1895-1968).
Discover Items You'll Love