Harley Davidson Motorcycle Contract Signed by Gordon
Don't Miss Your Next Treasure.
Set up a search alert to hear when Harley Davidson Paintings items arrive.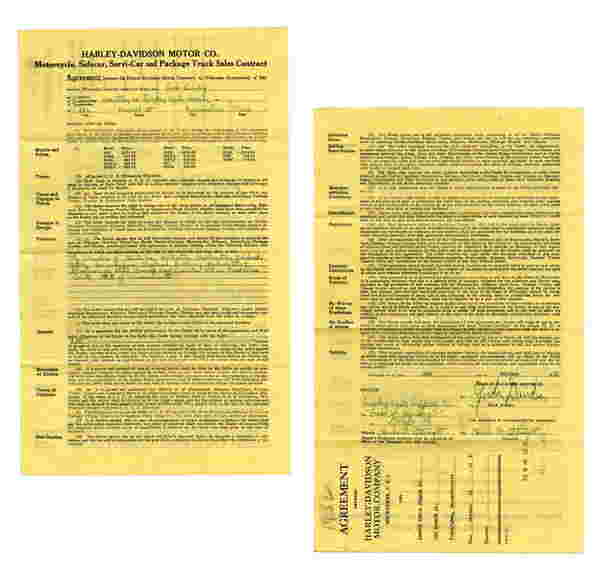 Lot 0135 Details
Description
Harley Davidson Motorcycle Contract Signed by Gordon Davidson, Vice President of Harley-Davidson Motor Co. Perfect for the Free Road Lover

Standard early dealer agreement contract between Harley-Davidson and Massachusetts dealer "Leon Landry , 8.5' x 14". Signed by Gordon Davidson as "Gordon Davidson", as Vice President for Harley-Davidson Motor Co. Expected folds, else fine condition. A great example of HOG memorabilia.

A clean, crisp example of an original dealer contract between Harley-Davidson and a dealer doing business in "operating as Landry Cycle Supply Co, of 182 Howard St, Framingham, Mass". An early contract, and relatively simple compared to their later contracts. Executed before the company merged with AMF. The contract contains the typical clauses concerning such examples in part as found below:

1. Models and Prices

2. Changes In Design

3. Territory

4. Subdealers

5. Imitation Part

6. Misrepresentation

7. Cancellation

8. Validity

Of additional interest is the importance of instilling strong brand and quality control, Harley-Davison also required that "The Dealer agrees not to sell substitute component parts, accessories or oil …"

Harley-Davidson is one of the few companies that has managed to survive and reinvent themselves during a massive 115 plus year run. Accomplished by trials and errors, altering the way they do business, surviving buy-outs, to mergers, to turn arounds, to even seeking governmental intervention from the Japanese dumping of product in 1983, and ultimately going public on the New York Stock Exchange in 1986, they have survived and thrived. They went from a product of excellence, to a product of mass production with cheap parts, and back again to a product of excellence, using a different inventory and part strategy. The morphing of this company has allowed them to endure bust and boom economic cycles, invasion of cheap imports, and near bankruptcy. The Harley brand is certainly it's own metaphorical example of riding a long hard road enduring much transition to ultimately finding a successful and competitive business strategy!

This all-in near fine gorgeous dealer contract, signed by Gordon Davidson is a great piece of HOG memorabilia for the free riding spirit. There are more Harley Davidson quotes than could probably fill an entire book, but below are a few that define the brand:

"Live By It"

"Therapy is Expensive, Wind is Cheap"

"Don't Fear Dying, Fear Not Living"

"Life is Not About Waiting for the Storms to Pass, it is about Riding in the Rain"

"Traveling in a Car is like watching a Film, Riding a Motorbike is Like Staring in it"

"First Learn the Rules, Then Break Them"

"The Best Path Through Life is One on the Open Road"

** An overview of the earlier days of the company's path leading up to the late 1990's and through the time it went public is shown below:

The only motorcycle manufacturer in the United States, Harley-Davidson, Inc. has been designing heavyweight machines for bike enthusiasts for almost a century. The company is legendary for the great loyalty its vehicles have inspired in generations of cyclists.

Early 20th-Century Origins

The first Harley-Davidson motorcycle was built in Milwaukee, Wisconsin--still the location of the company's headquarters--in the early 1900s. The Davidson brothers--William, Walter, and Arthur--along with William S. Harley, designed and developed the bike and its three horsepower engine in their family shed. The machine went through many refinements until 1903, when the men established the Harley-Davidson Motor Company and produced three of their motorcycles for sale. Over the next several years both demand and production grew at a healthy rate, and by 1907 the company had begun to advertise.

Two years later the company produced a new model featuring a V-twin engine that produced a low, deep rumble now identified as the signature Harley-Davidson sound. The revolutionary engine--still a company standard enabled riders to reach speeds of 60 miles per hour, which until that time had been believed impossible. Such capabilities served to set the company's motorcycles apart from the competition

by 1911 there were 150 other companies manufacturing the vehicles.

Growth During and Following World War I

The onset of World War I was actually a boon for Harley-Davidson. The motorcycle, having done well in its utilization by police, was commissioned for use by the military. It proved especially useful on the U.S.-Mexico border, which was suffering incursions by the forces of Mexican revolutionary leader Pancho Villa. In all, 20,000 of the company's machines were employed by the U.S. infantry during the war.

Henry Ford's introduction of the assembly line, on which he could quickly and inexpensively produce his Model T automobile, had a profound effect on the motorcycle industry. While motorcycles had traditionally been used by workers and businesspeople, the more affordable car became their vehicle of choice. The motorcycle, in the meantime, was gradually becoming a recreational vehicle.

The Superbike Era: 1950s and 1960s

As the second generations of the founding families began moving into management positions at the company, Harley-Davidson found itself "king of the road"--with the shutdown of Indian in 1953, the company became the sole American motorcycle manufacturer. Continuing to prove itself a design innovator, the company introduced its Sportster model in 1957, heralding the era of the all-powerful, throaty "superbikes." An entire subculture began to grow up around these motorcycles, and leather jackets and riding boots became as much a statement of one's desire for a life of freedom on the open road as a necessity for motorcycling. Unfortunately, the filmThe Wild One, starring Marlon Brando, depicted biker gangs riding Harley-Davidson motorcycles as packs of lawless renegades. The stereotype that grew out of this is one the company still actively strives to dispel.

In 1965 Harley-Davidson went public when the two families decided to give up control and put the company's shares on the market. Four years later the company was bought by the American Machine and Foundry Co. (AMF), a leisure equipment manufacturer headed by Harley-Davidson fan Rodney C. Gott. The arrangement proved, at least initially, to be a good one for Harley-Davidson, for it was also in the 1960s that the company experienced its first competition since Indian went out of business. The financial resources and stability that AMF was able to provide helped the company battle Japanese motorcycle manufacturers, who had begun exporting their vehicles around the world, placing themselves in direct competition with Harley-Davidson.

Problems and Corrective Measures: The 1970s and 1980s

Demand for motorcycles continued to grow through the early 1970s, and, in an effort to keep up, the company opened an assembly plant in York, Pennsylvania, in 1974. While engines would still be made in the Milwaukee facilities, the bikes themselves would be assembled in the new plant. In 1975 AMF put Vaughn Beals at the head of Harley-Davidson, and Jeff Bleustein was named chief engineer. Bleustein was charged with making manufacturing improvements, which were becoming increasingly necessary as production grew.

These efforts added an extra $1,000 in costs to each bike, however, and the profit line suffered as a result. To compensate, AMF management began to apply pressure for greater sales volume, with the result that quality began to suffer. The production standards that customers had come to count on were being lowered, and there were chronic shortages of parts, with the result that as many as 30 percent of the vehicles coming off the assembly line were incomplete. This, in turn, meant extra manpower searching for spare parts to finish outfitting the machines, a task that even fell to dealers on those occasions when incomplete bikes were accidentally shipped.

Such problems took their toll on the company, especially in light of rising Japanese competition. In 1969 Harley-Davidson had enjoyed an 80 percent share of the U.S. motorcycle market for super heavyweight machines--bikes with engines over 850 cubic centimeters (cc). Ten years later, just when Honda Motor Co. was opening a plant in Marysville, Ohio, that share had dropped sharply to 20 percent. While there were still some riders who would settle for nothing but a Harley-Davidson motorcycle, newcomers to the motorcycle market were opting for Japanese affordability and dependability.

To make matters worse, the 1981 recession severely threatened Harley-Davidson's share of the market for heavyweight bikes--motorcycles with engine capacities of 700-850 cc--nearly finishing the company off as a manufacturer. Soon AMF began to lose interest in keeping the struggling business afloat. To save the company, and to effect a turnaround, 13 Harley-Davidson executives, led by Vaughn Beals, put together a plan for a leveraged management buyout. With the financial support of Citicorp, the management team succeeded in taking control of Harley-Davidson from AMF on June 16, 1981, at a cost of $81.5 million.

The group's turnaround strategy called for getting back on the quality track through new management and manufacturing techniques. Unable to beat them, Harley-Davidson instead decided to join their Japanese competition, adopting such management techniques as decentralized quality discussion groups and "just-in-time" inventory control. After the company's top management toured Honda's Marysville plant in 1981, Vaughn Beals noted in Fortune,"We were being wiped out by the Japanese because they were better managers. It wasn't robotics, or culture, or morning calisthenics and company songs--it was professional managers who understood their business and paid attention to detail." In an effort to do likewise, management at the York plant developed three principles for change: worker involvement, manufacturing materials available as needed, and statistical operator control.

One of the first steps Harley-Davidson took was to group the employees in a plant-wide network to ensure their input in improving the manufacturing process. The York plant management met with workers' representatives for months in 1981 to achieve a consensus on what was sought and also to ease skepticism. The increases in productivity stemming from these measures were deemed to be the effects of effective communication, shop floor enthusiasm, and increased recognition.

The second point of the revitalization program involved managing the company's inventory. A program of just-in-time inventory control called MAN--Material As Needed--was developed, based on Toyota Motor Corporation's Toyota Production System. The plan called for the use of expanded communication in monitoring the flow of inventory. Harley-Davidson also introduced a statistical operator control system to improve quality control. The aim was to reduce defects and scrap by reworking machines right on the assembly line. The process began with the operators, who established parameters for quality using statistical methods. Then workers along the assembly line would chart actual quality and introduce improvements where warranted.

During the early 1980s, the company began making cosmetic changes to its motorcycles, prompted by Vice-president William G. Davidson, grandson of the founder. Davidson, who felt it was important to remain close to the bike maker's customers and their needs, would often mingle with Harley devotees at gatherings, sporting his own beard, black leather, and jeans. As he explained in Fortune,"They really know what they want on their bikes, the kind of instrumentation, the style of bars, the cosmetics of the engine, the look of the exhaust pipes, and so on. Every little piece on a Harley is exposed, and it has to look right. A tube curve or the shape of a timing case can generate enthusiasm or be a turn-off. It's almost like being in the fashion business." In addition to changing the look of established models, the company began to design new motorcycles to appeal to a broad range of consumers.

Meanwhile, the competition was moving ahead. Though the recession of the early 1980s had depressed demand for heavyweight bikes, Japanese manufacturers swamped the U.S. market with their surplus inventory, driving average market prices down still further. In 1982, however, the company won an anti-dumping judgment from the International Trade Commission (ITC). This led then-U.S. President Ronald Reagan to impose additional tariffs on imported heavyweight Japanese models, as allowed by the ITC.

The additional tariffs--45 percent on top of an existing 4.4 percent measure--were meant to decrease gradually over five years, until April 1988. These measures would give Harley-Davidson the opportunity to effect its revitalization plans. Predictably, as the company's market share began to increase, so, too, did its profits. Harley-Davidson had lost $25 million in 1982, but rebounded into the black again in 1983 before posting $2.9 million in profits on sales of $294 million in 1984. Though Japanese bike makers were able to elude some of the tariffs by building more machines in the United States, by 1986 Harley-Davidson's share of the U.S. super heavyweight market had crept back up to 33.3 percent, ahead of Honda for the first time since 1980.

During this time, Harley-Davidson began placing more emphasis on its marketing efforts. In a 1983 public relations move, the company established the Harley Owners Group (HOG), a club with its own newsletter for fans of the motorcycle. By the end of the 1980s, membership in HOG had grown to 100,000 members. The company developed the SuperRide promotion, several years later

it was designed to attract large numbers of new buyers from an upscale niche. Television commercials invited people to visit one of Harley-Davidson's 600 dealers across the United States to test ride a new bike. Over 40,000 people took Harley-Davidson up on its offer. Though immediate sales did not cover the promotion's $3 million price tag, the effort did result in increased sales over the course of the next several years, and many of the new buyers were owners of rival Japanese models.

Although Harley-Davidson was making great strides, the company suffered yet another blow in 1984. Citicorp--nervous that the economy was headed back into a recession, especially in light of the 1988 deadline on import tariffs--informed Harley-Davidson that in future years they would no longer provide overadvances--money over and above the conservative lending limits set as part of the company's business plan. Taking this as an indication that Citicorp wanted out of its arrangement with the company, Beals and Richard Teerlink, who was then the finance officer, began searching for another lender. Once word concerning Citicorp's plans got out, however, other banks showed little interest in making the commitment. By October 1985 Beals and his management team had contacted the investment firm Dean Witter Reynolds in order to begin Chapter 11 bankruptcy proceedings.

Before those plans were finalized, Beals and Teerlink were approached by an interested lender. After weeks of hard bargaining, Heller Financial Corporation--whose second in command, Bob Koe, was a Harley buff--agreed to supply Harley-Davidson with $49 million to buy out Citicorp's stake in the business. Thus Citicorp was forced to take an $18 million write-down on its original investment. Heller Financial Corporation's faith in Harley-Davidson paid off handsomely. The company's market share began to climb steadily, and profits for 1986 topped $4.3 million on sales of $295 million. That year a revived Harley-Davidson went public, offering two million shares of stock worth $20 million and $70 million worth of unsecured subordinate notes that would mature in 1997.

This item comes with a Certificate from John Reznikoff, a premier authenticator for both major 3rd party authentication services, PSA and JSA (James Spence Authentications), as well as numerous auction houses.
WE PROVIDE IN-HOUSE SHIPPING WORLDWIDE!
Harley Davidson Motorcycle Contract Signed by Gordon
Estimate $600 - $800
Aug 19, 2020
Shipping, Payment & Auction Policies
Ships from
Westport , CT, United States
University Archives
TOP RATED
1,661 Followers
Auction Curated By: