Nasser Ovissi, 'Iranian, Born 1934' "Arabian Horses
Don't Miss Your Next Treasure.
Set up a search alert to hear when Canvas Paintings items arrive.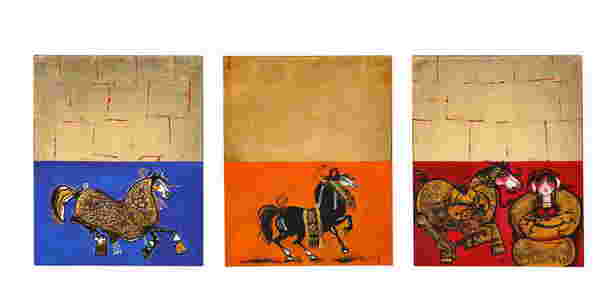 Lot 0078 Details
Description
Nasser Ovissi, 'Iranian, Born 1934' "Arabian Horses Triptych" Oil on Canvas.A rare and important set of three paintings (Triptych) by Persian Artist Nasser Ovissi who is considered to be known as the "Picasso of Iran".A true modern Iranian masterpiece depicting Arabian Horses painted in blue, orange, and red backgrounds on one half, and 24K gold leaf oil paint on the top half. Very unique.Oil on canvas.Signed.Canvas Size: 30" high x 24" wide each.Nasser Ovissi is an American-Iranian painter whose work is characterized by stylized figures of Arabic women and horses. Set amidst geometric patterns and decorative elements, his figures seem to merge into and out of the space behind them. "My work is dedicated to the beauty of life and I hope those who experience my work will walk away with an experience of beauty." Born in Tehran, Iran in 1934, Ovissi studied Law and Political Sciences at the University of Tehran before studying Fine art at Beaux Fine Art in Rome. The artist has achieved numerous awards and honors, including being exhibited at the 1959 Paris Biennial and a grand prize at the 1962 Biennale of fine arts of Tehran. Ovissi lives and works in Reston, VA. His works are included in the collections of the Contemporary Art Museum in Madrid and the National Art Gallery of Greece in Athens.Artist Exhibitions:1957 Tehran, First Prize1959 Paris Biennial1960 Tehran, Exhibition in Farhang Hall, during the International Congress of Music1961 Exhibition in Bombay, IndiaNew Delhi, International Exhibition of Contemporary ArtTehran, Iran, First Prize in Drawing Competition1962 Tehran Biennial (Abyaz Palace), Grand Prize of the BiennialVenice, Italy Biennial1963 Paris, Museum of Modern Art; Exhibition of Iranian PaintersSao Paulo Biennial, Brazil1964 Tehran Biennial, Grand Prize1965 Rome, National Museum of Oriental Art1966 Milan, San Fedele Gallery1968 Rome: Gallery 88Florence, International Biennial of Graphic ArtsNew York, Columbia University, Modern Iranian ArtItaly, Gold Medal at the Campione International Salon1969 Zurich, Huber Gallery1970 Ankara, Fine Arts Gallery1971 Rome, Temple UniversityAthens, Fine Arts SalonNew York, Columbia UniversityWashington, Agra Gallery1972 Paris, Autumn Salon, Grand PalaisParis, Guiot GalleryOttawa, National Art CenterOttawa, University of OttawaBaltimore, John Hopkins GalleryBrussels, Palace of Fine Arts1973 Belgrade, Museum of Modern ArtMonaco, International Art Exhibition (Grand Prize)1976 Basel, Feriart1977 Madrid, Bruaugut Gallery1978 Valence, Artis Gallery1978 Madrid, Contemporary Art Museum1979 Caracas, Guipuzcoa Gallery1981 Washington, D.C., Calvert Collection1982 Dallas, International Art Exhibition1983 Houston, Texas, Galeria Arte1984 Pasadena, Pacific Asia MuseumWashington, D.C., Calvert CollectionWashington, D.C., World BankNew York, Leila Taghinia-Milani Gallery1985 Paris (France), Mille et Une NuitsNew York: Taghinia-Milani GalleryWashington, D.C., Calvert Collection1986 New York, Mussavi Art CenterWashington D.C., Fine Arts Gallery, Georgetown ParkVancouver (Canada), The Art CircleVisalia (California), The Art Circle1987 New York, Art ExpoCadiz (Spain), Sato GrandeFairfax (Virginia), Broadway Gallery1988 Los Angeles, Galeria ArteWashington, D.C., Fine Arts Gallery, Georgetown ParkMcLean (Virginia), Abott GalleryGeneva (Switzerland), Bronze Gallery1989 New York, Mussavi Art CenterSan Francisco, Hourian Art Gallery1990 Montreal (Canada), Maison d'Art Saint LaurentMaui (Hawaii), Metropolitan Art Gallery1991 Montreal (Canada), Maison d'Art Saint LaurentAustin (Texas), University of Texas Art GalleryNew York, Elaine Benson GalleryMaui (Hawaii), Metropolitan GalleryBoca Raton (Florida), Curzon Gallery1992 Maui (Hawaii), Metropolitan GalleryNew York, Space GalleryMcLean (Virginia), Tower ClubLos Angeles, Beverly Hills Town Center1993 Cambridge (Massachusetts), Harvard UniversityMaui (Hawaii), Metropolitan GalleryBoca Raton (Florida), Curzon GalleryWashington, DC, Very Special Art Gallery1994 Tokyo (Japan), Metropolitan GalleryMaui (Hawaii), Metropolitan GalleryOsaka (Japan), Metropolitan GalleryDetroit (Michigan), Michigan UniversityMontreux (Canada), Aurom GalleryBoca Raton (Florida), Curzon Gallery1995 Washington, DC, Designer Art Gallery1996 Great Exhibition at Art Festival, Kuwait1997 Montreal (Canada), Maison d'Art Saint LaurentTokyo (Japan), Metropolitan GalleryMaui (Hawaii), Metropolitan GalleryOsaka (Japan), Metropolitan Gallery1998 Fez (Morocco), Sufi Music FestivalLos Angeles (California), Exhibition Art CentreHawaii, Dole Gallery1999 London (U.K.), Bourlet GalleryMontreux (Switzerland), The Oriental PalaceCyprus, Hilton Hotel Nicosia2000 Sacramento (California), Sacramento State LibrarySan Bernardo (California), San Bernardo Art MuseumBilbao (Spain), Galeria Uranga2001 Amman (Jordan), National Gallery of ArtNaples (Florida), Visiting Artist GalleryNice (France), Original Art Gallery2002 New York, Nour FoundationWashington DC, Embassy of SpainLos Angeles (California)- Persian Cultural CenterSacramento (California)- Public LibraryLos Angeles (California)- Mimi Gallery2003 Abu Dhabi, Abu Dhabi Cultural Center (UAE)Dubai, Private Gallery, (UAE), Arta Foundation2004 Nour Foundation, New York:2005 Arta Gallery, Toronto Hourian Gallery, San Francisco2006 Iranian DoctorsAssociation, San Diego Iranian Cultural Association, Chicago Iranian Cultural Association, New Jersey2007 Nour Foundation, New YorkAwards:1957- First Prize in Painting Exhibition in Tehran, Iran1961- First Prize in Drawing Competition in Tehran, Iran1962- Grand Prize in the Biennale of Fine Arts of Tehran, Iran1964- Fourth Prize, Biennale of Tehran1968- Gold Medal, International Exhibition of Campione, Italy1974- Grand Prize, Monaco Contemporary Art Exhibition, FranceCollections:In Italy, France, England, Greece, Switzerland, Germany, Turkey, India, Sweden, Canada, Spain, United States of America and IranNew York University Art Collection, Abby Grey Collection, New YorkNational Art Gallery of Athens, GreeceCollection of Farah PahlaviFine Arts Museum of North CarolinaArt Museum of Campione, ItalyContemporary Art Museum, Madrid, SpainContemporary Art Museum, TehranContemporary Art Museum, Kerman, IranNational Library Art Collection, Madrid, SpainContemporary Art Museum, Tehran, IranContemporary Art Museum, Rome, Italy.
Nasser Ovissi, 'Iranian, Born 1934' "Arabian Horses
Estimate $40,000 - $60,000
Aug 20, 2020
Shipping, Payment & Auction Policies
Ships from
New York, NY, United States
Free Local Pick-Up
New York, NY, United States