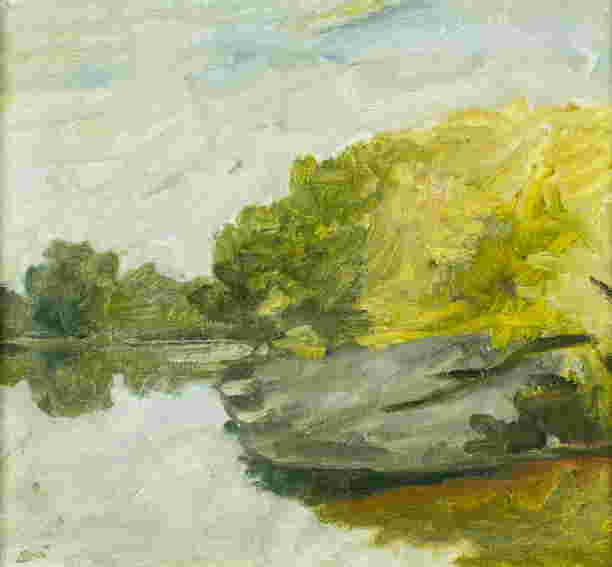 Lot 0268 Details
Description
ARTIST: Paul Havas (Washington, New Jersey, 1940 - 2012)
NAME: Landscape
MEDIUM: oil on canvas board
CONDITION: Very good. No visible inpaint under UV light.
SIGHT SIZE: 10 x 11 inches / 25 x 28 cm
FRAME SIZE: 12 x 13 inches / 30 x 33 cm
SIGNATURE: Lower left
CATEGORY: antique vintage painting
SKU#: 116301
US Shipping $42 + insurance.

Paul Havas (Washington, New Jersey, 1940 - 2012)
Paul Havas, a remarkable and prolific painter of Northwest scenes, once said to his friend and gallerist, John Braseth, "I have the best job in the world." After decades of creating quiet and deeply evocative views of his beloved Northwest, Havas died of pancreatic cancer on Feb. 16 at the age of 71.
While the subject matter of his art would vary — from tidelands to fields tucked next to mountains, from the geometric farmland of Skagit valley to the hilly cityscapes of Seattle — Havas was always referring to perspective, relying on acute observation to immerse viewers in palpably serene paintings.
The sense that we are placed within known landscapes is key to the appeal of his work; his paintings are in numerous Northwest collections including those of the Museum of Northwest Art, the Tacoma Art Museum, and the Whatcom Museum of History and Art. But these are not strict documents of places. In his artist's statement, Havas wrote, "Some paintings follow closely on the view, others are invented."
It is not correct to say that Havas embellished. He reduced and synthesized, creating an abstract feel to his scenes. His ability to find essential forms and colors within observed reality stems from his early training in Abstract Expressionism. It is telling that he called his nonfigurative paintings from 1960-1966 "Synthetic Abstractions," alluding to the Cubist approach of building up form.
But the landscape was always alluring to Havas. He grew up in New Jersey and received his bachelor of fine arts degree from Syracuse University, but was drawn to the beauty of Washington state, moving here in 1963 to earn his master of fine arts in painting at the University of Washington. He lived and painted on Fir Island in the Skagit Valley for 14 years and later had a summer home near the mouth of Willapa Bay.
He began exhibiting with the Gordon Woodside Gallery (now the Woodside/Braseth Gallery) in 1970.
Braseth calls Havas "a natural born educator." He taught painting and drawing at Stanford University, the University of Washington and Idaho State University, and was known to welcome fellow artists and collectors into his studio. Braseth says that "Havas was a generous person and shared ideas about history, literature, travel and art — all of the wonderful things that informed his art and life."
He was passionate about geology, mountain climbing, hiking and fly-fishing, activities that immersed him in his surroundings. An intimate, immersive quality infuses his paintings even while counterbalanced by a certain reserve. We are placed within the landscape amid golden grasses or vivid cranberry fields but also detached from the geometric farm houses and warehouses on piers. We observe them from a distance, from the other side of a rivulet or across a curve in the marina.
We are, in fact, made gently aware of our vantage point and the very act of observing. The dualities of observation and abstraction, intimacy and distance, often led critics to discover poetry and metaphor in Havas' work.
Back in 1970, critic R.M. Campbell wrote in The Seattle Times that Havas' landscapes are "always in a state of becoming." In 2007 in the Seattle Post-Intelligencer, critic Regina Hackett wrote that Havas "paints moments, not worlds. He's after that second when you turn a corner and your body feels light in your clothes and light slides around you like a blessing."
There is a sense of meditation or spirituality in Havas' paintings, generated by his luminous colors and gracious compositions, but it's an earthly spirituality, rooted in this world. Braseth says, "He painted what inspired him, and nature was his religion."

Paul Havas (WA,NJ,1940-2012) oil painting
Get pre-approved to bid live on

Sun, Oct 11, 2020 11:45 AM EDT

.
Register For Auction
Shipping, Payment & Auction Policies
$42.00 Flat-Rate Shipping to Contiguous US
Ships from
Dania Beach, FL, United States
Free Local Pick-Up
Dania Beach, FL, United States
Sun, Oct 11, 2020 11:45 AM EDT