450: Disney handwritten letter to Mickey creator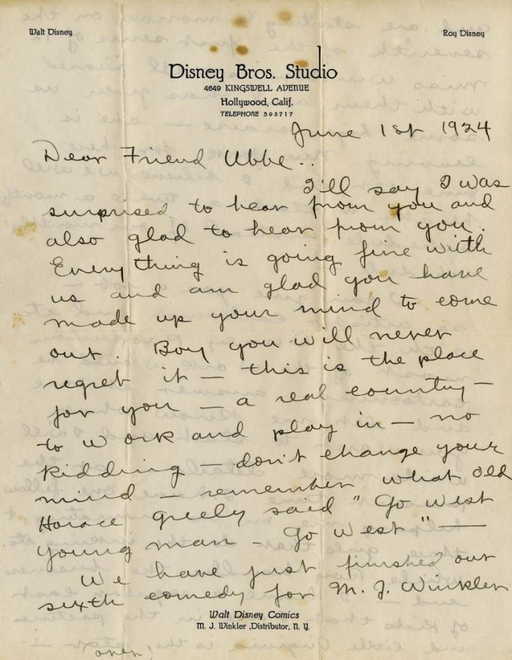 See Sold Price
Don't Miss Your Next Treasure.
Set up a search alert to hear when Profiles in History lists new auctions.
Auction ended on May 14th, 2011 UTC
450: Disney handwritten letter to Mickey creator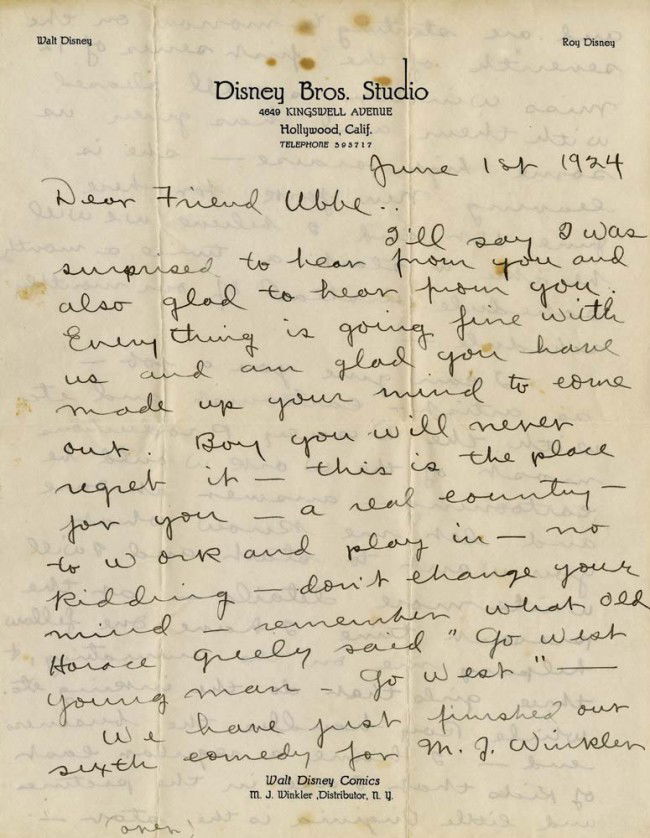 Disney hndwrtn letter to Mickey creator dscsng mv to CA The Birth of Disney Studios: "Hooray for Hollywood!!" Historic 1924 Walt Disney handwritten letter to Mickey Mouse creator Ub Iwerks discussing his move to California to join his studio Walt Disney Historic Autograph Letter Signed, Quarto, Four pages, on Disney Bros. Studio letterhead, dated June 1st, 1924, to "Dear friend Ubbe," Ub Iwerks (1901-1971). Iwerks was responsible for creating Mickey Mouse and for the distinctive style of the earliest animated Disney cartoons. Disney pens (in full): "Dear friend Ubbe, I'll say I was surprised to hear from you and also glad to hear from you. Everything is going fine with us and I am glad you have made up your mind to come out. Boy, you will never regret it – this is the place for you – a real country to work and play in – no kidding – don't change your mind – remember what ol' Horace Greeley said" 'Go west young man – go west!' We have just finished our sixth comedy for M. J. Winkler and are starting tomorrow on the seventh of the first series of twelve. Miss Winkler is well pleased with them and has given us some high praise – she is leaving New York for here June 1st, and I believe we will be able to start a twice a month schedule, instead of our monthly schedule. I can give you a job as artist-cartoonist and etc. with the Disney Productions, most of the work would be cartooning. Answer at once and let me know what you want to start and I will write more details. At the present time I have one fellow helping me on the animating, three girls that do the inking, etc. while Roy handles the business end. I have a regular cast of kids that I use in the picture and little Virginia is the star. Write and tell me how soon you want to come out – if you can leave before the first of the month all the better – of course you would sell all of your furniture and also your car? Wouldn't you? I believe it would be best if you did. Anyways, write and let me know all the details. Give my regards to everyone at the Film Ad and the boys at the Arabian Nights, and also to your mother. As ever your old friend. Walt –––Don't hesitate – Do it now – !– P. D. Q. –P.S. I wouldn't live in K.C. now if you gave me the place – yep – you bet –Hooray for Hollywood – !!" Mickey Mouse's essence was the spirit of Walt himself, but his true character was born from the hand of a single great animator named Ub Iwerks, Disney's oldest friend and colleague from the time they met in Kansas City in 1918. The two worked together for several years at the Kansas City Film Ad Company. Disney decided to take up work in animation and during off-hours the two of them worked on animated fairy tales, not unlike the Fleischer brothers' work in New York. Walt set up his own studio, Laugh-O-Gram, producing six fairy tale cartoons, but the distributor went bankrupt, leaving his next project, Alice's Wonderland, an animated feature incorporating live action of "Alice" played by Virginia Davis and produced by New York film distributor, M.J. Winkler Productions, unrealized. Loaded with debt, Disney bought a one-way ticket to Hollywood, intending to establish a studio in the movie industry's capital city. Shortly after his arrival in Hollywood, with his Alice shorts a hit, he wrote his good friend Ub attempting to persuade him to move to California. Ub's drawing skill proved exactly what Walt and Roy needed to secure the continuance of the Alice stories. Iwerks created all the great early Disney characters ¬ including the ill-fated Oswald the Lucky Rabbit and the famous Alice Comedies. When control of Oswald shifted to Universal, it was Iwerks who created Mickey Mouse and susequently animated him in his earliest appearances ¬thus literally giving life to one of the world's greatest characters and most enduring icons. This letter documents a major turning point for Disney, urging Iwerks to leave Kansas City, move to Los Angeles and accept his offer to become Disney's chief animator, marking the moment in time in which history was secured and the Master of Fantasy and the Hand Behind the Mouse came to an agreement that would ultimately change popular culture as we know it today. One could argue that had this letter not been exchanged, the world would never have known Mickey Mouse, and Disney himself might have ended up as little more than a footnote in Hollywood history. Written entirely by hand on Disney Bros. Studios stationery – a truly rare find and one of a handful of surviving documents from the offices that pre-date the famous Hyperion Street location in the Silver Lake district of Los Angeles – the letter offers a rare and generous glimpse of the Jazz Age energy of a young Walt Disney, full of the dreams of a thriving Hollywood in the halcyon days of American Film. Punctuated with refreshing candor, the soon-to-be cartoon mogul references landmarks in his personal history that have now fallen into folklore. His passion, drive and charismatic exhuberance bounce off the pages of this unprecedented historical record. Includes original envelope of transmittal addressed in hand by Walt Disney, postmarked June 1, 1924, as well as two 2 ½ in. x 3 ¼ in. photographs of Ub standing beside Virginia Davis' family's seven-passenger Cadillac, the car that Ub drove, together with his mother, across the U.S. to start his new career. This letter, from Walt to Ub, is the only known example of a handwritten correspondence between the two men to ever surface for auction and the only known handwritten letter from Walt Disney to ever reach public auction. Includes a letter of authenticity from Ub's son, David Lee Iwerks. The importance of this letter cannot be overstated.
Discover Items You'll Love