8: ANDY WARHOL, Liz #5 (Early Colored Liz), 1963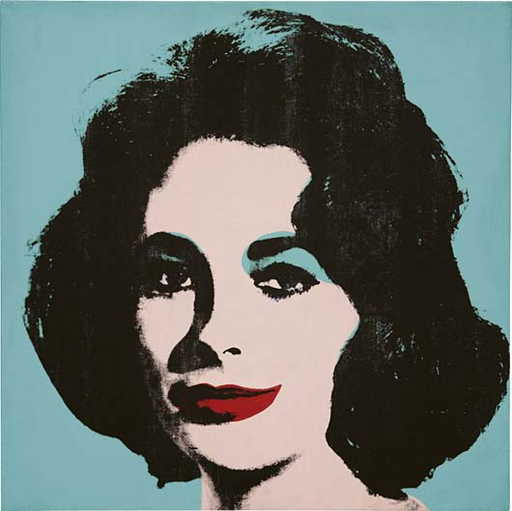 See Sold Price
Don't Miss Your Next Treasure.
Set up a search alert to hear when Art items arrive.
Auction ended on May 12th, 2011 UTC
8: ANDY WARHOL, Liz #5 (Early Colored Liz), 1963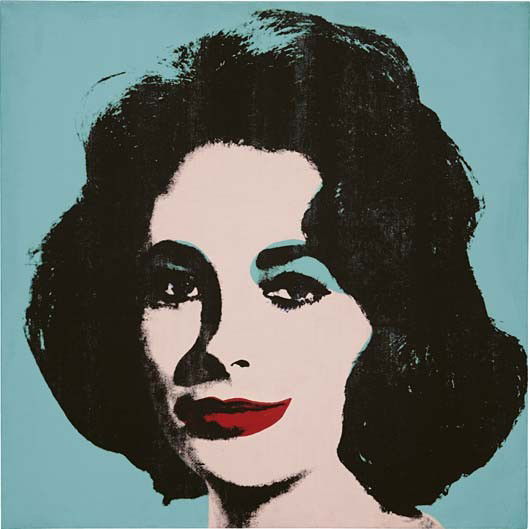 Liz #5 (Early Colored Liz), 1963
Silkscreen ink and acrylic on linen. 40 x 40 in. (101.6 x 101.6 cm.) Executed between October and November, 1963.

Ο ◊



PROVENANCE Stable Gallery, New York; Leo Castelli Gallery, New York (LC 127); The Sonnabend Collection, New York; Private Collection
EXHIBITED Cincinnati, Contemporary Arts Center, An American Viewpoint, December 4, 1963 – January 7, 1964, no. 23 (illustrated); New York, Sidney Janis Gallery, Three Generations, November 24 – December 26, 1964, no. 40; Venice, Palazzo Grassi, Campo Vitale, 1967, no. 250 (illustrated "Liz no. 1" by error, no. 530, illustrated); Turin, Galleria Civica d'Arte Moderna, new-dada e pop art newyorkesi, April 2 – May 4, 1969, p. 43; Zurich, Kunsthaus, Andy Warhol, May 26 – July 30, 1978, no. 45 (illustrated in color); Humlebaek, Louisiana Museum of Modern Art, Andy Warhol, October 7 – November 26, 1978, no. 11; Venice, Palazzo Grassi, Pop Art: evoluzione di una generazione, 1980, p. 141, no. 61 (illustrated in color); Hannover, Kestner Gesellschaft; Munich, Städtische Galerie im Lenbachhaus, Andy Warhol : Bilder 1961 bis 1981, October 23, 1981 – February 7, 1982, no. 8 (illustrated in color); Baltimore Museum of Art, Sonnabend Extended-Loan Collection, 1982 - 2008; Sydney, Art Gallery of New South Wales; Brisbane, Queensland Art Gallery; Melbourne, National Gallery of Victoria, Pop Art, 1955-70, February 27 - June 1, 1985, p. 86 (illustrated in color); Madrid, Centro de Arte Reina Sofía and Bordeaux, Musée d'art contemporain, Colección Sonnabend/Collection Sonnabend, October 30, 1987 – August 21, 1988, p. 116 (Madrid) and p. 132 (Bordeaux) (illustrated in color); Hamburg, Deichtorhallen, Sammlung Sonnabend: Von der Pop-art bis heute: Amerikanische und Europäische Kunst seit 1954, February 23 – May 5, 1996, p. 78 (illustrated in color); Munich, Kunsthalle der Hypo-Kulturstiftung and Staatsgalerie moderner Kunst, Amerika Europa: Sammlung Sonnabend, July 5 – September 8, 1996, p. 61, no. 12 (illustrated in color); Barcelona, Fundació Joan Miró, Andy Warhol, 1960-1986, September 19 – December 1, 1996, no. 11 (illustrated in color); Hartford, Wadsworth Athenaeum and Miami Art Museum, About Face: Andy Warhol Portraits, September 23, 1999 - June 4, 2000, p. 15, no. 16 (illustrated in color); Basel, Fondation Beyeler, Andy Warhol Series and Singles, September 17 – December 31, 2000, p. 89, no. 36 (illustrated in color); Saratoga Springs, The Frances Young Tang Teaching Museum and Art Gallery at Skidmore College; Columbus, Wexner Center for the Arts at Ohio State University; Milwaukee Art Museum, From Pop to Now: Selections from the Sonnabend Collection, June 2002 – May 2003, p. 29 (illustrated in color); New York, Gagosian Gallery, Warhol from the Sonnabend Collection, January 20 – February 28, 2009, p. 56 (illustrated in color); Basel, Kunstmuseum Basel, Andy Warhol The Early Sixties Paintings and Drawings 1961-1964, September 5, 2010 - January 23, 2011, p. 165, no. 41 (illustrated in color)
LITERATURE "Lichtenstein-Segal-Oldenburg-Warhol-Wesselmann-Rosenquist," Aujourd'hui, no. 55-56, December 1966 – January 1967, pp. 124-143, no. 2 (illustrated); A. Boatto, Pop Art in USA, 1967, p. 221 (illustrated); R. Crone, Andy Warhol, New York, 1970, no. 86; O. Hahn, Warhol, Paris, 1972, p. 14 (illustrated in color); R. Crone, Das Bildnerische Werk Andy Warhols, Berlin, 1976, no. 95; E. Billeter, Andy Warhol: Ein Buch zur Ausstellung 1978 im Kunsthaus Zürich, Switzerland, 1978, no. 45 (illustrated in color); C. Pirovano, PopArt: evoluzione di una generazione, Milan, 1980, p. 141, no. 61 (illustrated in color); C. Haenlein, ed., Andy Warhol: Bilder 1961 bis 1981, Hannover, 1981, no. 8; Geldzahler, Pop Art 1955-70, Australia, 1985, p. 86 (illustrated in color); J-L. Froment and M. Bourel, Colección Sonnabend, Spain, 1988, p. 116 (illustrated in color); M. Bourel and S. Couderc, Collection Sonnabend, Madrid, 1988, p. 132 (illustrated in color); C. Schulz-Hoffmann and C. Thierolf, Amerika Europa Sammlung Sonnabend, Germany, 1996, p. 61, no. 12 (illustrated in color); R. M. Malet, Andy Warhol 1960-1986, Barcelona, 1996, p. 78, no. 11 (illustrated in color); Z. Felix, ed., Sammlung Sonnabend: Von der Pop-art bis heute Amerikanische und europäische Kunst seit 1954, Ostfildern, 1996, p. 78 (illustrated in color); N. Baume, D. Crimp and R. Meyer, About Face: Andy Warhol Portraits, Cambridge, 1999, p. 15, no. 16 (illustrated in color); E. Beyeler, G. Frei, P. Gidal and E. Sanders, Andy Warhol Series and Singles, Germany, 2000, p. 89, no. 36 (illustrated in color); G. Frei and N. Printz, eds., The Andy Warhol Catalogue Raisonné: Paintings and Sculpture 1961-1963, Volume 01, New York and London, 2002, pp. 452 and 457, no. 533 (illustrated in color); M. Sundell, ed., From Pop to Now: Selections from the Sonnabend Collection, New York, 2002, p. 29 (illustrated in color); J. Richardson and B. Richardson, Warhol from the Sonnabend Collection, New York, 2009, p. 56 (illustrated in color); N. Zimmer and M. Stotz, eds. et al. ANDY WARHOL: The Early Sixties. Paintings and Drawings 1961-1964, Ostfildern, 2010, p. 165, no. 41 (illustrated in color)

Celebrity. Fame. Glamour. Mortality. These words conjure up the life and work of both Andy Warhol and one of his most famous muses, Elizabeth Taylor. Perhaps it is only now that this portrait, one of the artist's most stunning, achieves the true Warholian effect, forever memorializing an actress who will always be remembered as one of the most iconic, glamorous and beautiful faces ever seen. Andy Warhol's art defined a generation. It both shocked and transformed the idea of what art is and could be. He captured the most famous and recognizable faces of the time and his portraits have transcended the era in which they were made. Warhol's art has become such an indelible part of our culture and his Liz such an iconic symbol, that upon hearing the name Elizabeth Taylor, Warhol's portrait is often what first comes to mind. To Andy Warhol, Elizabeth Taylor epitomized everything that so fascinated him. She was shockingly beautiful and devastatingly alluring, yet her life was full of both tragedy and scandal. Most importantly, her face was one of the most famous in the world. Warhol's enthrallment with her began in the late 1950s and would stay with him throughout his life. Of the various portraits he did of the Hollywood starlet, none is more rich and striking than Liz #5. In it Warhol perfectly captures the glamour, sex appeal and ravishing beauty that epitomized Elizabeth Taylor. Yet behind this stunning façade is a rich and varied history which lends the painting a depth only found in the best of Warhol's work. In 1963, Elizabeth Taylor was at the height of her film career and Warhol at the height of his artistic creativity. Taylor was the highest paid actress in the world, internationally renowned for her unparalleled beauty. Warhol was the king of the New York art world, revolutionizing the status quo with his new style and technique. This legendary portrait was a groundbreaking masterpiece when it was painted then and today, with its rich history it becomes a timeless homage to two of the world's most iconic figures. Elizabeth Taylor, along with Marilyn Monroe and Jackie Kennedy would become Warhol's most famous muses and lasting legacies. Over the course of her life, Elizabeth Taylor collected five Oscar nominations, two Oscar wins, seven husbands and left a path of broken hearts in her wake. Her life matched the drama of the roles she played, full of triumph, tragedy and romance. It was in the early 1960s that she truly began to enthrall the world with both her high-profile films and her high-profile love life. Her face graced the covers of magazines and she quickly became a media sensation. It was this media frenzy and undeniable worldwide attraction that so captured Warhol's attention. It would be the April 13, 1962 issue of Life Magazine that officially cemented Warhol's love and fascination of her. The cover of the magazine was a photograph of Taylor and her costar (and lover) Richard Burton on the set of Cleopatra under the headline BLAZING NEW PAGE IN THE LEGEND OF LIZ. The ten pages in the magazine chronicled her professional rise to fame as well as the romantic scandals that began to surround her. It began with her first marriage to Nicky Hilton in 1950 to her then love, Richard Burton (even though at the time Taylor was still married to Eddie Fisher); from her start as a child star in National Velvet to the drama surrounding her role in Cleopatra, a film for which she was receiving the unprecedented salary of one million dollars. Her high earning potential came on the wings of massive media attention fueled by tragedy and scandal. In 1958, Taylor's third husband, Mike Todd, died in a plane crash. His plane was aptly called The Liz and Liz was in fact supposed to have been on the flight, only cancelling last minute due to a cold. At Todd's funeral, thousands of voyeuristic fans came to watch Taylor grieve, gawking at and surrounding her. It was front page news. The media followed her incessantly and shortly after, the tragedy was replaced by the uproar of her taking up with Eddie Fisher, whom she turned to for comfort and solace. Fisher was the best man at her wedding to Todd and then husband of America's sweetheart (and Taylor's childhood friend), Debbie Reynolds (the foursome were photographed together in the Life magazine spread in what would become the source material for Men in Her Life) – Taylor was quickly castigated as a home wrecker and hussy. She was once again front page news and this element of salaciousness only increased her fame. In 1961 Taylor traveled to London with Fisher to begin filming Cleopatra with Richard Burton. The filming had to be postponed – Taylor came down with such a severe case of pneumonia that she almost died. A few months later, following this near brush with death, Taylor won the Oscar for her performance as a high class call girl in Butterfield 8. While all this was happening thousands of miles away, Warhol was devouring the daily headlines and photographs documenting her every breath. This soap opera worthy life, outstanding beauty and international fame were the stuff of dreams for Warhol. The powerful combination of immense celebrity, fragile mortality and indefatigable press coverage would become the inspiration for Warhol's Liz series. By the time Warhol captured her face in these 1963 works, Elizabeth Taylor was only thirty-one years old yet had already lived a far more extraordinary life than most people do in an entire lifetime. Despite Warhol's fame within the art world, he had yet to meet the leading ladies who graced his canvases. To him, this was inconsequential. He was much more fascinated by and much preferred consuming these stars through the glossy reproductions, photographs and tabloid gossip that surrounded him. The Early Colored Liz paintings are based on an MGM publicity photograph from the late 1950s. Warhol was enamored with the graphic simplicity of the headshot and, following her tragic suicide, based his early Marilyn Monroe paintings on a similar shot. These headshots would also become the basis for Warhol's screen tests shot between 1963 and 1966. He was equally enamored by the mechanical and mass production appeal of silk-screening. Warhol said, "you get the same image, slightly different each time. It was all so simple – quick and chancy. I was thrilled with it." It was in early 1962 that Andy Warhol began to experiment with these silk-screens, first with the headshots of teen stars Natalie Wood and Troy Donahue and then with the first Marilyns, following her tragic suicide on April 5, 1962. By 1963 he had fully mastered the technique which would come to define Warhol's brand of Pop art. Not only was silk-screening instantly recognizable as his trademark but it embodied the electric artificiality and consumer culture that he so sought to capture. Owing to Warhol's mastery of his technique, these Early Colored Liz paintings are undeniably the best-executed and striking pieces of Elizabeth Taylor. Liz #5 is one of the standout pieces. Not only is the brilliant turquoise-hued phthalo green background heavenly but the screen is perfectly registered. The paintings from this series required an additional phase of work: Warhol would lay the screen twice, the first time to establish color registration and the second after the hand painting was complete. This extra attention is particularly noticeable in Liz #5 in the slight doubling (or volumizing) of her halo of black hair. The surface is impeccable and the sensuous lines of her face are highlighted with carefully painted makeup, if you will. Her crimson lips curve into a sultry smile, her glimmering violet eyes are accentuated by turquoise eye shadow and her skin is luminous. Warhol's aim was to capture and exaggerate Taylor's flamboyance, pure physicality and sexual appeal. He succeeds, laying bare the trappings of celebrity and fame. The result is an extraordinarily artificial image – yet one that radiates the promise of Hollywood sex and glamour. Liz #5 wholly seduces the viewer. The sheer visual splendor and shameless appeal of this painting is enhanced by its history: Liz #5 also captured the attention of one of the most important art world figures of Warhol's time, the powerhouse art dealer, Ileana Sonnabend. It became a central piece of Ileana's personal collection and remained so until her death in 2007. Ileana Sonnabend had a famously astute eye and a deeply passionate commitment to showing cutting-edge and avant garde art. She would only select pieces that truly embodied this vision for her personal collection. Ileana was steadfastly dedicated to pushing the limits of the art world and this reputation elevated her to the top rank of New York (and international) art dealers. At that time, in the early 1960s, the New York contemporary art world was small, with just a few galleries showcasing these young artists. Among them were the Betty Parsons Gallery, Eleanor Ward's Stable Gallery, the Sidney Janis Gallery and Leo Castelli's gallery. Even amongst this illustrious company, Ileana Sonnabend separated herself - few art dealers were as influential as she was or had such a lasting legacy. With her passion for the next big thing, it was inevitable that Ileana would meet Andy and in early 1962 she did. Warhol's fame was in no small part due to the influence that she had on his career. Were it not for her early interest in him, he perhaps would not be the artist he is known as today. Both Ileana and Andy had larger than life personalities and though they weren't regular occupants of each other's worlds, neither of their lives would have been complete without the other. "In the last interview he gave before his death in 1987, Andy Warhol was asked to comment on a remark – 'For Andy, everything is equal' – made about him by the gallerist Ileana Sonnabend. Warhol thought about it for a second and then said, 'She's right.' Challenged by the interviewer to expand on his answer, a clearly rattled artist snapped, 'I can't. If Ileana said it, she's right.' Even for Warhol, there was no arguing with the woman known as "the mom of Pop" (C. Darwent, "Ileana Sonnabend: Queen of the SoHo art world," The Independent, October 27, 2007). As part of this illustrious collection, Liz #5 has traveled the world and dazzled its viewers in exhibition after exhibition showcasing the best of Andy Warhol's art and the icons of Ileana Sonnabend's collection. The powerful merger of Sonnabend, Warhol and Taylor, all famous stars within their own fields, highlight the timeless beauty, cunning eye and groundbreaking vision that define this painting. Few women have so elegantly mastered the game of seduction as well as Elizabeth Taylor and few portraits have elicited as much attention as Andy Warhol's 1963 paintings of her. He perfectly captures her glamour and she becomes the masterpiece of his iconic style. The result is a timeless portrait of a legendary woman embodying the glamour, glitz and love for life that defined her. In Andy Warhol's own words, "When I die I don't want to leave any leftovers. I'd like to disappear. People wouldn't say he died today, they'd say he disappeared. But I do like the idea of people turning into dust or sand, and it would be very glamorous to be reincarnated as a big ring on Elizabeth Taylor's finger" (K. McShine, Andy Warhol A Retrospective, New York, 1989, p. 466).
Starting Bid
$18,000,000.00
Buyer's Premium
25% up to

$50,000.00

20% up to

$1,000,000.00

12% above

$1,000,000.00
Discover Items You'll Love