Audrey Hepburn's iconic Ascot dress from My Fair Lady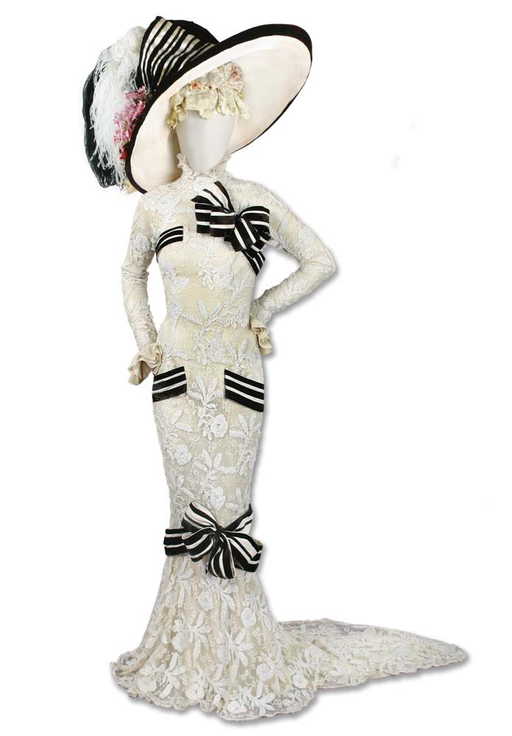 See Sold Price
Don't Miss Your Next Treasure.
Set up a search alert to hear when Profiles in History lists new auctions.
Auction ended on June 18th, 2011 UTC
Audrey Hepburn's iconic Ascot dress from My Fair Lady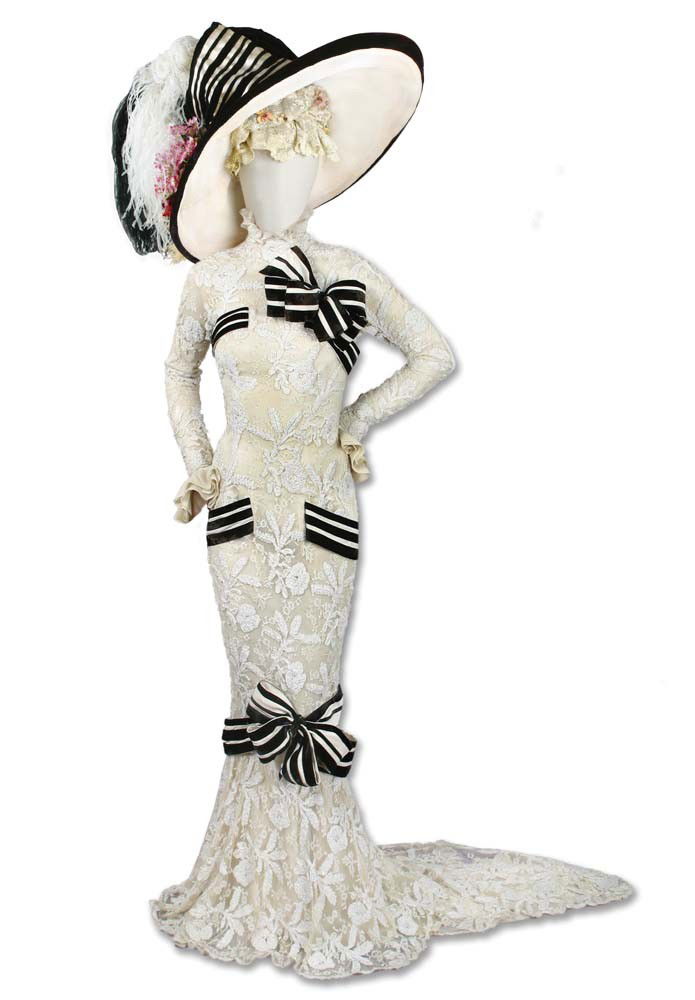 Audrey Hepburn's iconic Ascot dress from My Fair Lady – Designed by legendary costume designer Cecil Beaton. (Warner Bros., 1964) When George Cukor was selected to transform the successful Broadway play Pygmalion into a lavish silver-screen extravaganza, one of the most important personnel choices he faced was the costume designer. However, it soon became clear to him that there could be no other choice other than Cecil Beaton, who had designed all of the costumes for the stage version of the musical, and whose beautiful fashions had nearly out-shown Rex Harrison and Julie Andrews. A runaway success, the play garnered several awards, including a Tony for Beaton. He later remarked (somewhat tongue-in-cheek): "The success of the Pygmalion musical was beyond all expectation… It made success seem easy and now, when I am stopped on all sides to receive compliments, I wonder why it never happened before. It has not come too late, but I am perhaps a bit bitter that some of my friends in the theatre (if there is such an anomaly) did not spot my talent years before…" For the film version of the play, which became the most eagerly anticipated film since MGM's Gone With the Wind, Warner devoted significant financial resources. This presented an exciting opportunity for Beaton, whose love affair with turn-of-the-century fashion had germinated for over thirty years. He had written an article for Vogue in 1930 entitled "Ascots of the Past", and as one writer put it, had been preparing for such an Edwardian fantasy since childhood. As both the costume designer and art director for My Fair Lady, Beaton was responsible for both the costumes and sets – essentially the entire production sans acting and story. Perhaps the most challenging scene was the Ascot race, which required an enormous, custom-fabricated set along with extraordinary formal attire deserving of Eliza's first appearance in public. For the set, Beaton based the Ascot grounds on a tent designed for the film Anna Karenina, and a marquee decorated for a 1959 society ball. The costumes were another matter entirely. The four hundred women in the scene each required magnificent gowns designed for them individually. For this, Beaton consulted his mother on her own early wardrobe and asked his friend Diana Cooper what her mother, the Duchess of Rutland, had worn for Ascot. She replied, "Certainly cream, a straw hat trimmed, of course, by herself with little bits of bird's breast and/or ribbon in dirty pink; wide-ish brimmed and fairly shallow, and the Sarah Bernhardt fringe in front. Good beige gloves. Very high heeled shoes she hoped didn't show. Parasol, of course!" For his film designs, Beaton took these eyewitness accounts and infused them with the historical description of the famous Black Ascot of 1910, the first Ascot racing season after the death of King Edward VII. At this somber event, society dressed from head to foot in black mourning clothes, styled in the Ascot fashion of the day. Beaton made some key departures from the historical and idealized Ascot fashions, and arrived with a wonderful cinematic spectacle intended solely for the camera. Audrey Hepburn's dress is certainly one of the most impressive examples of Edwardian finery ever stitched. It is constructed of a silk linen undergarment with back zipper closure, overlaid with fine lace which is hand-embroidered in a delicate flower motif. The dress is trimmed in black velvet striped ribbon, with a large bow at the left breast. Inside the left cuff, a bias label is written in blue ink (which has faded over time), "814 10-4 W. Bros." The large picture hat is constructed of a lightweight cotton burlap, trimmed in black velvet with white and black ostrich feathers on one side, as well as a small sprig of faux lavender pansies attached to the crown. Finishing the ensemble is the obligatory white parasol of matching lace fabric. According to one biographer, "My Fair Lady represents Beaton's masterpiece, the apotheosis of his whole personality, of all he had ever hoped for. 'There is no formula for success,' he once said, 'the element of the unknown is always present to make or mar your effects; but when all the elements fuse and an entity is created, then all the heartburns seem to have been worth while.' Costume design should be 'at its finest an opulent cornucopia showering the spectator with golden illusions not to be found at home.'" And to audiences around the world, indeed it was. My Fair Lady garnered eight Academy Awards, including Best Picture, Best Costume Design, and Best Art Direction/Set Decoration, the last two of which were conferred upon Beaton. This gorgeous gown, which is featured in nearly every image associated with the film, is considered to be Cecil Beaton's magnum opus. Worn by the lovely Audrey Hepburn in the most memorable scene of the film, it is without question one of the finest screen-worn garments ever made.
Discover Items You'll Love