lots of lots
Welcome to the world's largest marketplace for fine art, antiques & collectibles.
194E: Continental carved ivory pipe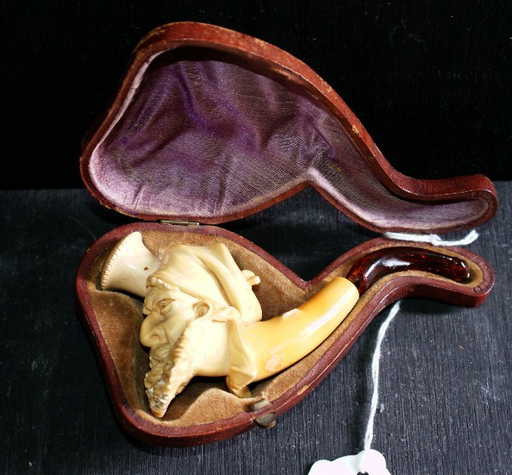 See Sold Price
Don't Miss Your Next Treasure.
Set up a search alert to hear when Ivory Sculptures items arrive.
Auction ended on October 4th, 2011 UTC
194E: Continental carved ivory pipe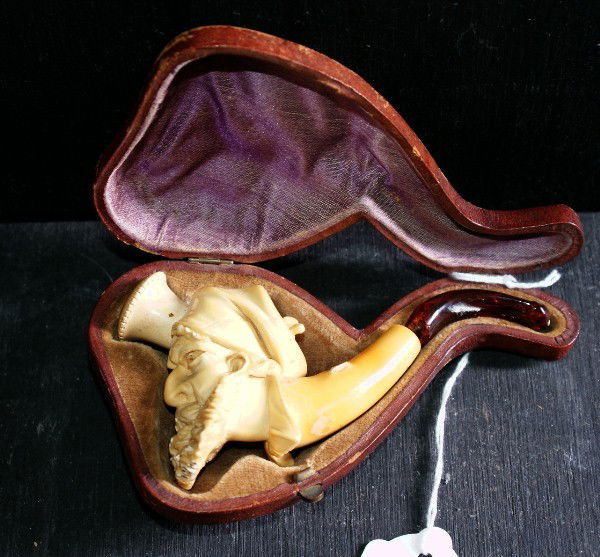 Continental carved ivory pipe in a fitted case. Ivory: 3 3/4"
Shipping
Buyer Pays Shipping Cost
Payment
US Bidders: Credit Cards, Checks, Money Orders accepted. International Bidders: Bank Wire Transfers Only (Please Include Live Auctioneers invoice number as reference with wire payment)
Accepted payment methods
Ivory
International shipping is not availble.
Condition Report
The absence of a condition statement does not imply that the lot is in perfect condition or completely free from wear and tear, imperfections or the effects of aging. Interested bidders are strongly encouraged to request a condition report on any lots upon which they intend to bid, prior to placing a bid. All transactions are governed by Estate Galleries Terms and Conditions of Sale.
Terms
Privacy Policy: The information obtained for registration purposes is for the sole use and purpose of Estate Galleries and is required to bid. Registering to bid with Estate Galleries and Live Auctioneers' will include you in Estate Galleries' customer list. If you do not wish to be included you may opt-out by notifying Estate Galleries. We do not share the information collected with third parties. Conditions of Sale: All property in the sale is offered according to the following terms and conditions and is applicable to all bidders, including Internet bidders. 1. All property is sold "as is", "where is", with any and all faults. Any condition statement is given as a courtesy to a client, is only an opinion and should not be treated as a statement of fact. Estate Galleries shall have no responsibility for any error or omission. The absence of a condition statement does not imply that the lot is in perfect condition or completely free from wear and tear, imperfections or the effects of aging. ALL SALES ARE FINAL. NO REFUNDS, RETURNS, EXCHANGES, OR REFUSALS. There are no warranties or representations of merchantability, of fitness, nor of any kind, express or implied. Your bid will signify that you have examined the items as fully as you desire, or that you have chosen not to examine the item. Property is open to the public for thorough inspection during business hours, and is the bidder's responsibility to determine condition, etc. Estate Galleries is not responsible for any variations in appearance of online photographs. 2. All statements contained in the catalog or in any bill of sale, invoice or elsewhere as to authorship, period, culture, source, origin, measurement, count, quality, rarity, provenance, importance, exhibition and literature of historical relevance, or physical condition ARE STATEMENTS OF OPINION AND NOT REPRESENTATIONS OR WARRANTIES. No employee or agent of Estate Galleries is authorized to make on their behalf or on that of the property owner any representation or warranty, oral or written, with respect to any property. 3. A bid shall be conclusive proof that the person has made themselves acquainted with these conditions of sale and has agreed to be bound by them. 4. The buyer shall be the highest bidder. Should a tie or dispute arise between two bidders, the auctioneer may, at his discretion, reopen the bidding between the two high bidders until the property is sold. 5. The price recorded by the auctioneer and/or auction clerk takes priority and will be official. 6. To maintain the continuity of the sale, it shall be the duty of the auctioneer to advance the bidding at his own discretion, and may reject a nominal or fractional advance, should it, in his opinion prove injurious to the sale. 7. In the case of lots upon which there may be a reserve price, the auctioneer shall have the right to bid on behalf of the consignor. Consignors are not allowed to bid on their own property. 8. Before any purchases are allowed to be removed, full payment must be made in cash or by other means as announced by the auctioneer before the sale. Unless exempted by law, the purchaser shall pay any and all applicable taxes. Estate Galleries reserves the right to hold purchases where payment is made by check until notified by the bank that the check cleared. Estate Galleries reserves the right to require a bank check for large purchases. 9. Telephone, Absentee and Internet bids must be paid no later than 5:00 PM Eastern Time the third business day following the conclusion of the auction. 10. Upon the fall of the hammer or when the Auctioneer says, "SOLD," title on the property shall pass to the highest bidder, who thereupon assumes full risk and responsibility. All lots shall be removed from the premises by the purchaser at his own risk and expense within the time period announced by the auctioneer, and if not removed, may be sent by Estate Galleries to a storage facility, for the account, risk and expense of the purchaser. 11. Estate Galleries shall, as a courtesy, undertake to make execution bids (or absentee bids) for responsible parties in their absence, yet reserves the right to decline to do so and in no case shall be responsible for failure to do so. Please leave payment (unless otherwise instructed not to do so) in the amount of the bid with the accompanying name and address. The difference between the sale price and the bid, or the whole payment if the bid fails, will be returned within 72 hours after the conclusion of the auction. Removal of merchandise shall be in accordance with other conditions listed herein. 12. In certain instances, in order to bid on a specific lot or lots, a minimum refundable deposit of 10% may be required. The winning bidder will have their deposit applied toward the sale. Non-winning bidders who have posted a deposit will have their deposit refunded within 72 hours after the conclusion of the auction. Payment in full is due in cash, credit card or certified funds at the conclusion of the auction, but no later than 5:00 p.m. on the next business day following the auction. Estate Galleries reserves the right to hold purchases where payment is made by check until notified by the bank that the check cleared. 13. Estate Galleries and/or the Auctioneer, reserves the right to pass or withdraw any lot before or during the sale. 14. Estate Galleries, the Auctioneer nor Consignor shall be liable for any personal injury on the premises where the sale shall be held. 15. Purchaser is responsible for all costs of shipping. Estate Galleries may facilitate the employment of, or recommend carriers and packers as a convenience to purchasers, but assumes no responsibility for their actions. Estate Galleries has no facilities to package items; therefore it is the buyer's responsibility to be certain the shipping carrier has their own packing materials for the smaller items. 16. If the foregoing conditions or any other applicable conditions herein are not complied with, in addition to other remedies available to Estate Galleries and the Consignor by law, including, without limitation, the right to hold the purchaser liable for the bid price. Estate Galleries, at its option, may either (a) cancel the sale, retaining as liquidated damages all payments made by the purchaser, or (b) resell the property publicly or privately, and in such event, the purchaser shall be liable for the payment of any deficiency plus all costs, including storage, the expense of both sales, Estate Galleries commission at its regular sale and all other charges due hereunder, and incidental charges. 17. It is our policy to protect the identity of any and all bidders and Consignors at our sales, whether the bidder or Consignor is present or has left an execution (absentee) bid with the Estate Galleries. 18. A 20% buyer's premium will be added to the sale of each lot, plus applicable taxes, unless exempt by law. 19. Florida buyers, without exception, in order to be considered tax-exempt, you must provide a fully completed, signed legible 2011 copy of your resale certificate. If not already on file or available at time of check out, sales tax will be applied to all purchases. You can obtain a refund for the sales tax after providing a copy of the resale certificate. 20. Final authority in all matters related to authority to bid and bidding rests solely with Estate Galleries and the auctioneer conducting the sale. This applies to bid increment (the auctioneer may, on occasion, change increments at any point during a sale at his discretion, and may employ different "standard"Â increments), absentee bidding, retracting a bid, re-offering a lot, or any other situation. Competing bids at the same level may be placed simultaneously in the salesroom. The auctioneer has sole discretion as to which bid is accepted during the sale. 21. All lots are offered with reserve unless otherwise announced or advertised as "Absolute." 22. Our sales take place on our premises or premises over which we have control, and we have the right, exercisable at our complete discretion, to refuse admission to the premises or attendance at an auction. 23. International shipping is not available on ivory pieces. Shipped within the U.S. only. 24. All weights and measurements are approximaions. Additional Terms and Conditions For Internet Bidders Estate Galleries is not liable for malfunctions, errors or omissions (hardware, software, electronic, human or otherwise) whether or not due to Estate Galleries' fault or negligence, resulting in the inaccurate transmittal of bids, the failure to execute bids or any other irregularity. 1. These terms and conditions have been added to our standard Terms and Conditions for bidders using Live Auctioneers. Use of LiveAuctioneers.com allows bidders to enter bids "live," that is, as property is offered for sale, just as if the bidder is present at the sale. 2. Bidders must register with LiveAuctioneers.com to participate in online bidding. 3. You hereby authorize Estate Galleries to verify the information you have provided with the appropriate third parties. 4. Estate Galleries Terms & Conditions define and control the relationship with our clients, despite the bidding venue or method the bidder employs. In the case of any disputes or conflicts between our Terms and Conditions and those of LiveAuctioneers.com, Estate Galleries Terms and Conditions control. 5. Winning bidders are responsible for arranging packaging, shipping and all associated costs. Estate Galleries assumes no liability for the bidder's selection of a shipper or the shipper's performance. Estate Galleries has no facilities to package items; therefore it is the buyer's responsibility to be certain the shipping carrier has their own packing materials for smaller items. 6. Bid increments may be changed at any time at the auctioneer's discretion. In some cases, these increments may not reflect those pre-programmed into the online bidding system. The auctioneer's decisions are final. 7. The online catalog may not always reflect the actual sequence of the auction or the lots to be presented. In some cases, the online catalog cannot be modified to accommodate last minute changes, such as withdrawal of an item, a revised description or estimates. Estate Galleries will make every effort to alert online bidders of such changes at the time the lot is presented (or not, in the case of withdrawal), but we do not guarantee that we can do so in every case and assume no liability if we cannot. 8. Right of Rescission - Online bidders are assumed to have the same access to information regarding the items for sale as other bidders, including those who participate in person. Estate Galleries has no responsibility to refund your bid or renegotiate bid price after you have received and inspected the property, unless the specific tests for bid rescission as defined in the general auction Terms and Conditions of sale. 9. Successful Internet bidder's purchases will be charged to their credit card 24 hours after receiving an invoice from Estate Galleries, unless other approved arrangements have been made. 10. Estate Galleries is not responsible for any variations in appearance of online photographs. 11. Condition statements are given as a courtesy to the client, and are only an opinion and should not be treated or relied upon as a statement of fact. Estate Galleries shall have no responsibility or liability for any error or omission. The absence of a condition statement does not imply that the lot is in perfect condition or completely free from wear and tear, imperfections or the effects of aging. 12. Estate Galleries does not provide packing or shipping services. It is the buyer's responsibility to arrange and pay for all packing and shipping. All buyers must contact a shipping company to make packing and shipping arrangements including pick up, shipping charges, and claims should they arise. We are not responsible for the acts or omissions in packing or shipping of purchased lots by carriers or packers, whether or not recommended by us, once it leaves our control. Packing and handling of purchased lots is at the entire risk of the purchaser.
Discover Items You'll Love

Bid Anywhere, Anytime. Download the LiveAuctioneers App.
Available on the App Store
Android App on Google Play