18: "Enigma Type A", c. 1943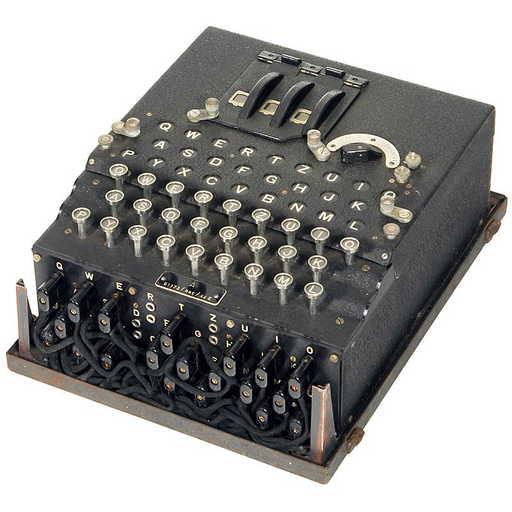 See Sold Price
Don't Miss Your Next Treasure.
Set up a search alert to hear when Coins, Currency & Stamps items arrive.
Auction ended on November 24th, 2012 UTC
18: "Enigma Type A", c. 1943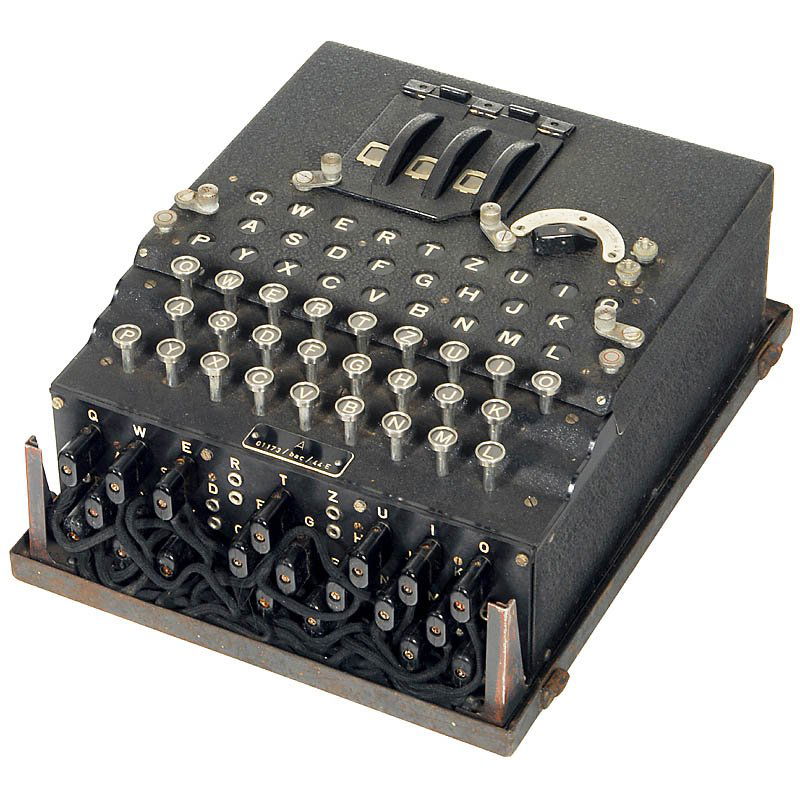 "Enigma Type A", c. 1943
World's most legendary cipher machine which influenced WWII dramatically. Good original condition, electrical functions proved! Manufactured by Ertel in Munich, Germany. - Serial no. 44 E(rtel). - With 3-rotor set, numbered A-01173/44E (I), A-01173/44E (II) and A-01173/44E (IV). Lamps replaced. - A spectacular collector's item and exhibition piece!

Chiffriermaschine "Enigma Typ A", um 1943
Legendäre und geheimnisumwobene deutsche Glühlampen-Chiffriermaschine, die den Verlauf des 2. Weltkrieges entscheidend beeinflußte und zu seinem Ende beitrug, nachdem sie zuvor die deutsche Vorherrschaft zur See begründet hatte, bis es den Engländern gelang, ein havariertes U-Boot samt Besatzung und "Enigma"-Ausrüstung zu kapern, ohne daß es die deutschen Befehlshaber zunächst bemerkten. So fiel ihnen auch der Code und das ganze Chiffriersystem in die Hände. Um das zu verbergen, heroisierten die englischen Militärs die beiden Mathematiker Alfred Knox und Alan M. Turing zu "Superhirnen", die es mit der Konstruktion des ersten frei programmierbaren Elektronenrechners geschafft haben wollten, den Enigma-Code zu knacken. Das war aber nur Legende! Denn der "Enigma" war es dank ihres genialen Konstrukteurs Dr. Arthur Scherbius, Berlin, möglich, über 22 Milliarden (!!) Code-Kombinationen ohne jede Wiederholung zu produzieren. Bildlich gesprochen hieße das: Wenn jemand jede Minute einen neuen Code benutzt und Tag und Nacht arbeitet, würde man 42.000 Jahre benötigen, um alle Code-Kombinationen auszuschöpfen. - Dieses exzellent funktionierende 3-Walzen-Gerät ist für nichtdruckenden Einsatz bestimmt, bei jedem Tastendruck leuchtet ein anderes Zeichen auf, das notiert werden mußte. Auch der wiederholte Druck auf dieselben Tasten führte immer wieder ein anderes Leuchtzeichen aus, so wie es der eingestellte Code zuließ. Zur Dechiffrierung mußte der vereinbarte Code eingestellt und die Nachricht durch simuliertes Abschreiben "lesbar" gemacht werden. - Hersteller war die Fa. Ertel in München mit der Serien-Nr. 44 E(rtel). - Mit 3 Original-Walzen, bezeichnet: A01173/44E (I), A01173/44E (II) und A01173/44E (IV). - Literatur: 1) Martin, 1949, S. 370. - 2) "Spiegel", Nr. 47/1978, S. 121 u.a. - Mit Original-Metallkasten. Lampen ergänzt. - Eine technisch wie gesamthistorisch absolute Rarität von höchstem Stellenwert! - Eins der ganz großen technisch-historischen Sammlungs- und Ausstellungsstücke!
Discover Items You'll Love