Weekly Auctions of Exceptional Items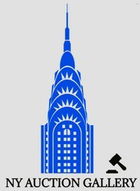 NY Auction Gallery's owner, Kevin, has been collecting valuable antiques for two decades. With a physical location on 2nd Avenue, NY Auction Gallery is committed to serving its customers with the highest expertise in valuable antiques and decorative arts collected from all corners of the world.
Upcoming Auctions
Reviews
Past Auctions
Record Results
Upcoming Auctions from NY Auction Gallery
Bidder Reviews for NY Auction Gallery (18)
8 Latest Top ReviewsSee All
Elizabeth
Chicago, Illinois
Jian Hua
Cherrybrook, Australia
Received items as expected
The overall process are professional.
Bryan
Palm Springs, California
Tony
Boston, Massachusetts
Jianmin
Santa Barbara, California
It's what I want
I really like there two bowls.