Weekly Auctions of Exceptional Items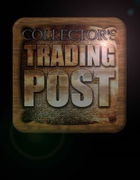 Collector's trading post is a consortium of professionals and hobbyists who are dedicated to serving you- the collecting public. We are collectors ourselves , and we want to share our knowledge and enthusiasm with the world. We are UNIQUE in that we offer CASH UP FRONT before auction time, and that we will never compromise our integrity for profit. Our 24 hour service line is 732 207 8264; ask for Larry Defoe; he and our staff will provide you with great service!
Upcoming Auctions
Past Auctions
Record Results
Upcoming Auctions from Collector's Trading Post
Collector's Trading Post has no upcoming auctions.

Follow this

auctioneer to hear about new auctions.
Past Auctions from Collector's Trading Post
Started Jan 06, 2018 8:00 PM EST
RED BANK, nj
Started Oct 27, 2017 8:30 PM EDT
Red Bank, New Jersey