LTWID Auction House S.R.L

LTWID Auction House S.R.L
Our company was born from a passion for great Italian Mid Century design and more, a passion that has led us to carefully select the unique pieces we offer for sale. Ours is a company with a strong vocation for elegance and the style of modernism, art deco and new contemporary interpretations capable of stirring emotions. With the capacity of three warehouses in the province of Milan, we have selected more than 2000 pieces to satisfy every need from furniture to furnishing accessories. Our collection consists of a wide range of styles from the early 1900s to the 1990s. Terms and Conditions Sales are made to the highest bidder. Transfers to third parties of lots already awarded will not be accepted. The Auction House will hold only the successful bidder responsible for payment. Therefore, participation in the auction on behalf of a third party must be announced in advance and evidenced by written authorization. For sales of a judicial nature, the appraisal may be preceded by such indications as b.a. (auction base) i.e. minimum imposed price, val. (appraisal of the object by the Auction House) or o.l. (free bid), i.e. lot saleable to the highest bidder without a minimum starting price. Conditional appraisals must be requested exclusively before the start of the auction, otherwise Ltwid Auction House S.r.l. will no longer be responsible for defects or deficiencies on the requested item. For lots with an estimate of less than 300 euros, the Condition Report cannot be requested. Valuations in the catalog are purely indicative and expressed in Euros. The descriptions given represent an opinion and therefore do not imply any responsibility on the part of Ltwid Auction House S.r.l. Any disputes must be submitted in writing within 15 days and if deemed valid will only result in the refund of the amount paid without any other claim. Ltwid Auction House S.r.l. makes no warranty as to the attribution, authenticity or provenance of the goods offered for sale for which the sole responsibility remains with the principal. The principal assumes all warranties and responsibilities with respect to the property, with reference to, but not limited to, ownership, provenance, preservation and marketability of the property subject to the mandate. All auctions are preceded by the display of the lots, in order to allow interested parties a careful and thorough examination regarding the authenticity, state of preservation, provenance, type and quality of the same, on which exclusively the bidders and the Buyer assume all risk and responsibility, including for the effects of art. 1488, c. 2, Civil Code. Interested parties undertake to examine the property in person, if necessary with the help of a trusted expert. All items are sold "as seen," in the state and condition they are in. After adjudication, neither the Auction House nor the Sellers can be held responsible for any defects in the lots, relating to, among other things, the state of preservation, misattribution, authenticity, provenance, weight or lack of quality of the lots. To this end, the bidders and the Buyer declare that they acknowledge that the lots are not new, but second-hand goods and are purchased as seen and liked, and they expressly waive the warranty referred to in Article 1490 of the Italian Civil Code, releasing the Auction House from any related liability; to this effect, neither the Auction House nor its staff will be able to issue any valid warranty in this regard. The Auction House may accept buying commissions (written or telephone bids) of the lots for sale upon precise mandate. Lots will always be purchased at the lowest price allowed by other bids on the same lots and registered reserves. The Auction House, while acting with the utmost diligence, will not be held responsible for any errors it may incur in the execution of written or telephone bids. Written and telephone bidding forms must be completed accurately in all their parts and in the manner indicated in the appropriate section (Purchasing Arrangements), and purchase orders with unlimited bids will not be accepted. A proof of identity and social security number must also be provided for notation on the P.S. records kept at the Auction House offices. In case of equal write bidding the one received first will prevail. The Auction House, given the limited number of telephone lines, also reserves the right not to accept telephone contact requests if they come from people who have demonstrated on previous occasions that they are not really interested in the purchase. Ltwid Auction House S.r.l. through the online platforms it uses, also gives the opportunity to leave online bids in real time during the course of the auction. By completing registration on the platforms and providing credit card information, the user accepts all the terms and conditions of Ltwid Auction House S.r.l. The buyer will pay an auction fee, per lot. In the case of online bidding, the percentage established in the terms and conditions of the relevant platforms for live participation in the auction will be added to the auction fees. The Auction House reserves the right to require, for its own protection, a security deposit from those who express a willingness to participate in the auction, either in person or through written and/or telephone bids. The Auction House may immediately demand full payment of the auction price and auction fees. In any case, the same must be made within seven days of the sale. In Italy, failure to pay for lots awarded in Italian auctions is a criminal offense. Purchasers are required to comply with all laws and regulations applicable to the items being notified with particular reference to Legislative Decree 22.01.2004 no. 42 (so-called Cultural Heritage Code) and ss.mm. and, with regard to export outside the European Community, to EEC Regulation no. 3911/92 of December 9, 1992 and ss.mm. It is the sole responsibility of the Buyer to verify any restrictions on the export of the lots awarded or any licenses or certificates required by law (issued or to be issued), with express exoneration of any possible obligation and/or responsibility on the part of the Auction House. The export of items shall be governed by the aforementioned regulations and applicable customs and tax laws. The Auction House disclaims any liability to buyers with regard to any restrictions on the export of the lots awarded. The successful bidder and the buyer may not, in the event of the exercise of the right of pre-emption by the Italian State, claim from the Auction House or the Seller any reimbursement or compensation. Payment for the lots, in Euros, must be made within seven days of the sale by one of the following forms: - Bank transfer -Cash -Credit card
Via Alessandro Farnese, 26 - 00192 - Roma (RM)
Warehouse pickups: Via Ludovico Ariosto 16 Rozzano, Mi 20089
+39 3201509991
Send Message
Consign Item
Upcoming Auctions from LTWID Auction House S.R.L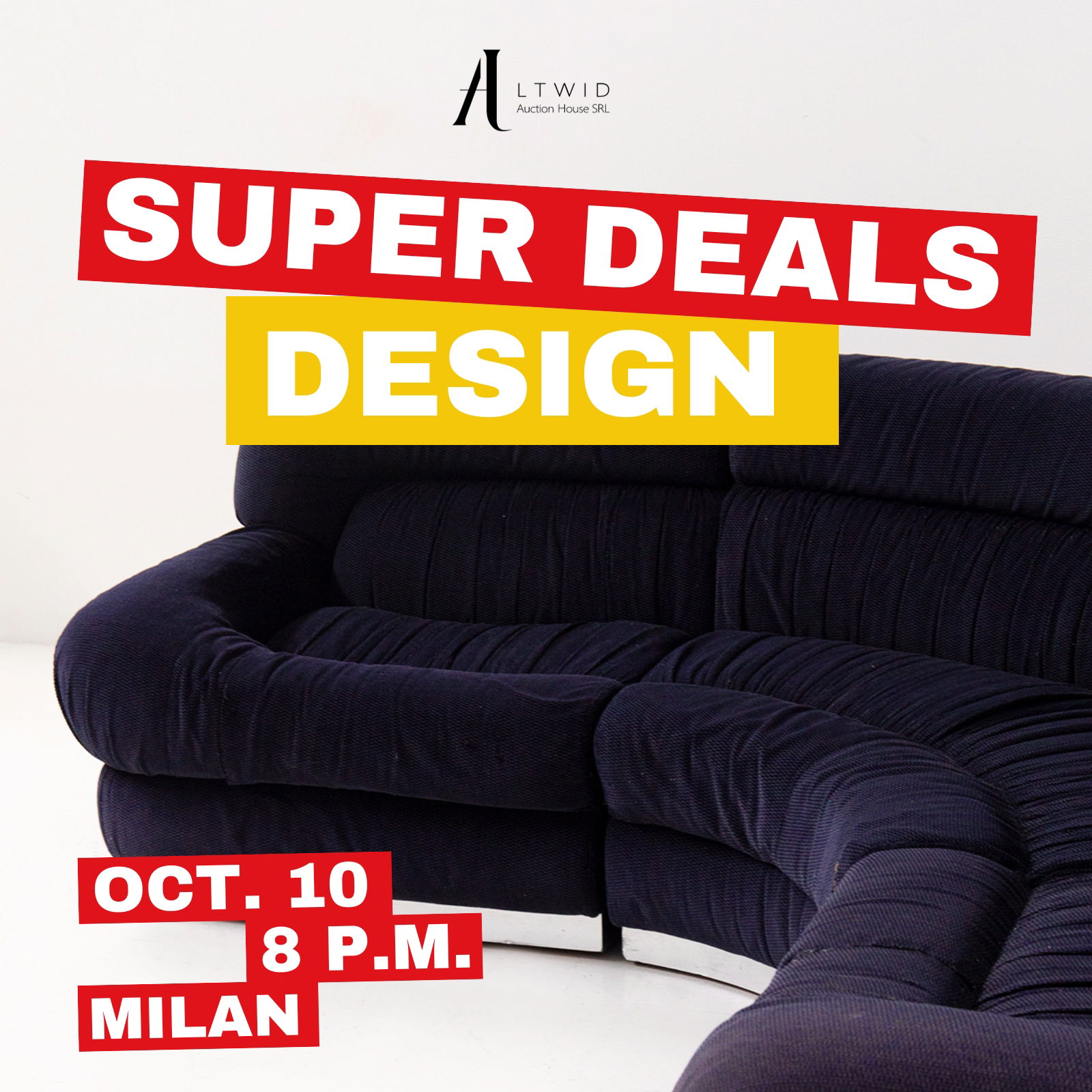 Super Deals Design
Participate in our first fall auction!!! You'll find so many amazing and unique lots at prices you've never seen before! The auction will feature a collection of highly valuable and elegant design and modern pieces, as well as uniquely beautiful decorative items of fine workmanship. Take this opportunity to decorate and embellish your home with unique items!
Starts Oct 10, 2023 2:00 PM EDT
Why can't I view the catalog?
Bidder Reviews for LTWID Auction House S.R.L

(

17

)