Aiken Vintage Auctions, LLC

Aiken Vintage Auctions, LLC
At Aiken Vintage Auctions, we curate fine jewelry, antiques, artwork and coins and bring them to auction. Our "Customer First" approach is something we pride ourselves in maintaining. We treat our bidders, like we would want to be treated if we were on the other side of the transaction. We're friendly, not just on the phones, but in our service approach. We offer flexible pickup schedules, easy shipping anywhere in the United States and convenient transport of all items sold.
Upcoming Auctions from Aiken Vintage Auctions, LLC
has no upcoming auctions. auctioneer to hear about new auctions.
Bidder Reviews for Aiken Vintage Auctions, LLC

(

4

)
2 Latest Top ReviewsSee All
Excellent delivery
Very good experience. Thanks for the efficiency!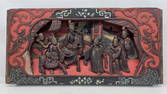 Communication
What I found very disappointing is that for whatever reason they refunded the money for one of the items that I "won" and when I called them to ask what the refund was for they said it was state taxes. So, here comes by box in the mail and I was super excited because the item that I did not receive was a gift for a dear friend. Searched the box, the trash and it was nowhere. Looking at the invoice that came it said "refunded" next to the item I did not receive. Would have been better had they sent an email specifying what the refund was for and why. I messaged the auction house and no response.