William Reaves Fine Art L.L.C.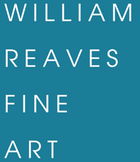 William Reaves Fine Art L.L.C.
About Us William (Bill) Reaves, has been active in the early Texas art community for over twenty years as a collector, author, guest curator and organizational director. He is a former member of the Board of Directors of the San Antonio Art League, as well as a founder and former Chairman of the Board of the Center for the Advancement and Study of Early Texas Art (CASETA). He has also been an active member of Texas collector societies in Austin (Central Texas TACO) and Houston (HETAG). He has served as guest curator or advisor for several exhibitions of Texas paintings, including exhibitions at The San Antonio Art League Museum, The Heritage Society-Houston, and The Lady Bird Johnson Wildflower Center. He is the author of Texas Art and a Wildcatter's Dream, published by The Texas A&M University Press. Bill and his wife Linda have been avid Texas art collectors for over twenty years, and together have assembled a strong collection of art objects representing the evolution of Texas paintings during the interior of the twentieth century. Both members of the Reaves family served for thirty years as a teachers and administrators in public and higher education, retiring in 2003. William Reaves Fine Art Open Wednesday – Saturday 10:00am – 5:00pm CONTACT INFORMATION: Gallery Address Mailing Address 2313 Brun Street 16618 Fern Rock Falls Court Houston, Texas 77019 Spring, Texas 77379
Upcoming Auctions from William Reaves Fine Art L.L.C.
has no upcoming auctions. auctioneer to hear about new auctions.
Past Auctions from William Reaves Fine Art L.L.C.
Oct 14, 2007 10:20 AM EDT
Houston, TX, US
Auction Ended
Houston, TX, US
Auction Ended