Weekly Auctions of Exceptional Items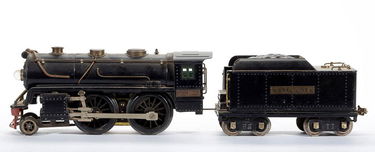 Sat, Dec 07, 2019 2:30 PM UTC
Jeffrey S. Evans & Associates
TOP RATED
Three collections of toy trains featuring the William C. Brinker estate collection, New Brunswick, NJ including a large selection of pre-war Lionel and Ives standard gauge, Lionel and other post-war and modern era, many good accessories, etc; the Frances Spillman collection of children?s glass and china toy dishes, doll/toy furniture, and other toys; a collection of toy sewing machines; large collection of Beatrice Potter items including figures and books; holiday decorations; plus more.
You'll have to register before you can place bids in this auction. This auction has already started, so you might want to hurry!
Auction Information
Preview
December 4-6, 10:00 am to 6:00 pm ET December 7, 8:00 am until end of auction.
2177 Green Valley Lane
Mt. Crawford, VA 22841
United States
Terms & Conditions
Terms and Conditions & Privacy Policy By submitting your bid, you agree that: ? You have read and agree with the Auctioneer Terms and Conditions below ? You agree to pay a buyer's premium of up to 24.5%. Terms and Conditions for Jeffrey S. Evans & Associates Conditions of Sale All potential bidders must establish an account with JSE&A. In order for us to set up your account we will need a copy of your current driver's license or similar document showing your full name and physical address. We will also need your telephone number and email address for contact purposes. Your bid constitutes a legally binding contract. By bidding with Jeffrey S. Evans & Associates, Inc. either directly or through an online bidding platform (e.g. LiveAuctioneers), you are agreeing to abide by all associated auction terms. Bidder approval is at the sole discretion of Jeffrey S. Evans & Associates. 1. The auctioneer reserves the right to reopen bidding on a sold lot (under extreme circumstances only) and is the sole determinant concerning all bid disputes and the final authority in regard to all auction terms and conditions. 2. All auction lots sold are subject to a buyer's premium. Payment in full is due on date of sale for lots won in person. 3. Unless exempted by law, all purchases are subject to a 5.3% VA state sales tax. VA state sales tax does apply to out-of-state, non-tax exempt buyers who pick up their purchases at our gallery in Virginia. 4. SALES TAX EXEMPTIONS: Virginia law requires that all dealers must have a valid signed tax exemptioncertificate on file with us. Out of state dealers must provide a copy of their current exemption certificate. 5. Phone and absentee bidding directly with our auction house, and not through a third party company such as LiveAuctioneers, is offered as a courtesy. We are not responsible for errors or unexecuted absentee or telephone bids. (Bidders may place bids themselves in person or online.) 6. Non-Internet bids: If you do not have Internet access, you may fax, mail, or hand-deliver bids to us and we will enter the bids on your behalf. Non-Internet bids must include the auction date and a signed statement indicating that you accept all terms and conditions of the auction. Note: Your local library may provide Internet access for free, or for a nominal fee. 7. All absentee bids must be in written form. We cannot accept verbal absentee bids. Submitted bids that are not commensurate with our standard Bid Increments will be rounded up to the appropriate level. 8. We welcome international bidders; however, all communications must be in comprehensible English. 9. Make sure that you have the correct lot number! If you accidentally bid on a lot and win, you are still liable for payment as we are liable to the consignor. 10. Absentee bidders may be in competition with various LIVE bidders which may include FLOOR or ON-SITE/IN-HOUSE bidders (bidding in person at our gallery), INTERNET bidders (bidding in real time via computer) or PHONE bidders (bidding in real time via telephone). 11. In the event of identical absentee bids, the earliest received bid takes priority. NOTE: It is possible that a "Live" bidder could win a lot for the same bid amount you placed prior to the auction (it depends on where the bidding opens and how it falls during sale of the lot). SEE EXAMPLE at www.jeffreysevans.com 12. Absentee bids placed through the LiveAuctioneers system are accepted at any time prior to the sale of the item. The deadline for all other absentee bids (e.g. bids placed through LiveAuctioneers) is two (2) hours prior to the start of the auction. 13. All Telephone bids are subject to a minimum opening bid per lot ($250 for calls within the USA and $500 for international calls). Phone bids must be arranged by 3:00 PM ET, the day prior to the auction We may reject requests submitted after our deadline. 14. We will notify all successful bidders by email (or by phone if no email) within 2 business days of the end of the auction. (All emailed invoices are normally sent on the first business day following the sale; however, if we have an extraordinarily high volume of invoices, some may be sent on the second day.) Post-auction instructions are on our website under BUYING>After the Auction. 15. Successful bidders are required to contact us to confirm receipt of invoice and to make arrangements for payment and shipping or pick up. EMAIL IS PREFERRED. Unless otherwise stated the deadline to contact us is 5:00 PM ET on the Friday following the auction (if sale was held on a weekend) or 5:00 PM ET on the Monday following the auction (if sale was held on a weekday). Calls to our office should be made during OUR business hours. 16. Payment for lots won in person is due on the date of sale before items are removed from our gallery. Payment for lots won as a LiveAuctioneers bidder is due within 5 days of the auction. 17. Any special payment arrangements must be pre-approved by an authorized representative of Jeffrey S. Evans & Associates. Such arrangements must be requested in writing, and authorization must be obtained prior to bidding. 18. See all categories under our BUYING webpage for additional auction terms and other important information. 19. Once an item is sold to an in-house bidder, the buyer assumes full risk and responsibility for said item. 20. Each returned check is subject to a $50.00 service charge. 21. Accounts that are unpaid after 25 days of the sale date will be subject to a 2% monthly finance charge; administrative fees may also apply. 22. The buyer is liable for all fees/costs associated with the collection of balances due, including attorney's fees. 23. Unless prior arrangements have been made with us, any merchandise not removed within 2 weeks of the sale date will be subject to a storage fee. Any merchandise not removed or consigned within 60 days of the sale date will be considered abandoned. 24. REFUNDS will be given at the sole discretion of the auctioneer and will only be considered on lots that are determined not to be authentic or have major damage or significant restorations/repairs that were not outlined in the condition report. All requests for refunds must be submitted in writing (email is acceptable, send to info@jeffreysevans.com) with substantiating photographs. Additionally: Refund requests in regard to authenticity must also include at least one supporting written and signed statement from an authority recognized by the auctioneer. Refunds in regard to condition for items purchased in person at the gallery must be requested before the item in question is removed from the gallery. All other refund requests, including any substantiating documentation, must be received in our office within 25 days of the auction date. (Absolutely no refunds will be accepted after this deadline.) Lots catalogued without circa dates are not guaranteed as to age. No refunds will be considered on Oriental rugs which are sold strictly "as is" with no guarantee as to age, origin or condition. Note: Your timeliness and type of payment directly affect the time allowed for a refund transaction. (If payment is made with uncertified check, items may be held for up to 10 business days before we ship or release for pick up.) DO NOT return any item until a refund authorization has been obtained from Jeffrey S. Evans & Associates. Once a refund is approved AND the complete lot is returned to the satisfaction of the auctioneer (in the same condition in which the buyer received it), a full refund of the hammer price and buyer's premium will be issued. We do not refund shipping cost nor do we offer partial refunds. 25. Additional conditions of sale may apply, as noted on our website and/or as announced by the auctioneer prior to the auction. These terms and conditions, as well as the respective rights and obligations hereunder, shall be governed by and construed and enforced in accordance with the laws of the Commonwealth of Virginia. The purchaser shall be deemed to have consented to the jurisdiction of the state courts of, and the federal courts sitting in, the Commonwealth of Virginia. Catalogue Guarantee Glass & Lighting All catalogue descriptions are guaranteed to be accurate in the matter of authenticity, condition and measurements unless otherwise noted in the catalogue description. Measurements are guaranteed to be accurate to within one inch. Due to the high number of absentee bids that we execute, we are very meticulous in our description of the condition of each piece. Many of the minor flaws that we note are perfectly acceptable and do not detract from the item's desirability or value; however we do not consider light wear, small manufacturing flaws, glass impurities, or lightly tinted glass to be notable flaws. If you are a bidder who demands flawlessness, it is recommended that you examine the item(s) in person, or have a trusted representative inspect the item(s) on your behalf. Lamps are measured to the top of the collar and are without burners and chimneys unless otherwise noted. Antiques, Americana & Decorative Arts All catalogue descriptions are believed to be accurate in the matter of authenticity and condition, but ultimately all lots are sold "as is". Antiques, by their very nature, will exhibit wear, minor losses and breaks, and small repairs commensurate with age. We only note condition issues that in our opinion significantly affect the integrity of the item. Returns will only be considered for items found to be fake/reproduction and/or have significant damage/restoration not noted in the catalogue description. If you are a bidder who demands flawlessness, it is recommended that you examine the item(s) in person, or have a trusted representative inspect the item(s) on your behalf. All measurements are approximate. Please contact us if you require exact measurements. All Oriental rugs are sold strictly "as is" with no guarantees as to age, origin or condition. Absolutely no refunds will be considered on Oriental rugs. Fine jewelry is guaranteed only regarding gold content and authenticity of diamonds. Authenticity of other stones and grades of any stones are not guaranteed. All clocks, watches, music boxes, slot machines, firearms, wind-up toys, and other mechanical devices are sold without guarantee as to the working condition of each lot. We strive to describe accurately all aspects of each lot's condition, including that of mechanical devices, but cannot guarantee the strict accuracy of these reports specifically regarding working condition or mechanical function. Bidders are encouraged to examine personally any lot with respect to mechanical working condition. All Auctions All requests for additional information will be accepted until 3:00 pm ET the day before the auction. Call 540.434.3939, ext. 0 or email info@jeffreysevans.com. The auctioneer reserves the right to make verbal corrections and provide additional information from the auction block at the time of sale. Absentee bids will not be executed on lots found to be other than as described in the catalogue unless one of our representatives has personally conveyed the updated catalogue description to the absentee bidder. The bidder will then have the option to alter or cancel the original absentee bid. Shipping Terms We offer professional packing and shipping services. All packing is done in-house. We pack for shipping only upon request and we work in order of request. Shipment of won lots to an address different from that on file may require verification which can cause up to a 30-day delay in shipping. Once a package is ready to ship it is weighed, measured and processed through the USPS and/or UPS system in order to determine cost of shipping including insurance and additional services (e.g. delivery confirmation) as applicable. Our packing service is billed at a prorated fee of $18.00 per hour, with a $10.00 minimum, plus actual shipping cost, which includes full insurance. We use recycled materials whenever possible at no charge to the buyer. If we use purchased supplies such as boxes, etc., that cost is passed on to the buyer. The actual cost of shipping/insurance and packing/materials cannot be determined until packing is completed. Once known, the shipping charges are applied to the buyer's invoice and he/she is notified of the cost by email (or by phone if we have no email). All content, images, and intellectual property on this site protected by digital watermark technology. Digital copying of images strictly prohibited; violators will be pursued and prosecuted to the full extent of the law including the Digital Millennium Copyright Act.