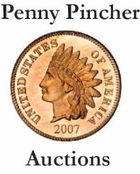 Penny Pincher Auctions
TOP RATED
We are full time auctioneers and dealers in Rare Coins & Currency. Our store location is 10409 Main St., Fairfax, VA 22030 and our auction location is 1144-D Walker Rd., Great Falls, VA 22066. Please send any correspondence or consignments to P.O. Box 726, Fairfax, VA 22038.
Upcoming Auctions from Penny Pincher Auctions
has no upcoming auctions. auctioneer to hear about new auctions.
Bidder Reviews for Penny Pincher Auctions

(

90

)