Weekly Auctions of Exceptional Items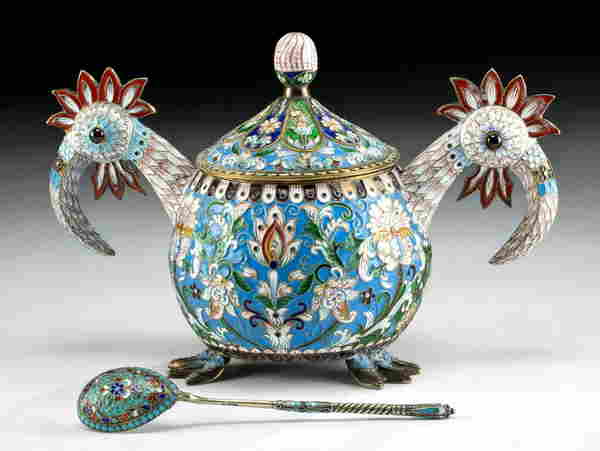 Item Details
Description
Eastern Europe, Russia, St. Petersburg, The Grachev Brothers, ca. 1896 to 1908 CE. An incredible objet de vertu, a gilt silver filigree cloisonne enamel vessel in the form of a stylized double-headed bird - perhaps meant to represent the double-headed eagle of Imperial Russia. Teapot-shaped and standing on three wide, bird-like feet, the vessel has a steep-sided lid with a knobbed handle projecting from the top. The bird heads project from two sides, back to back, on long necks. Size: 8.5" L x 4.35" W x 5.05" H (21.6 cm x 11 cm x 12.8 cm)

The artistry and detail of this piece are incredible. The bird heads are white and pink, with pale blue details and purple glass "jewel" eyes. There are exposed bands of gilt silver around the upper part of each beak. Each bird has a large red and white crest and wattle. The vessel's body has a background of deep sky blue with stylized floral motifs in green, pink, white, and yellow; purple and white motifs wrap around the rim (where they look like the top of a circus tent) and above the feet. The three feet also have sky blue and navy blue enamel, also in a stylized floral pattern. The lid, which fits snugly into the vessel's flanged rim, continues the floral pattern, and offsets the background sky blue with dark, royal blue and emerald green enamel in wide teardrop-shapes flowing down from the handle. The handle is swirling white, red, and pink, matching the birds' heads. The interior of the vessel is gilded.

Russian silver items have a variety of stamped marks - a maker's mark, an assay mark, and/or a kokoshnik mark. In 1896, Tsar Nicholas II issued an edict to reform the assay marking system and created the standardized kokoshnik mark, which was also used to indicate the assay of the silver in addition to giving the location of production. This vessel has a St. Petersburg stamp as well as a kokoshnik reading "84" with a woman's head in profile. Also stamped on it is the maker's mark, in Cyrillic, for the Grachev brothers.

From the mid-19th century to the early 20th, Russian art of all kinds experienced a renaissance that is known as the Silver Age. Russian artisans were inspired by the Gothic, the Moresque, chinoiserie, the Baroque, the Rococo… all ornate styles, replete with scrolling vines and flourishing arches. They combined this with the bright colors and rich ornament of Old Russian applied art to create a unique style of which silver items like these spoons are some of the most enduring.

Silverware was produced mainly in St. Petersburg (which had more western European influence and therefore a more European style) and Moscow (where a more pure Old Russian-inspired style came from), but other cities like Kiev, Odessa, and even places as far afield as Archangelsk had silversmiths creating beautiful objects of art. The industry grew quickly, aided by art exhibitions held from the mid-1850s onward and the public excitedly snapped up the beautiful objects they produced. An exhibition in London in 1851 showcasing silver made in Moscow introduced the Old Russian style to western Europe and the renown of Russian silversmiths increased, with firms like Ovchinnikov, Kurlyukov, the Grachev Brothers, and Faberge attaining national and international renown.



Provenance: ex-collection of James Farmer, Maryland, collected from major galleries and auction houses between 1995 and 2005

All items legal to buy/sell under U.S. Statute covering cultural patrimony Code 2600, CHAPTER 14, and are guaranteed to be as described or your money back.

A Certificate of Authenticity will accompany all winning bids.

We ship worldwide to most countries and handle all shipping in-house for your convenience.

#120572
Condition
Enamel is in excellent condition; patina on feet, underside, and interior. Signs of wear/use also on interior and feet.
19th C. Russian Gilt Silver Enamel Vessel - Grachev
Shipping, Payment & Auction Policies
Ships from Louisville, CO, United States
Local Pick-Up Louisville, CO, United States
www.liveauctioneers.com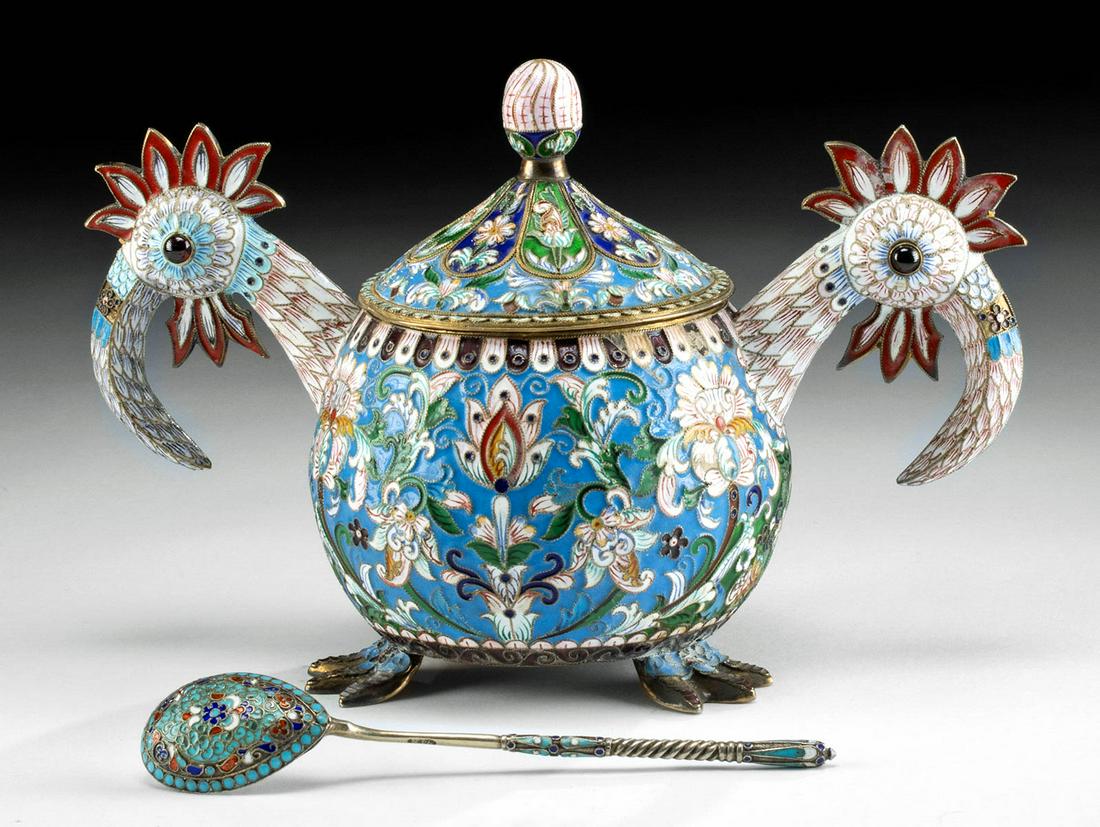 0044: 19th C. Russian Gilt Silver Enamel Vessel - Grachev
Est.

$2,000

-

$3,000
•
Starting Price

$1,000
Spring Art Auction | Fine, Folk, Fun
May 13, 2021 12:00 PM EDT
Buyer's Premium 24.5%
Lot 0044 Details
Description
Eastern Europe, Russia, St. Petersburg, The Grachev Brothers, ca. 1896 to 1908 CE. An incredible objet de vertu, a gilt silver filigree cloisonne enamel vessel in the form of a stylized double-headed bird - perhaps meant to represent the double-headed eagle of Imperial Russia. Teapot-shaped and standing on three wide, bird-like feet, the vessel has a steep-sided lid with a knobbed handle projecting from the top. The bird heads project from two sides, back to back, on long necks. Size: 8.5" L x 4.35" W x 5.05" H (21.6 cm x 11 cm x 12.8 cm)

The artistry and detail of this piece are incredible. The bird heads are white and pink, with pale blue details and purple glass "jewel" eyes. There are exposed bands of gilt silver around the upper part of each beak. Each bird has a large red and white crest and wattle. The vessel's body has a background of deep sky blue with stylized floral motifs in green, pink, white, and yellow; purple and white motifs wrap around the rim (where they look like the top of a circus tent) and above the feet. The three feet also have sky blue and navy blue enamel, also in a stylized floral pattern. The lid, which fits snugly into the vessel's flanged rim, continues the floral pattern, and offsets the background sky blue with dark, royal blue and emerald green enamel in wide teardrop-shapes flowing down from the handle. The handle is swirling white, red, and pink, matching the birds' heads. The interior of the vessel is gilded.

Russian silver items have a variety of stamped marks - a maker's mark, an assay mark, and/or a kokoshnik mark. In 1896, Tsar Nicholas II issued an edict to reform the assay marking system and created the standardized kokoshnik mark, which was also used to indicate the assay of the silver in addition to giving the location of production. This vessel has a St. Petersburg stamp as well as a kokoshnik reading "84" with a woman's head in profile. Also stamped on it is the maker's mark, in Cyrillic, for the Grachev brothers.

From the mid-19th century to the early 20th, Russian art of all kinds experienced a renaissance that is known as the Silver Age. Russian artisans were inspired by the Gothic, the Moresque, chinoiserie, the Baroque, the Rococo… all ornate styles, replete with scrolling vines and flourishing arches. They combined this with the bright colors and rich ornament of Old Russian applied art to create a unique style of which silver items like these spoons are some of the most enduring.

Silverware was produced mainly in St. Petersburg (which had more western European influence and therefore a more European style) and Moscow (where a more pure Old Russian-inspired style came from), but other cities like Kiev, Odessa, and even places as far afield as Archangelsk had silversmiths creating beautiful objects of art. The industry grew quickly, aided by art exhibitions held from the mid-1850s onward and the public excitedly snapped up the beautiful objects they produced. An exhibition in London in 1851 showcasing silver made in Moscow introduced the Old Russian style to western Europe and the renown of Russian silversmiths increased, with firms like Ovchinnikov, Kurlyukov, the Grachev Brothers, and Faberge attaining national and international renown.



Provenance: ex-collection of James Farmer, Maryland, collected from major galleries and auction houses between 1995 and 2005

All items legal to buy/sell under U.S. Statute covering cultural patrimony Code 2600, CHAPTER 14, and are guaranteed to be as described or your money back.

A Certificate of Authenticity will accompany all winning bids.

We ship worldwide to most countries and handle all shipping in-house for your convenience.

#120572
Condition
Enamel is in excellent condition; patina on feet, underside, and interior. Signs of wear/use also on interior and feet.
Contacts
Artemis Gallery
720.890.7700
686 S. Taylor Avenue Suite 106
LiveAuctioneers Support
info@liveauctioneers.com