lots of lots
Welcome to the world's largest marketplace for fine art, antiques & collectibles.
Lot 1155: Unusual 1849 Half Dime Spinner
See Sold Price
Don't Miss Your Next Treasure.
Set up a search alert to hear when Early American History Auctions lists new auctions.
Discover Related Items Available Now
Auction ended on December 14th, 2003 UTC
Lot 1155: Unusual 1849 Half Dime Spinner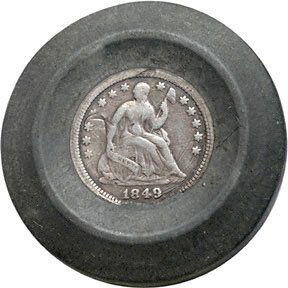 Unusual 1849 Half Dime "Spinner," Fine.
30 mm in diameter. A most unusual piece consisting of an 1849 Half Dime embedded in a recessed area in a thick chunk of lead-like material with a tiny copper button on the opposite side. The Half Dime has some marks and scratches. We can think of no other purpose for this item except that it may have been used as some sort of spinning toy, which it does quite well. We'd be interested in hearing from anyone in our audience who has seen such a piece before. Accompanied by a small, old, handmade, leather carrying bag.
Shipping
Handling and Insurance costs will be added to each invoice and are the responsibility of the buyer.
Payment
Visa/MasterCard, American Express, Discover, Money Order/Cashiers Checks, Personal Checks
Accepted payment methods
Taxes
California residents add 7.25% sales tax; San Diego County residents add 7.75% sales tax. Numismatic Sales over $1,000 are exempt from California sales tax.
Terms
Terms of Sale 1. This is a Mail Bid, Phone & Fax Auction, Closing Date: December 13, 2003. Mail, Phone & Fax Bids accepted, these absentee bids will be executed over eBay Live Auctions on Sunday, December 14th, beginning at 10 AM Pacific Time. The sale is conducted in accordance with the regulations of the State of
California and the City of San Diego.
2. All bids placed through eBay Live Auctions will carry a 20% "Buyer's Premium." This Sum will be the Purchase Price. Consignors who purchase lots, even if they own them, are subject to this fee in addition to the contracted "Seller's Fee". An additional 2.5% Service Fee will be added to ALL Invoices paid by Credit Card.
3. MAIL, FAX and PHONE BIDS will be accepted. The signed original bidder form must immediately follow in the mail marked "Faxed or Phoned", with date at top.
4. Auction sales are sold strictly for cash in U.S. Funds. Lots will be sold in even dollar amounts. Shipping, Handling and Insurance costs will be added to each invoice and are the responsibility of the buyer. California residents add 7.25% sales tax; San Diego County residents add 7.75% sales tax. Numismatic Sales over $1,000 are exempt from California sales tax. Returned check fee - $25 per occurrence.
5. We feel our estimates reflect fair market values, all bids entered below any "Low estimate", including any requested increases, will not be reduced. EAHA and its owners expressly reserve the right to bid upon and/or consign items in this sale. We represent and bid for both mail bidders and consignors. Some lots may carry a reserve.
6. This is NOT AN APPROVAL SALE. If you do not intend to buy, please do not bid! Bids below 60% of Low Estimate are typically considered frivolous and may not be entered. The auctioneer reserves the right to reject any bid and withdraw any lot without recourse or notification to bidders. Certain credit terms must be arranged and confirmed in writing, well in advance of bidding. Bidders agree to allow EAHA to report information about how they handle their account to others, including credit reporting agencies.
7. New bidders must furnish satisfactory credit references, or deposit 20% of their total bids, before such bids can be accepted. Deposits will be applied to purchases and any unused portion will be refunded within 10 days.
8. All lots shall be sold to the highest bidder as determined by the auctioneer. If any dispute arises, the auctioneer's decision shall be absolute and final. No "Unlimited" or "Buy" bids will be accepted.
9. When identical mail bids are received, preference is given to the first bid. Official results will be announced on the Tuesday following the sale date, as all bids and final bid sheets are checked and audited on Monday. No results, verbal or otherwise, are valid or binding until the official results have been published.
10. Grading is a subjective description. It is the opinion of the cataloguer as to the state of preservation of a particular coin or lot. The grading standards used in this catalogue are derived from the numismatic field and may differ from those used in other specialty areas. The term "proof" is used to describe a method of manufacture and is not a grade or condition. Such terms are the opinion of the cataloguer and shall be deemed to be part of the description and not an attribution. No warranty, whether expressed or implied, is made with respect to any grade, condition, or other adjectival descriptions, which can and do vary, even among experts. No warranty, whether expressed or implied, is made that any specific item in this sale will subsequently be graded the same way by any third party or other grading service, or to its merchantability. All lots Certified by PCGS, NGC, ANACS, PCI, CGA, the Philatelic Foundation, or any independent grading service are sold "As Is" and are absolutely not returnable. Bidders inspecting lots prior to the sale will not be granted any return privileges, except for reasons of authenticity. All group lots and framed items are sold "AS IS" and are not returnable.
11. Lots must be Paid in Full IMMEDIATELY upon receipt of the auction invoice. Balances still due 15 days past our auction date are considered late and are subject to a 1.5% per month finance charge, as are cash advances beginning from the date of our payment check. By bidding in this sale, even if for a corporation or as an agent of another individual, a bidder personally guarantees prompt payment, upon receipt of invoice and adherence to all terms of sale. EAHA at any time may rescind a sale for non-payment by the buyer.
12. The auctioneer reserves the right to postpone or delay the auction, for a reasonable period of time, due to any significant, relevant event which, in the sole judgment of the auctioneer, makes it inadvisable to hold the auction as scheduled, without recourse from any bidder or prospective bidder.
13. GUARANTEES OF AUTHENTICITY. All items are guaranteed to be authentic and as described for a period of 30 calendar days following each sale. After that time, no items, except for the items listed below, are returnable under any circumstances, including questions of authenticity, and are considered to have been sold "as is". Coins, Currency, and Autographed Documents are guaranteed to be authentic and as described forever. This additional guarantee under these situations is extended only to the original buyer of record and requires presentation of the original sales invoice and verification that the item(s) is(are) in the same condition as when originally sold. All guarantees under this Paragraph are subject to the limitations and terms outlined in Paragraph 14.
14. If a lot is found to be substantially non-conforming having a material error in its catalog description, thereby significantly reducing its value, the purchaser must notify EAHA, in writing, within three days of receipt. In any event, we must receive the lot back for re-inspection within 30 days of our auction date. After that 30 day period, no lot may be returned. The lot must remain in its original, sealed auction holder. Final determination of such claim's merit rests solely and absolutely with the auctioneer. Any and all return privileges may be voided, at EAHA's discretion, if payment is not received by EAHA within 30 days after the auction date. Any dispute after the settlement date (45 calendar days after the sale date) is strictly between the bidder and consignor without responsibility of the Auctioneer. If the consignor has already been paid for the lot(s) in dispute, Auctioneer shall pay the original purchaser the amount of our commissions, any other sale proceeds to which we are entitled and applicable taxes received from the purchaser on the sale and make demand on the consignor to pay the balance of the original purchase price to the original purchaser. Should the consignor fail to pay such amount promptly, Auctioneer shall disclose the identity of the consignor and assign to the original purchaser our rights against the consignor with respect to the lot(s) the sale of which is sought to be rescinded. Upon such disclosure and assignment, any liability of EAHA as consignor's agent with respect to said lot(s) shall automatically terminate. Photographs should be considered a part of the description and any defects visable in the photograph but not mentioned in the written description cannot be used as a basis for return.
15. Title to any lot remains with the consignor or EAHA and shall not pass to the successful bidder until the lot is actually paid for in full. On any lot delivered, but not paid for in full, EAHA retains a full purchase money security interest. Buyers consent to allow EAHA to sign and file any documents required or permitted by law to perfect such interest, at buyer's expense. EAHA reserves the right to require payment of good funds in full before delivering any lot to the successful bidder. Payment will not be deemed made in full until we have collected all amounts due in cash or good funds represented by cleared checks or cashier checks. EAHA retains the right to offset any accounts due, whether now or in the future, against funds, numismatic items, or collateral in their possession. If a successful bidder fails to pay all amounts due, EAHA reserves the right to resell the merchandise and the buyer agrees to pay for the reasonable costs of such a sale, including a 15% seller's commission, and also pay any difference between the resale price and the price of his previously successful bid. It is the buyer's responsibility and obligation to have the lots fully insured while in his possession. Risk of Loss is on the buyer. Holders used for auction are typically for short term storage only and EAHA will not be responsible for damage due to improper storage after 30 days. The buyer is responsible for determining the suitability of any storage media. EAHA will not be responsible for damage due to irradiation by the US Post Office. If you prefer another method of delivery you must specify that prior to shipment. Any damage or breakage during shipment MUST be reported to Early American within 3 days of receipt of the package. The original packaging MUST be held complete and intact as this is required by the insuring company. Failure to meet either of these requirements will release Early American of any further liability or payment for such damages.
16. Any claim or controversy arising out of non-payment or other matters (which at the exclusive option of the auction company may be referred to arbitration) may be settled exclusively by binding arbitration under the rules of the American Arbitration Association. By bidding in this sale, you agree to be bound by the arbitration provisions of the American Arbitration Association. In all cases the maximum liability of EAHA for an item sold shall be the hammer price plus the 15% buyer's charge, as listed in the official Prices Realized. Arbitration, or legal action, shall take place at San Diego, California, unless at EAHA's sole discretion, determines elsewhere; upon any arbitral award resulting therefrom, judgment may be entered in any court of competent jurisdiction. In the event of judicial action for non-payment, the bidder agrees to the payment of reasonable attorney fees and related costs.
17. Bidding in this auction sale constitutes acceptance by the bidder of all the foregoing Terms and Conditions.

Discover Items You'll Love

Bid Anywhere, Anytime. Download the LiveAuctioneers App.
Available on the App Store
Android App on Google Play