lots of lots
Welcome to the world's largest marketplace for fine art, antiques & collectibles.
Douglass Stoneware Crock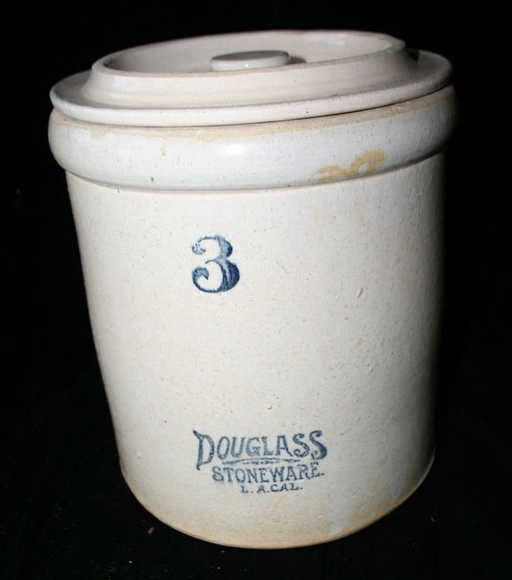 See Sold Price
Don't Miss Your Next Treasure.
Set up a search alert to hear when Stoneware Home & Garden items arrive.
Auction ended on May 3rd, 2014 UTC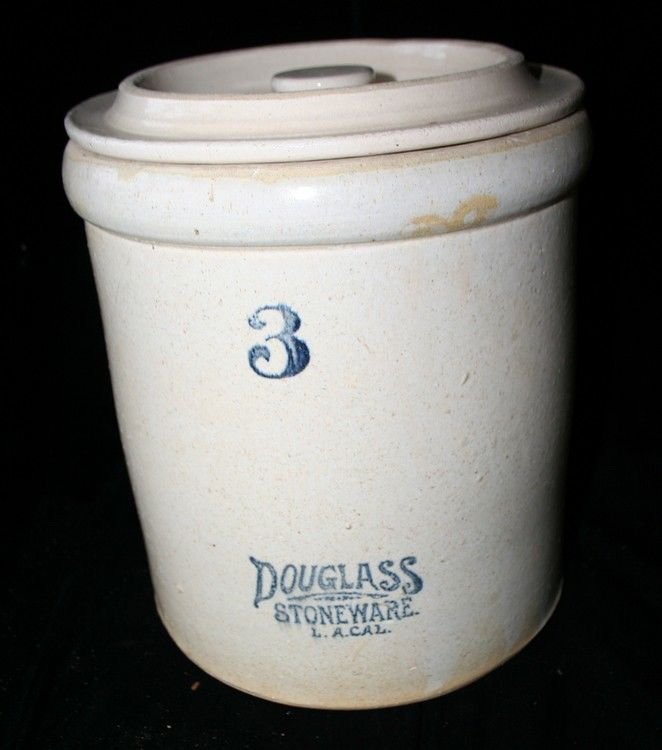 3 Gallon Crock, "Douglass Stoneware, Los Angeles" in blue with Lid
Shipping
Buyer Pays Shipping Cost
Payment
Contact For Payment Details
Accepted payment methods
Terms
terms SANFORD & SON AUCTION TERMS & CONDITIONS OF AUCTION 1. The offering and sale of property by Sanford & Son Auction is subject to the following conditions of sale that may be modified or supplemented by oral announcements prior to or during the sale. By bidding at this auction each purchaser and bidder agrees to be bound by these terms and conditions of sale. 2. All property is sold AS IS, WHERE IS, by lot and all bids are per lot as numbered in the catalog. ALL SALES ARE FINAL. All consignors have made written representation that they have good title to the property. Sanford & Son Auction, Ltd makes no independent warranty of title. All property is sold AS IS, and all warranties, express or implied, including without limitation, the implied warranties of MERCHANTABILITY and fitness of purpose are specifically disclaimed by Sanford & Son Auction and their consignors. CATALOG DESCRIPTIONS ARE STATEMENTS OF OPINION ONLY. Sanford & Son Auction, Ltd disclaims all warranties arising from a course of dealing and usage in the trade and descriptions published in the catalog as to condition and measurements. BUYER AGREES TO HOLD HARMLESS SANFORD & SON AUCTION, ITS AUCTIONEERS AND EMPLOYEES FROM ANY LIABILITY RESULTING FROM THE PURCHASE OF INHERENTLY DANGEROUS PRODUCTS. No warranty, express or implied is made as to the transference of intellectual property rights. Buyer assumes risk of loss upon being declared the high bidder. PHYSICAL DIMENSIONS AND WEIGHTS LISTED IN THE CATALOG ARE APPROXIMATE AND PROVIDED ONLY FOR THE PURPOSE OF ESTIMATING SHIPPING COSTS. 3. Bidders at the auction may bid in person, or, if they are pre-registered and approved by Sanford & Son Auction, they may bid by written absentee bid, by telephone, or by using the Internet. Internet bidders should register at least two hours prior to the start of the auction. It is agreed Sanford & Son Auction will not be responsible for failure to execute absentee bids or electronic failures. The auctioneer reserves the right to reject a bid from any bidder. A lot will be sold to the highest bidder as determined in the sole and exclusive judgment of the auctioneer. Photos and descriptions have been posted on the Internet and we encourage telephone calls, e-mail or facsimile contact to ask questions. Internet bidders are encouraged to review each lot and be prepared to bid quickly. The auctioneer will, without liability, determine the bidding increments and maintains sole authority to resolve disputes. Lots may be auctioned with reserve, and auctioneer may advance the bidding on behalf of the seller?s reserve without further notice. Neither Consignors nor their agents, except as in the preceding sentence, are allowed to bid on their own items. High and low estimates found in the catalog are listed only for guide purposes. 4. Bid Increments: MINIMUM MAXIMUM INCREMENT MINIMUM MAXIMUM INCREMENT $1 $99 $10 $5000 $9999 $500 $100 $499 $25 $10000 $24999 $1000 $500 $999 $50 $25000 $49999 $2500 $1000 $1999 $100 $50000 $149999 $5000 $2000 $4999 $250 $150000 + $10000 5. PAYMENT BY BIDDERS All bidding and purchases at the auction will be in U.S. Dollars. For cataloged auctions a buyer's premium will be added to the successful non-Internet bids of 15%; for Internet bids a buyer's premium will be added to the successful bid of 18%; these amounts will be added to the amount of the successful bid price for lots purchased at the auction. In addition, buyers will be responsible to pay applicable State of Washington State sales taxes. All Internet purchases must be paid in full within (5) days of completion of the auction. All other successful bidders must pay for purchases (in full) within one hour of the conclusion of the auction. Payment may be made in cash (U.S. Dollars), approved credit cards which are limited to Visa, MasterCard, Discover and American Express. SANFORD & SON AUCTION DOES NOT ACCEPT PAYMENT THROUGH PAY-PAL. Checks are accepted only from Washington State residents presenting a valid Washington State Driver?s License issued by the Washington State Department of Public Safety. Invoiced purchases in excess of $10,000 must be paid by bank wire transfer. Wire transfer instructions will be provided upon request. 6. QUALIFIED STATEMENTS BY THE AUCTIONEER OR AUCTION COMPANY ARE OPINIONS, NOT REPRESENTATIONS OF WARRANTIES. Statements and descriptions contained in the catalog, bill of sale, invoice, by auctioneer or elsewhere as to the manufacturer, artisan authorship, period, culture, source, origin, measurement, quality, rarity, provenance, importance, historical relevance or physical condition ARE QUALIFIED STATEMENTS OF OPINION ONLY AND ARE NOT REPRESENTATIONS OR WARRANTIES. Descriptions provided in any printed catalog, Internet catalog or Internet information do not include condition reports. The absence of a condition statement does not imply that the lot is in perfect condition or completely free from wear, tear, imperfections or the effects of aging. It is recommended all prospective bidders examine carefully all items in which they have an interest. You are welcome to inspect in person all items during our published inspection hours, and/or by appointment. We will assist you personally or by telephone, providing a physical description and our opinion. If you require absolute certainty in all areas of authenticity and description, we recommend you have an expert of your choice examine and research the item or lot for you OR that you do not bid on the item in question. By placing a bid, either in person, by phone, absentee or by Internet, you signify you have examined the items as fully as you desire to, or, you have chosen not to examine them. ALL SALES ARE FINAL. All lots are sold As-Is, Where-Is. Jewelry items are not returnable for any reason after they leave the auction premises, ALL SALES ARE FINAL. No employee of Sanford & Son Auction is authorized to make on its' behalf or on behalf of the Consignor, any representations or warranty, oral or written, with respect to the property to be auctioned. Sanford & Son Auction has relied substantially upon information provided by its Consignors to describe the auction lots. Sanford & Son Auction reserves the right to withdraw any lot at any time before it is sold. 7. REMOVAL OF PROPERTY AFTER PURCHASE ALL PAID FOR PROPERTY SHALL BE REMOVED FROM OUR PREMISES AT THE PURCHASER'S EXPENSE NO LATER THAN 5:00 PM ON THE MONDAY FOLLOWING THE SALE DATE, except Internet bidders. Internet purchases must be picked up within 21 calendar days of the auction. If purchases are not picked up within the specified time periods, beneficial bailee rights of the purchaser cease and a storage fee of $25.00 per lot, per day will be payable to Sanford & Son Auction by the purchaser. Further, after the required pickup dates, Sanford & Son Auction, may transfer the property to a public warehouse at the purchaser's risk and expense or, at the option of Sanford & Son Auction, the property may be sold at private or public auction, without notice to the previous purchaser and all the proceeds from such sale will be retained by Sanford & Son Auction as liquidated damages and storage fees. If merchandise belonging to a purchaser is lost by fire, theft, damage or any other reason, prior to the purchaser taking possession of same within the above specified time periods, the liability of Sanford & Son Auction, Ltd shall be limited to the actual amount paid for the same at the auction wherein it was acquired and shall in no event include any incidental or consequential damages. SANFORD & SON AUCTION IS NOT A STORAGE FACILITY. 8. SHIPPING INFORMATION Packing, handling and shipping of purchased lots is the sole responsibility and strictly at the option of the purchaser. Sanford & Son Auction does not provide packing or shipping services. We recommend purchasers consult with any one of the following companies. All such companies are independent of Sanford & Son Auction Ltd., and if contracted with or for, they will be acting as your agent. These shippers will pick up the goods at our facility at no additional charge to you. Sanford & Son Auction receives no compensation for shipping referrals. We urge you, the purchaser, to obtain shipping insurance and more than one shipping quote. Shippers known to be available are: Postal Annex, 1220 Martin Luther King Jr Way, Tacoma, WA 98405 (253) 272-3082 The UPS Store, 2661 N Pearl St, Tacoma, WA 98407, (253) 761-0790 Craters & Freighters, 22431 West Valley Highway South Kent, WA 98032 P: (253) 872-6869 Toll Free: (800) 854-3342 F: (253) 872-6829 9. AUCTIONEER The auctioneer(s) conducting this auction are licensed by the Washington State Department of Licensing and Regulation, PO Box 9034, Olympia, WA 98507-9034, Washington State, 360.664.6636 and protected through a recovery fund administered by this department. Any unresolved complaint can be directed to this department. The auctioneer in charge is Alan Gorsuch, License 2535. All disputes that may arise by virtue of and/or under the contractual relationship by and between the parties to this agreement will be governed by the laws of the State of Washington State. The venue of any legal action that may arise between the parties to these agreements and/or the auction proceedings conducted by Sanford & Son Auction will be in Pierce County, Washington. Any cause of action and/or suit of any kind arising between the parties hereto (to include auctioneer, auction company, consignor or purchasers of goods at auction) must be commenced within one (1) year from the date the cause of action accrues or it will be forever barred. The right of action or suit will accrue and the one (1) year limitation period will begin to run, on the date of the breach, damage or injury is sustained and not when the resulting cost, damage, harm or loss is discovered. 10. Purchasers hereby give irrevocable permission for Sanford & Son Auction to charge the credit card that they may have submitted with their request to participate in auctions, for any and all purchases made by them at this auction. 11. BUYER AGREES TO HOLD HARMLESS Sanford & Son Auction, IT?S AUCTIONEERS AND EMPLOYEES FROM ANY LIABILITY RESULTING FROM THE PURCHASE OF INHERENTLY DANGEROUS PRODUCTS. The cost of shipping and transfer from Sanford & Son Auction to the designated FFL Licensee is $45.00 ALL SALES ARE FINAL. All items are offered subject to federal, state and C.I.T.E.S. treaty requirements. THIS DOCUMENT CONTAINS THE ENTIRE AGREEMENT BETWEEN THE PARTIES, SANFORD & SON AUCTION LTD. AND IT'S EMPLOYEES, CONSIGNOR AND PURCHASER OR SUPPOSED PURCHASER AT AUCTION.
Discover Items You'll Love

Bid Anywhere, Anytime. Download the LiveAuctioneers App.
Available on the App Store
Android App on Google Play