lots of lots
Welcome to the world's largest marketplace for fine art, antiques & collectibles.
67: JIM "CATFISH" HUNTER AUTOGRAPHED BASEBALL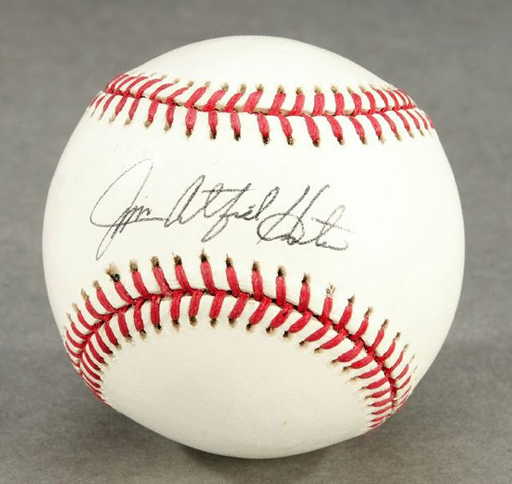 See Sold Price
Don't Miss Your Next Treasure.
Set up a search alert to hear when Sloans & Kenyon lists new auctions.
Discover Related Items Available Now
Auction ended on March 20th, 2004 UTC
67: JIM "CATFISH" HUNTER AUTOGRAPHED BASEBALL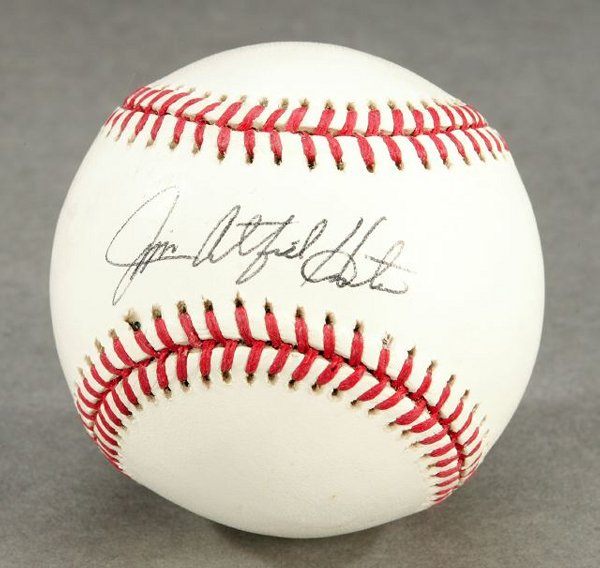 JIM "CATFISH" HUNTER AUTOGRAPHED BASEBALL. Rawlings 'Official League' baseball
Buyer's Premium
18% up to

$100,000.00

12% above

$100,000.00
Shipping
Winning bidders are responsible for arranging packaging, shipping and all associated costs. In our confirming e-mail, we will provide a list of recommended packers and shippers. The bidder is free to use any of these firms or to select another. Sloans & Kenyon assumes no liability for the bidder's selection of a shipper or the shipper's performance.
Payment
Acceptable Methods of Payment. A purchaser may use one or more of the following methods of payment: cash, valid and approved credit or debit charge cards, wire transfers and personal checks. Sloans & Kenyon reserves the right to hold Property purchased by check until the check has cleared. To ensure that delivery is not delayed, new bidders should supply Sloans & Kenyon with bank or suitable credit references before the sale. Sloans & Kenyon will charge a fee of $25.00 for any dishonored check.
Accepted payment methods
Terms
By choosing the "Accept" box, you agree to all terms and conditions and other provisions presented below, as modified or supplemented by other provisions of: (a) the Catalogue, (b) in written supplements to the catalogue or other written material prepared by Sloans & Kenyon, (c) in notices posted by Sloans & Kenyon, and (d) in announcements made by the auctioneer, prior to or at the time of the sale(collectively referred to as "Terms and Conditions").

You also agree to accept all of these conditions and provisions without change. These Terms and Conditions encompass all aspects of bidding and buying at our sales, regardless of the venue, that is, in-person, absentee, telephone or Internet. You should be aware of those provisions that apply to the venue that you are using.

Online Bidding Terms and Conditions

This section presents the terms and conditions that govern online bidding with Sloans & Kenyon. Online bidding (also referred to as "Internet bidding") is made available by Sloans & Kenyon, LLC (also referred to as "Sloans & Kenyon", "we", "us" or "our") as an alternative to telephone or other absentee bidding to accommodate bidders who choose not to personally attend auction sales. Sloans & Kenyon will not be liable for malfunctions, errors or omissions (hardware, software, electronic, human or otherwise), whether or not due to Sloans and Kenyon's fault or negligence, resulting in the inaccurate transmittal of bids, the failure to execute bids or any other irregularity.
1. Registration and Personal Identification Numbers (PIN)
You must register to bid online with Sloans & Kenyon. To register, you must use your real name, address, telephone number and e-mail address. You must also truthfully provide all of the other information requested for registration. Only those who have made acceptable payment arrangements for purchases, via approved credit card or other secured method, will be permitted to register.
When you register on the Sloans & Kenyon site, www.sloansandkenyon.com, you will receive a PIN number that allows you to perform various activities, such as placing bids and searching catalogues. You may also be required to register on other sites to participate in certain types of online bidding with us. Contact the Sloans & Kenyon Business Office at (301) 634-2330 for more information.

2. Verification and Credit Information

You hereby authorize Sloans & Kenyon to communicate registration information to third parties and to obtain information from third parties to confirm the accuracy of information that you have supplied. You also authorize Sloans & Kenyon to obtain credit card, credit and financial information about you (and your spouse, if you reside in a community property state), including requests by us for authentication, credit limits, credit history and other financial information.

3. Changes in Terms and Conditions

Please note that the information in the catalogue may be changed prior to or during the auction sale, by (i) written addenda to the catalogue, (ii) postings at the physical site of the sale, or (iii) auctioneer announcements. Information on this site may also change in the future and changes will be effective immediately. Therefore you should review the information carefully each time you logon for online bidding by selecting 'Terms and Conditions' from the site navigation menu. Revised information will become part of the Terms and Conditions for the auction and will be binding, whether or not you are aware of changes. It is your responsibility to ensure that you are bidding with the most current auction information and terms. By bidding online, you agree to accept these responsibilities. Please carefully read the Terms and Conditions and all other information contained in this site.

4. Intellectual Property Rights and Limited License to Use
Sloans & Kenyon is the exclusive owner (or authorized licensee) of all intellectual property rights, including copyright and other rights, in the hard and online copies of the catalogue, in software used in or on this site, and in the compilation of all visual and audio information, text and illustrations contained in catalogues or in this site. Copyright laws and international conventions protect these rights. It is unlawful for anyone to copy, reproduce or transmit such software, information, text or illustrations or to use Sloans & Kenyon trademarks, without our specific written consent. You are granted a limited license to make personal use of this site solely to bid on or purchase items being offered at auction and for other purposes strictly related to your participation in the auction, and for no other purpose.

5. Eligibility for Bidding Online

Only persons who are legally permitted under applicable law to enter into contracts and participate in online auctions are allowed to access and use this site. Minors and other persons prohibited under their state laws to enter into legally binding contracts or participate in online auctions, may not bid or use this site.

6. Termination of Online Bidding

Sloans & Kenyon shall have complete discretion, without liability, to refuse to accept any online bid or terminate online bidding for any bidder for any reason and at any time, prior to or during an auction. In addition, Sloans & Kenyon shall have the right to investigate the credit of any online bidder or the use of a credit card or other payment arrangement by any online bidder, and shall have the right to cancel any sale or require additional assurance of payment if, in Sloans & Kenyon's good faith judgment, there appears to be reasonable grounds to do so.

7. Fraudulent Conduct

You agree at all times to comply with applicable laws. You are not permitted to register under a false name, use another person's name or password, give false information or supply false credit information. Appropriate law enforcement agencies may be notified of conduct that is believed to be a violation of state or federal law. Sloans & Kenyon will cooperate with law enforcement investigations to ensure that those violating state or federal laws are prosecuted to the fullest extent of the law.

8. Privacy Policy

We are committed to protecting your privacy and to giving you a choice about how the personal information we collect is used. The types of personal information collected on these pages include: Name, Address, Email address, Telephone number, Username, PIN, Credit/Debit Card Information, Notification Preferences (opt-in email notifications)

9. The Way We Use Information

We use the information you provide when you are placing a bid, ordering a catalogue, or requesting information or services to complete your request. We do not share this information with outside parties except to the extent necessary to complete those activities. We use return email addresses to notify you about matters related to your transactions with Sloans & Kenyon and/or to keep you informed of upcoming events if you choose. Such addresses are not shared with outside parties. We use non-identifying and aggregate information to better design our website and to share with advertisers. For example, we may tell an advertiser that X number of individuals visited a certain area on our website, or that Y number of men and Z number of women filled out our registration form, but we will not disclose anything that could be used to identify those individuals.

10. Our Commitment to Data Security

In order to protect and preserve the security of the data we collect we have established procedures to safeguard the information collected throughout this website. To protect your security, we will also take reasonable steps to verify your identify before granting access or making corrections.

11. How You Can Access or Correct Your Information

On request, Sloans & Kenyon will furnish a copy of all the information we maintain on you as a registered user. We will revise the information per your instructions. If you wish to review your information, please call the Business Office or email info@sloansandkenyon.com.


12. How to Contact Us

Should you have other questions or concerns about these privacy policies, please call us at (301) 634-2330 or send us an email to info@sloansandkenyon.com.


Terms and Conditions for eBay Live Auctions/LiveAuctioneers

We have augmented our standard Online Bidding Terms and Conditions for bidders using eBay Live Auctions in partnership with LiveAuctioneers. This service allows bidders to enter bids "live," that is, as property is offered for sale, just as if they were present in the auction gallery. See www.ebayLiveAuctions.com or www.liveauctioneers.com for more information.


1. Controlling Conditions

Sloans & Kenyon Terms & Conditions define and control the relationship with our customers, despite the bidding venue or method they employ. In the case of any conflicts between our Terms and Conditions and those of eBay, LiveAuctioneers or any other online bidding service or venue, our Terms and Conditions control.

2. Registration

Bidders must first register with eBay Live Auctions to participate in live bidding with us. Visit www.ebayLiveAuctions.com.

3. Differences with "Core" eBay Practice

Certain provisions of "core" eBay do not apply for Sloans & Kenyon online bidding and auctions. Bidders do not have the right to withdraw a bid after it has been accepted as the winning bid. Moreover, a bidder does not have one hour, as elsewhere on eBay, to withdraw a bid, whether unintended, errant or otherwise. Online bidders have the same limited right of rescission as bidders in any other venue. See below for more information on rescinding bids.

4. Right of Rescission

Online bidders are assumed to have the same access to information about items for sale as other bidders, including those who participate in person. Sloans & Kenyon has no responsibility to refund your bid or renegotiate bid price after you have received and inspected the property, unless the specific tests for bid rescission as defined below are met.

5. Notification of Winning Bidders

Successful online bidders receive an automatic notification from eBay. Sloans & Kenyon will send a confirming e-mail within 48 hours after the end of the auction (or session) to the winning bidder confirming the bid price, buyer's premium and any relevant information and requesting information on a payment method or instrument, such as credit card.

6. Packaging and Shipping

Winning bidders are responsible for arranging packaging, shipping and all associated costs. In our confirming e-mail, we will provide a list of recommended packers and shippers. The bidder is free to use any of these firms or to select another. Sloans & Kenyon assumes no liability for the bidder's selection of a shipper or the shipper's performance.

7. Bid Increments

Bid increments may be changed at any time at the auctioneer's discretion. In some cases, these increments may not reflect those pre-programmed into the online bidding system. As always, the auctioneer's decisions are final.

8. Changes to Online Catalogue

The online catalog may not reflect the actual sequence of the auction or the lots to be presented. In some cases, the online catalog cannot be modified to accommodate last minute changes, such as withdrawal of an item, a revised description or estimates. Sloans & Kenyon will make every effort to alert online bidders of such changes at the time the lot is presented (or not, in the case of withdrawal), but we do not guarantee that we can do so in every case and assume no liability if we cannot.


General Terms and Conditions

This section presents the conditions that apply to all Sloans & Kenyon auction sales, regardless of type of auction, venue or sales method.

1. General

Conditions of Sale. The offering and sale of property by Sloans & Kenyon is subject to the following Conditions of Sale, as modified or supplemented by other provisions of: (a) the Catalogue, (b) in written supplements to this catalogue or other written material prepared by Sloans & Kenyon, (c) in notices posted by Sloans & Kenyon, and (d) in announcements made by the auctioneer, prior to or at the time of the sale, which together comprise the Terms and Conditions.

Agent for Sale of Property. Unless otherwise stated, Sloans & Kenyon is acting only as an agent for the consignor of property offered for sale, at auction or otherwise, in this catalogue (the "Property"). The consignor may either be the seller of the Property or an agent for the seller.

Property Sold by Lot. Property is sold by lot and all bids are per lot as numbered in the catalogue.

Agreement of Bidders and Purchasers. By bidding or buying at a sale, whether in person, through a representative, by written bid, online bid, telephone bid or other absentee bid, all bidders and purchasers agree to be bound by the Terms and Conditions.

2. Disclaimers Concerning the Property

As-Is. The consignor warrants good title to the purchaser. Sloans & Kenyon makes no independent warranty of title. All Property is sold AS-IS, and all warranties, express or implied, including without limitation, the implied warranties of MERCHANTABILITY AND FITNESS FOR PURPOSE ARE SPECIFICALLY DISCLAIMED BY SLOANS & KENYON AND THE CONSIGNOR. Sloans & Kenyon also disclaims all warranties arising from course of dealing and usage in the trade.

Descriptive Information. To the greatest extent permitted by applicable law, neither Sloans & Kenyon nor the consignor makes any representation or warranty with respect to the correctness or completeness of information about the Property, such as but not limited to the characteristics of age, condition, size, authenticity, genuineness, attribution, origin, quality, quantity, value, medium, material, period, culture, rarity, importance, provenance, exhibitions, literature or historical relevance of the Property. Neither Sloans & Kenyon nor the consignor shall be liable, for damages or otherwise with respect to incorrect or incomplete information, except to the extent provided for in Paragraph 11 below.

Communications Not Intended as Binding. No information or statement communicated, at any time, to bidders or buyers by Sloans & Kenyon (or its directors, officers, employees, agents or representatives), orally or in writing, shall be deemed a legally binding representation or warranty (or assumption of liability) with respect to any of the above mentioned characteristics or other information about the Property, unless a specific law requires otherwise.

Inspection of Property. The Property is exhibited for inspection by bidders prior to the sale. It is the bidder's sole responsibility to be fully satisfied about the characteristics and condition of the Property, including matters relating to any restoration, repair or alteration of the Property. If a bidder or bidder's agent (not a Sloans & Kenyon employee or representative) has not examined the Property, Sloans & Kenyon recommends that bidder make no bid on the Property.

Intellectual Property Rights. No representation, express or implied, is made by Sloans & Kenyon or the consignor as to whether or not a purchaser will acquire any reproduction rights, copyrights or other intellectual property rights in, or with respect to, the Property.

3. Sale to the Highest Bidder and Auctioneer's Determinations Final

Highest Bidder. Bidders are competing against other bidders who may be present in person at an auction or bidding by telephone, online or by other forms of absentee bids. A lot will be sold to the highest bidder as determined in the sole and exclusive judgment of the auctioneer.

Decision of Auctioneer Final. The auctioneer will also have the sole and exclusive power and authority, without liability, to (a) resolve any disputes between bidders, (b) determine whether to pass or re-offer any lot for sale, (c) reject or challenge any bid or advance in the bidding, or (d) otherwise regulate the bidding and its increments. If the auctioneer receives more than one bid of the same value, only the first received will be accepted.

Sloans & Kenyon assumes no liability for the auctioneer's discretionary decisions.

"Auctioneer" as used in these Terms and Conditions means an employee or representative of Sloans & Kenyon duly licensed as an auctioneer or otherwise authorized by Sloans & Kenyon to conduct an auction.

4. Buyer's Premium and Purchase Price

Buyer's Premium. All bidding at auction and purchases will be in U. S. Dollars. A buyer's premium of 18% of the successful high bid up to and including $ 100,000, and 12% of the successful high bid above $100,000 will be added to the amount of the successful bid price for all lots purchased at auction.

Online Buyer's Premium. Sloans & Kenyon reserves the right to charge an additional premium, as a percentage of the hammer price, for online purchases. See "Terms and Conditions for eBay Live Auctions/LiveAuctioneers," paragraph 9.

Purchase Price and Taxes. Upon the announcement by the auctioneer of the successful bidder, the purchaser will be responsible to pay the amount of the successful bid price, the buyer's premium, applicable taxes and other charges provided for in the Terms and Conditions. Applicable taxes shall include sales, use, excise, and other taxes or levies. Only valid resale certificates are accepted as proof of exemption from certain taxes for U.S. dealers. Foreign dealers should contact Sloans & Kenyon accounting office concerning all tax matters. Sloans & Kenyon will not release purchased lots until all tax requirements are satisfied.

5. Reserves

All lots offered are subject to a reserve, although reserves may not be set for some lots, at the sole discretion of Sloans & Kenyon. A reserve is the confidential minimum price established between Sloans & Kenyon and the consignor. The reserve is generally set at a percentage of the low estimate of the lot and will not exceed, in any case, the low estimate of the lot. Reserves do not include the buyer's premium, any applicable taxes or other charges. Sloans & Kenyon prohibits consignors from bidding on their own property. The auctioneer may implement the reserve by bidding on behalf of the consignor at the auction. The auctioneer may open the bidding on any lot by placing a bid on behalf of the consignor and may continue bidding for the consignor by placing responsive or consecutive bids, but only up to the reserve. If bids on a lot fail to reach the reserve, the lot will be bought-in and withdrawn from sale. If Sloans & Kenyon has an interest in the lot, Sloans & Kenyon may bid up to the reserve to protect that interest.

6. Estimates

Low and high estimates are given for each lot. The estimates are merely guides for bidders and represent Sloans & Kenyon's opinion of the price a lot might bring at auction. Estimates are based, where possible, on prices that similar items have sold for in the past. The estimates are determined prior to the sale and are subject to revision to reflect changing market conditions. Estimates should not be relied on as a representation or prediction of the actual price a lot will be sold for. Actual selling prices could be significantly different from estimates. Sloans & Kenyon will not be liable if the actual selling price is different from the estimate. Estimates do not include the buyer's premium, any applicable taxes or other charges.

7. Withdrawal of Property from Sale

Sloans & Kenyon reserves the right to withdraw Property from sale for any reason and with no liability whatsoever for such withdrawal. If the auctioneer decides that any opening bid is below the reserve of the Property offered, the auctioneer may reject the bid and withdraw the Property from sale.

8. Payment, Collection and Shipping Responsibilities of Purchaser

Successful Purchaser Obligations. On the fall of the auctioneer's hammer or other acknowledgment of a successful bidder on a lot, title to the Property in that lot will pass to the successful bidder who thereupon assumes full risk and responsibility for the purchased Property (including costs and expenses of handling, shipping, insurance, taxes, export and otherwise).

9. Methods of Payment and Fees

Acceptable Methods of Payment. A purchaser may use one or more of the following methods of payment: cash, valid and approved credit or debit charge cards, wire transfers and personal checks. Sloans & Kenyon reserves the right to hold Property purchased by check until the check has cleared. To ensure that delivery is not delayed, new bidders should supply Sloans & Kenyon with bank or suitable credit references before the sale. Sloans & Kenyon will charge a fee of $25.00 for any dishonored check.

Credit Cards Accepted. Visa, MasterCard, Discover, American Express and debit cards are accepted for payment. Sloans & Kenyon reserves the right to charge a handling fee as a percentage of the hammer price for purchases made with credit cards.

Late Payment Charge. In addition to any other remedies available by law to Sloans & Kenyon and the consignor, Sloans & Kenyon reserves the right to impose from the date of sale a late charge of 1-1/2% per month (or if lower, the highest rate permitted by applicable law) of the total purchase price if payment is not made in accordance with the payment provisions of these Terms and Conditions.

10. Purchaser Default

Sloans & Kenyon Remedies upon Purchaser Default. If the purchaser fails to comply fully with any provisions of the Terms and Conditions, the purchaser will be in default. In addition to other remedies available to Sloans & Kenyon and the consignor by law, including the right to hold the purchaser liable for the total purchase price, including all premiums, charges and expenses specified in the Terms and Conditions, Sloans & Kenyon may, at its option,
(a) cancel the sale of the lot on which the purchaser defaulted, and of any other lot(s) sold to the defaulting purchaser at the same or any other auction(s), and retain as liquidated damages all payments made by the purchaser, (b) resell the purchased Property, whether at public auction or private sale, or (c) pursue any combination of 10 (a) and (b). In the event of any default by purchaser, purchaser will be liable to Sloans & Kenyon and the consignor for any deficiency, any and all costs and expenses, including reasonable attorneys' fees, collection fees and expenses, handling charges, late charges, expenses of both sales, premiums on both sales at Sloans & Kenyon regular rates and other damages. Sloans & Kenyon may, in its sole discretion, apply any proceeds of sale otherwise due to the purchaser or monies of purchaser in Sloans & Kenyon's possession to reduce or satisfy, if possible, the purchaser's obligations with respect to the unpaid lots and other deficiencies and damages.

Security Interest. As security for the full payment to Sloans & Kenyon and the consignor of all amounts due from purchaser, Sloans & Kenyon retains and purchaser grants to Sloans & Kenyon a security interest in the Property purchased at auction and in any other property or money of purchaser in Sloans & Kenyon's possession, or coming into Sloans & Kenyon's possession, (collectively, "the collateral"). Sloans & Kenyon shall have the rights and remedies of a secured creditor as provided by the Uniform Commercial Code and other applicable law. Such security interest shall cease as to the Property or other collateral when it is physically delivered to the purchaser or purchaser's agent.

11. Rescission by Purchaser

Limited Right of Rescission. If, within a reasonable time, not to exceed twenty one (21) calendar days after the sale, the original purchaser (a) gives written notice to Sloans & Kenyon by certified mail or facsimile (or in such other written form deemed acceptable by Sloans & Kenyon in its absolute discretion) alleging that the description, condition, weight, size, title, origin, provenance or other characteristics of a lot as set forth in the catalogue were grossly and materially inaccurate and misleading and substantially overstated the value of the Property, and (b) within five calendar days (or such later time deemed to be reasonable under the circumstances by Sloans & Kenyon in its absolute discretion) after such written notice, returns each item of Property in the lot to Sloans & Kenyon in the same condition it was in at the time of sale, and (c) proves the truth of such allegations to Sloans & Kenyon satisfaction, the sale of such lot will be rescinded. If Sloans & Kenyon has not yet paid the consignor the amounts due as a result of the sale to the purchaser, Sloans & Kenyon will refund the full purchase price to the purchaser. Refunds shall not include costs of transportation, insurance or other expenses, which may have been incurred by purchaser.
If Sloans & Kenyon has paid the consignor the amounts due as a result of the sale, Sloans & Kenyon will (i) refund to the purchaser the amount of the buyer's premium and taxes received from the purchaser, and (ii) make written demand upon the consignor for the payment of the balance of the purchase price. If the consignor fails to honor the written demand for a refund of the balance of the purchase price, Sloans & Kenyon shall immediately furnish purchaser the name and address of the consignor, and shall assign to purchaser all of Sloans & Kenyon rights for the return of the balance of the purchase price of the affected lot. Upon this disclosure and assignment, Sloans & Kenyon will have no further liability to purchaser or responsibility to pursue the purchaser's claim. Sloans & Kenyon will extend its reasonable cooperation to purchaser, provided that such cooperation does not require out-of-pocket expenditures by Sloans & Kenyon.

Rescission Only by Original Purchaser. This limited right of rescission is available only to the original purchaser and may not be relied upon by any heir, agent, transferee, assign or other third party or assigned to any subsequent transferee of the Property which gave rise to the claim.

Exclusive Remedy. Purchaser acknowledges and expressly agrees that the provisions of this Paragraph 11 state the sole and exclusive remedy available to a purchaser in the event of a nonconformity in Property purchased. Sloans & Kenyon will not be liable for damages of any kind, whether characterized as compensatory, direct, indirect, incidental or consequential (including damages for loss of profits or revenue, costs of obtaining alternative property, claims of customers of purchaser or otherwise), whether or not caused by Sloans & Kenyon fault or negligence, except as provided above or to the extent applicable law does not permit Sloans & Kenyon to exclude such liability.

12. Rescission by Sloans & Kenyon

In the event Sloans & Kenyon receives notice of an adverse claim with respect to purchased Property, Sloans & Kenyon shall have the right (but not the obligation), in its sole and absolute discretion, to rescind the sale to purchaser, upon written notice to purchaser. Upon such notice, purchaser will promptly return the purchased Property to Sloans & Kenyon premises where purchased in the same condition as when purchased. Sloans & Kenyon will then promptly refund the purchase price, including the buyer's premium and applicable taxes. Purchaser will have no further recourse against Sloans & Kenyon or the consignor, and Sloans & Kenyon and the consignor shall not be liable for any damages of any nature suffered by the purchaser, whether or not resulting from the fault or negligence of Sloans & Kenyon or the consignor.

13. Governing Law

The law of the state (excluding its conflicts of law rules) in which the Property is auctioned or sold shall govern, provided however, that if the Property is auctioned or offered for sale only through the medium of an online auction, the law of the State of Maryland (excluding its conflicts of laws rules) shall govern.

14. Forum for Lawsuits

Consent of Bidders and Purchasers to Jurisdiction. If there is a lawsuit, each bidder and purchaser hereby consents to the jurisdiction of the federal court located in, and the state courts of, the State whose law has been chosen to govern as provided in the preceding Governing Law Paragraph 13.

Lawsuits by Bidders and Purchasers Only in Certain Courts. Each bidder and purchaser hereby agrees that any lawsuit that bidder or purchaser may bring against Sloans & Kenyon or the consignor will only be brought in the federal courts located in, or the state courts of, the State whose law has been chosen to govern as provided in the Governing Law Paragraph 13 above.

15. Limitation of Liability

Sloans & Kenyon acts only as agent for the consignor and in no event will Sloans & Kenyon be liable for any breach or default by the consignor. Without diminishing any exclusion of liability provision applicable to the specific matters covered in these Terms and Conditions, (a) in no event will Sloans & Kenyon's liability for any breach, or act or omission exceed the purchase price actually paid by the purchaser, and (b) in no event shall Sloans & Kenyon have any liability under any circumstances for special, indirect, incidental or consequential damages (including for loss of profits or revenues, costs of obtaining alternative property, claims of customers of purchaser or otherwise), whether in contract, tort, negligence, strict liability, or otherwise, arising out of, resulting from or in any way relating to (i) the Property or its purchase, sale, delivery or non-delivery, or (ii) the acts or omissions of Sloans & Kenyon or Sloans & Kenyon agents, representatives, officers, directors, employees or affiliates.

16. Miscellaneous

Export or Import. An export license may be required from governmental agencies or departments for the export of items containing certain materials. Some countries prohibit the importation of items containing certain animal or other materials. It is the sole responsibility of purchasers to familiarize themselves with any required license, and import or export requirements or limitations. Sloans & Kenyon will have no responsibility with regard to these matters. Inability to obtain a license or to import into or export to foreign countries or delays in connection therewith shall not constitute a basis for (a) a delay in purchaser's collection or paying for any purchase, (b) a rescission or cancellation of a purchase by purchaser or (c) purchaser not otherwise fully meeting purchaser's obligations to Sloans & Kenyon.

Absentee Bids. For bidders who do not choose to attend a sale in person or for online auctions, Sloans & Kenyon may accept absentee bids at no cost to bidders. Purchasers who wish to participate in auction sales as absentee bidders must complete the applicable forms and shall comply with and be bound by the additional provisions applicable to such bidding. Absentee forms are available in our printed catalogues, from our office by calling 301-634-2330 or online (Absentee Bid Form).

Severability. If any provision or portion thereof of the Terms and Conditions shall be void, unlawful or unenforceable under applicable law, that provision or portion thereof shall be deemed deleted and severed from the remaining provisions, and shall not affect the enforceability or validity of any of the remaining provisions.

Private Sales. These Terms and Conditions shall apply to both auction and private sales of Property.

No Assignment. Unless Sloans & Kenyon consents in writing, purchasers may not assign their rights or any of their obligations relating to an auction or other sale by Sloans & Kenyon. Any assignment without Sloans & Kenyon consent will not be effective.

Complete Agreement and Binding Agreement. These Terms and Conditions contain all of the provisions applicable to the agreement between Sloans & Kenyon, on the one hand, and each bidder and purchaser, on the other, with respect to the subject matter of the Terms and Conditions. The provisions of the Terms and Conditions supersede and extinguish all other agreements, representations or understandings, whether prior or contemporaneous, or oral or written, between the parties concerning that subject matter. The Terms and Conditions shall be binding on purchaser's heirs, beneficiaries, executors, successors and permitted assigns.

Contract Modifications and Waiver. These Terms and Conditions may not be changed, unless Sloans & Kenyon and the purchaser have agreed to do so in a writing signed by both parties. No waiver shall be effective unless in writing and signed by the party alleged to have given the waiver. A waiver on one occasion by Sloans & Kenyon shall not be a waiver on any other or future occasion or affect Sloans & Kenyon right to insist on strict performance of all other provisions.

Paragraph Headings. Paragraph and subparagraph headings are included in these Terms and Conditions for ease of reference and should not be used to interpret the meaning of the substantive provisions.

Terms of Absentee Bidding

If you choose not to attend a Sloans & Kenyon catalogue auction in person, and wish to place bids, you may give Sloans & Kenyon instructions to bid on your behalf. Our representative(s) will then try to purchase the designated lot or lots of your choice for the lowest price possible, and never for more than the top bid price in your instructions. This service is free and confidential. The Terms and Conditions printed in the catalogue and online apply to all bidders, whether in person or absentee. By placing a bid in any manner at a Sloans & Kenyon catalogue auction, the bidder acknowledges and agrees to be bound by the Terms and Conditions. All absentee bidders also agree to be bound by these terms of absentee bidding. Please note Sloans & Kenyon offers its absentee bidding service as a convenience to our customers who are unable to attend an auction. While we will make every effort to execute your bid(s) pursuant to your instructions, Sloans & Kenyon is not responsible or liable for error or failure to execute such bids or instructions.

Bidding Number

Like all bidders, absentee bidders must register and receive a Sloans & Kenyon bidding number prior to bidding at the auction. To obtain a bidding number, contact the Sloans & Kenyon Business Office at: (301) 634-2330 or bidder@sloansandkenyon.com. First-time bidders may obtain a bid number by registering on this site. If you have not previously done business with Sloans & Kenyon, you will be expected to furnish identification and possibly credit references in order to receive a bidding number. If you are acting as another's agent for bidding purposes, you should provide a letter or other authorization from the principal.

Placing Absentee Bids

Absentee bids must be submitted in writing using the official Sloans & Kenyon form. This form is available in our auction catalogue, online (absentee bid form) or from the Sloans & Kenyon Business Office. Fax the completed form to us at (301) 656-7074. Be sure to accurately record the lot numbers and descriptions and the top price you are willing to pay for each lot. Do not leave the bid price open. Buy or unlimited bids will not be accepted. Always indicate a top limit – the highest prices you would be willing to bid if you were present at the auction.
Absentee Bids are subject to credit verification. All absentee bidders need to include credit card information on the form, or call our business office at (301) 634-2330 to provide this information to have on file. Successful bidders may select a payment method after the auction.
Always place your bids in the same order as the lot numbers appear in the catalogue.
Each absentee bid form should contain bids only for one sale. The particular sale should be indicated at the appropriate place on the bid form. Please place your bid as early as possible. In the event of identical bids, the earliest received will take priority.

Telephone Bids

Bids may be placed by telephone during the sale, but are accepted only at Sloans & Kenyon discretion and at the caller's risk. You may make arrangements before a sale for a Sloans & Kenyon telephone bidder to contact you at a telephone number of your designation in order for you to participate in the bidding on particular lot(s).
By bidding on the telephone, prospective purchasers consent and agree to the Terms and Conditions. Telephone bidding is a convenience offered to Sloans & Kenyon customers and while we make every effort to execute your instructions regarding your telephone bidding, Sloans & Kenyon is not liable or responsible for any errors or failure to execute such instructions.

Telephone Absentee Bids

All absentee bids submitted via telephone must be confirmed in writing or by fax using the absentee bidding form. If absentee bidding instructions are given to Sloans & Kenyon and its representatives via telephone, but not confirmed in writing, the same instructions as for written absentee bidding shall apply. Further, by offering any absentee bid, whether in writing or via telephone, the bidder accepts and agrees to the Terms and Conditions of the auction as printed in the catalogue for that auction.
Discover Items You'll Love

Bid Anywhere, Anytime. Download the LiveAuctioneers App.
Available on the App Store
Android App on Google Play