lots of lots
Welcome to the world's largest marketplace for fine art, antiques & collectibles.
1946 Booker T Washington Half Dollar BU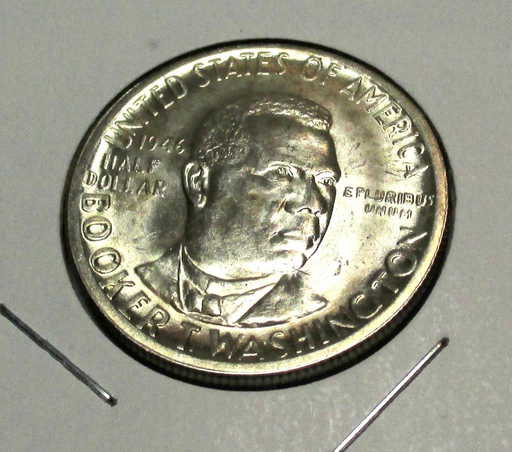 See Sold Price
Don't Miss Your Next Treasure.
Set up a search alert to hear when Coins, Currency & Stamps items arrive.
Auction ended on November 9th, 2014 UTC
1946 Booker T Washington Half Dollar BU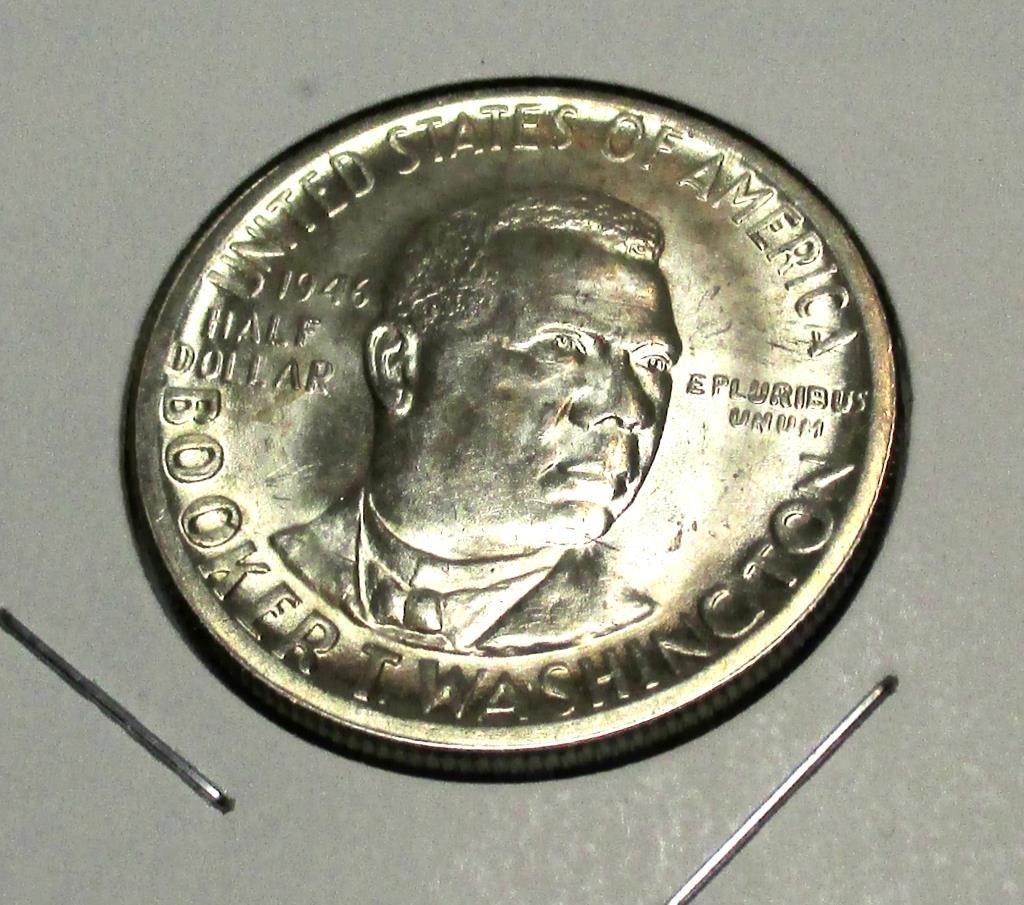 The item is the exact item in the image. Buyer is responsible for all value and grade. Any bid is acceptance of all terms of agreement.
Shipping
Buyer Pays Shipping Costs as detailed within agreement. Please note the charges for shipping are for Shipper to pick up the goods, process them, ship them insure then and the packaging and supplies.
Payment
Contact For Payment Details
Accepted payment methods
Terms
AUCTION REGISTRATION AGREEMENT TERMS- ALL BIDDERS THAT REGISTER AGREE TO THESE TERMS- THERE WILL BE NO EXCEPTIONS All sales final and all items sold as is where is with all faults. No refunds, discounts or returns.You are responsible for ALL bids, on purpose, on accident, by your cat, if you dropped your phone, if you hit the wrong button, etc... on your account by you or anyone else acting in your behalf whether or not they have your permission or are of legal age, or understanding of what they have done. The Live Auctioneers platform does not distinguish between bids from anyone and cannot tell if you meant to bid or not. This is a Live Venue and as such all bids are binding as a matter of law. BUYER AGREES TO NO CHARGE-BACKS ON CREDIT CARDS FOR ANY CIRCUMSTANCE. ANY DISPUTE WILL BE HANDLED IN THE MANNER DESCRIBED BELOW BUYER AGREES TO ALL TERMS INCLUDING PREVIOUS. Terms and Conditions By submitting your bid, you agree that: You have read and agree with the Auctioneer Terms and Conditions below and the LIVE AUCTIONEERS Terms of Use Agreement You agree to pay a buyer's premium of to 23% and any applicable taxes and shipping U.S. Asset Forfeiture & Seizures Inc. - Conditions of Sale Payment & Bidder Agreement The following, as amended by any posted notices or announcements during the sale, constitutes the entire terms and conditions on which property listed in the catalog shall be offered for sale or sold by U.S. Asset Forfeiture & Seizures Inc. (US AFS INC). PLEASE READ THIS ENTIRE AGREEMENT. TERMS AND CONDITIONS OF SALE 1. All items are sold AS IS, WHERE IS with all faults. ALL SALES ARE FINAL - NO REFUNDS AND NO EXCHANGES. WE AND THE CONSIGNOR DISCLAIM ANY AND ALL WARRANTIES, EXPRESSED OR IMPLIED, INCLUDING BUT NOT LIMITED TO THE IMPLIED WARRANTY OF MERCHANTABILITY OR FITNESS FOR ANY PARTICULAR PURPOSE. NO WARRANTIES ARE MADE THAT ANY OF THE MERCHANDISE COMPLIES WITH ANY APPLICABLE GOVERNMENTAL RULES, REGULATIONS OR ORDINANCES OF ANY KIND OR NATURE WHATSOEVER. All items are available for inquiries and 24/7 Internet preview prior to bidding. Written and oral descriptions are our opinions based upon years of experience and should in no way be construed as a guarantee of any kind as to authenticity, age, condition, materials or any other feature of items being sold. US AFS INC. attempts to catalog every lot correctly and will attempt to point out any defects but will not be responsible or liable for the correctness of the catalog or other descriptions of the lot. We recommend prospective bidders examine all items in which they have an interest. By placing a bid, either in person, by phone, absentee or via the Internet, whether by you or any other party from your account, you signify that you have examined the items as fully as you desire to or that you have chosen not to examine them. If you require absolute certainty in all areas of authenticity, and the results of your evaluation leave uncertainty in your mind, we recommend you have an expert examine the lot for you or do not bid on the item in question. 2. All property is sold AS IS, WHERE IS and neither US AFS INC nor the consignor makes any warranties or representations of any kind or nature with respect to property or its value, and in no event shall be responsible for the correctness of description, genuineness, attribution, provenance, authenticity, authorship, completeness, condition of property or estimate of value. No statement (oral or written) in this catalog, at the sale, or elsewhere shall be deemed such a warranty or representation, or any assumption of responsibility. All measurements and weights are approximate. 3. The successful bidder is the highest bidder acknowledged by the auctioneer. In the event of any dispute between bidders, or in the event of doubt on US AFS INC's part as to the validity of any bid, the auctioneer will have the final discretion either to determine the successful bidder or to re-offer and resell the article in dispute. If any dispute arises after the sale, US AFS INC's sale record is conclusive. It is 100% the right of the auctioneer to void any sale for any reason at any time during or after the sale to protect the consignor's interest. 4. The purchaser assumes full responsibility for items at the fall of the hammer. We will provide free secured storage for 30 days after sale date. We are not responsible for theft or loss/damage due to act of God or by shipping entity. All items are shipped with full insurance to the LISTED ADDRESS on the credit card you paid us with. paper payments or wire transfers may be shipped to the location of the bidders choosing. 5. A 23% buyer's premium will be added to the hammer price on each lot sold. 6. For all residents of Washington State all items that are taxable will be charged 9.75% sales tax. Coins and Bullion are exempt from taxation. 7. PAYMENT: We accept bank wire transfers, personal or company check, cashier's check, money order, Visa, MasterCard, and American Express. We DO NOT accept PayPal payments. For items purchased online, you will be emailed an invoice within 24 hours after the auction. This email provides a link that allows you to pay immediately and securely online. It is your responsibility to contact us or email us at info@afsauctions.us if you are unable to pay through our online check-out system. If paying by check, money order, or cashier's check, US AFS INC. reserves the right to hold all purchases until the check has cleared to the satisfaction of US AFS INC. and its bank. If we are prevented by fire, theft, or any other reason whatsoever from delivering any property to the purchaser, our liability shall be limited to the sum actually paid, by the purchaser for such property. IF THERE EVER IS A CASE OF A REFUND BEING ISSUED, YOU WILL BE CHARGED A 20% RESTOCKING FEE AND YOU WILL BE RESPONSIBLE TO PAY SHIPPING FEES AND BUYER'S PREMIUMS WILL NOT BE REFUNDED. PLEASE BID RESPONSIBLY AND ASK ALL QUESTIONS PRIOR TO PLACING A BID. ALL NON PAYING BIDDERS ARE SUBJECT TO 50% additional fees for collection action and legal proceedings. 8. U.S. Asset Forfeiture & Seizures Inc. RESERVES THE RIGHT TO WITHDRAW OR PASS ANY LOT AT ANY TIME BEFORE, DURING, OR AFTER THE AUCTION WITH NO LIABILITY. 9. THE AUCTIONEER RESERVES THE RIGHT TO REJECT ANY BID AT ANY TIME AND AT HIS SOLE DISCRETION TO PROTECT THE INTEGRITY OF THE AUCTION. 10. A range of estimates is given on each lot with a low and a high estimate. Estimates should not be relied on as a prediction of the actual selling or resale price. 11. On the fall of the auctioneer's hammer, ownership of the offered lot will pass to the highest bidder acknowledged by the auctioneer, subject to fulfillment by such bidder, of all the conditions set forth herein, and such bidder thereupon a) assumes full risk and responsibility thereof, but not limited to, insurance, fire, theft, removal and storage or damage from any and all causes, and b) will pay the full purchase price thereof or such part as we may require. In addition to other remedies available to us by law, we reserve the right to impose a late charge of 1 1/2% per month of the total purchase price if payment is not made in accordance with the conditions set forth herein. REGARDING ANY PURCHASER WHO IS REPRESENTED BY A BIDDER: BIDDERS ARE PERSONALLY AND INDIVIDUALLY RESPONSIBLE FOR ANY OBLIGATIONS OF THE PURCHASER SET FORTH IN THE TERMS AND CONDITIONS OF SALE. If any applicable conditions herein are not complied with by the purchaser, in addition to other remedies available to us and the Consignor by law, including, without limitation, the right to hold the purchaser liable for the total purchase price, we at our option may either, a) cancel the sale, retaining as liquidated damages all payments made by the purchaser, or b) resell the property at public auction without reserve, and the purchaser will be liable for any deficiency costs including handling charges, the expenses of both sales, our commissions on both sales at our regular rates, reasonable attorney's fees, incidental damages, and all other charges due hereunder. In the event that such a buyer pays a portion of the purchase price for any or all lots purchased, US AFS INC. shall apply the payment received to such lot or lots that US AFS Inc., in its sole discretion deems appropriate. In the case of default, purchaser shall be liable for legal fees and expenses of at least 50% on top of total of invoice for Collection activity. In addition, a defaulting purchaser will be deemed to have granted us a security interest in, and we may retain as collateral security for such purchaser's obligations to us, any property in our possession owned or partially owned by such purchaser. All legal action to take place in Snohomish County, Washington. We reserve the right to recoup any reasonable legal in the manner above through judgement and collection. 12. In the unlikely event we lose our internet connection, US AFS INC. reserves the right in its sole and absolute discretion to cancel the remainder of the auction and any bids placed and not executed are then nullified. 13. **Auctioneer has final discretion on sale of an item. Before, during and after a sale has taken place. Auctioneers decision is final.** **IMPORTANT - PLEASE READ*** AS YOU HAVE ACKNOWLEDGED BY AGREEING TO THE TERMS OF THIS AUCTION, THERE ARE NO REFUNDS OR EXCHANGES. IN THE EVENT THAT YOU REQUEST AND ARE GRANTED BY US AFS INC. A RETURN, CANCELLATION, OR REFUND, YOU AGREE THAT YOU ARE STILL RESPONSIBLE TO PAY A 3% RESTOCKING FEE BASED ON THE FINAL SALE PRICE (I.E. THE HAMMER PRICE) OF EACH ITEM THAT IS RETURNED PLUS THE ENTIRE BUYER'S PREMIUM FOR EACH ITEM AS WELL AS ALL OF THE SHIPPING/HANDLING CHARGES. THIS MEANS THAT THE RESTOCKING FEE, BUYER'S PREMIUM AND SHIPPING/HANDLING CHARGES ARE NEVER ELIGIBLE FOR A REFUND OR RETURN. In the event of a NON PAYING bidder we reserve the right to send to collection the invoice, in any case such as this the bidder will be responsible for all legal fees, additional collection fees charged by the collector and the collection agency fees. The agency hired will work diligently to collect all these funds. This may affect your credit rating. The additional fees will be in the ratio of 50% of the total invoice. EXAMPLE $ 100 invoice total will be charged by agency or collector $ 150 total to pay for all legal and collection fees. ANY bid is an agreement to these terms. Bidder further agrees to not use the charge-back feature of their credit card issuer. Any liability from bidder will include all legal fees incurred by US AFS INC in the event of any dispute or non payment. PLEASE ALLOW UP TO 14-21 DAYS AFTER CLEARED PAYMENT FOR SHIPPING. Some property that is sold at auction can be subject to laws governing export from the U.S., such as items that include material from some endangered species. Import restrictions from foreign countries are subject to these same governing laws. Granting of licensing for import or export of goods from local authorities is the sole responsibility of the buyer. Denial or delay of licensing will not constitute cancellation or delay in payment for the total purchase price of these lots. Bidding on any item indicates your acceptance of these terms and all other terms announced at the time of sale whether bidding in person, through a representative, by phone, by Internet, or other absentee bid. All purchases are subject to the sales tax law of Washington. Dealers, museums, and other qualifying parties are exempt from Taxation. All legal proceedings will be held in Snohomish County , State of Washington and all Washington state laws apply. 14. Re-lists - Occasionally you may notice that an item is re-listed or a similar picture may be used. This can be due to a variety of reasons such as a winning bidder in a previous auction not paying for the item, or multiple types of the same item. Due to the immense volume we sell we use stock photographs for large group lots and Bullion items. 15. Reserves - Some of the lots in this sale are offered subject to a reserve. The reserve is a confidential minimum price, below which the lot will not be sold agreed upon by the consignor and US AFS INC. In most cases, the reserve will be set below the estimated range, but in no case will it exceed the estimates listed. A representative of US AFS INC. will execute such reserves by bidding for the consignor. In any event and whether or not a lot is subject to a reserve, the auctioneer may reject any bid or raise not commensurate with the value of such lot. 16. PLEASE READ: This auction permits bids to be placed by the auctioneer, an employee of the auctioneer, or the seller or an agent on the seller's behalf. In accordance with UCC 2-328, this auction is permitted to engage in this activity by providing this clear disclosure to you, the bidder. 17. Competing Bid/Onsite Floor bids or Reserve The auctioneer may be accepting bids for an item from other sources these include: bids from an in-house audience, telephone bids, Left-book bids, absentee bids, and other bidding platforms including the auctioneer or an agent of the seller(s) & consignor(s) bidding for other entities. 18. We try hard to ensure that the data on this site is accurate, we have 35 years of auction experience and are not inclined to use superfluous descriptions. In the event that the data is inaccurate or an item is marked with the wrong price, we reserve the right to cancel that particular transaction. Shipping & Handling Shipping Prices are for both Shipping and Handling: · Gemstone Gold & Silver Jewelry (Rings, Necklaces, Bracelets, Gemstones etc..) - $20 each item, we may combine purchases to save on shipping. · Small items, Cards, Coins, - $20 each item, we may combine purchases to save on shipping. · Unframed Cartoon Cells, Paper Goods, Stocks and Bonds and Smaller Prints - $15, we may combine purchases to save on shipping. · Small Collectibles, Loose items - $19.00, we may combine purchases to save on shipping. · Large Collectibles, Helmets, Handbags, Shoes, Sports Memorabilia, etc. - $22.00, may not combine purchases to save on shipping. · Small Framed Items (12"x12") - $85.00, may not combine purchases to save on shipping. · Medium Framed Items (30"x30") - $145.00, may not combine purchases to save on shipping. · Large Framed Items (50"x50") - $155.00, may not combine purchases to save on shipping. · Oversized Framed Items - $175.00, may not combine purchases to save on shipping. Will Call of items is not allowed. Coming to our offices to view items is also not allowed for the safety of our staff and or you. In addition the security of the goods we sell. ***IMPORTANT*** YOU MAY BE ABLE COMBINE PURCHASES TO SAVE ON SHIPPING. - Should expedited shipping be requested, substantial additional fees will apply. - We reserve the right to adjust shipping charges. - Substantial Additional fees apply when shipping Internationally. - Please be sure that you understand our shipping policies prior to bidding. If you are unclear, please contact us at INFO@AFSAUCTIONS.US for clarification. If you are still unsure, please enjoy the auction however, please do not bid. IMPORTANT Notices & Disclaimers - Please Read Regarding Appraised Jewelry and Loose Stones - U.S. Asset Forfeiture & Seizures Inc. DOES NOT send any items for appraisal. A third party appraisal may be supplied by the consignor or previous owner. This type of appraisal or verification is as follows: Retail Replacement Value Appraisals for Insurance Purposes, which are the most common. These types of evaluations are written for insurance needs. This would be the cost to replace the jewelry with an item of equal quality and kind, considered to be the current market price or the replacement value for locations such as Beverly Hills or Upscale areas of Europe and New York.. This type of appraisal is done to protect you in the event of damage or loss of a valuable item. The appraisals are conducted by Independent 3rd Party appraisal firms that utilize a Certified GIA Graduate Gemologist. Appraisals should be used for verification of gemstone and/or metal weight, size, and grade only, not actual value. Appraisal value should be considered for insurance purposes only, not actual value, as price varies greatly from retail locations. Items should not be purchased with the expectation to resell for appraisal price, or for profit. If you like it buy it. We are not responsible for profit or loss due to the estimate provided or the appraisal. Regarding Memorabilia Items - All autographs are supposed to be authentic, but it is up to the bidder to verify. List Price "LIST PRICE" or "Retail Value" is the suggested retail price provided to us by our suppliers and/or manufacturers. We make no representation that a substantial number of these products have been sold or offered for sale at the list price. Actual retail prices in your area may be substantially different. Because we sell our merchandise over the internet on a national basis, it is not possible to know if our merchandise is sold at list price in any particular location or at any particular time. In addition, manufacturers may use formulas to determine the suggested retail price which may not correspond to what a product actually sells for regularly. "SAVINGS" and/or the PCT.% OFF shown throughout our site reflects the difference between our price and the supplier/manufacturer provided list price shown on our sites. Because the list price may be different than the actual retail prices in your area, you may not actually realize a savings of this amount and may want to make an exact comparison for yourself by checking the prices of other internet or local retailers prior to making a purchase. Please note: ALL SALES ARE FINAL, NO REFUNDS, NO EXCHANGES, NO CHARGE-BACKS.
Discover Items You'll Love

Bid Anywhere, Anytime. Download the LiveAuctioneers App.
Available on the App Store
Android App on Google Play