Vintage 1947 Graflex Crown Graphic 101mm f/4.5 Camera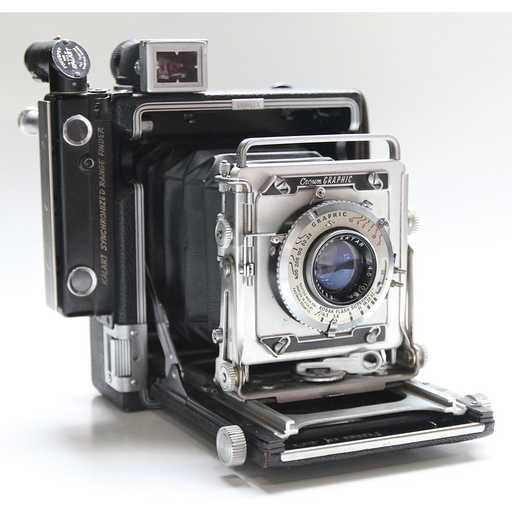 See Sold Price
Don't Miss Your Next Treasure.
Set up a search alert to hear when Filthy lists new auctions.
Auction ended on September 12th, 2015 UTC
Vintage 1947 Graflex Crown Graphic 101mm f/4.5 Camera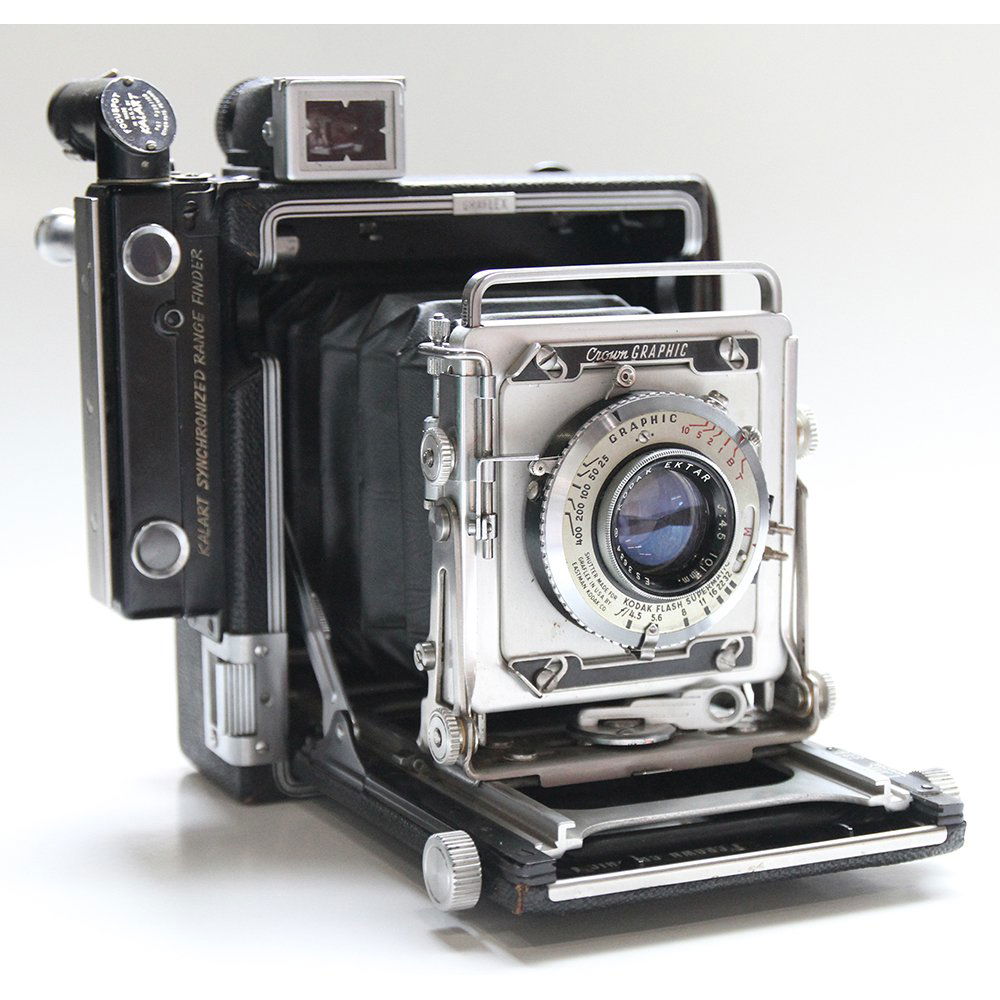 Vintage 1947 Graflex Pacemaker Crown Graphic 2 1/4" by 3 1/4" Camera with Kodak Ektar 101mm f/ 4.5 lens with Kalart synchronized range finder. The interior of the camera case has the trade mark stamp which reads, "Crown Graphic trade mark registered U.S. Patent Office Serial Number 410335 Manufactured by Graflex, Inc. Rochester 8, New York, U.S.A.". This camera is in overall very good condition for it's age. It is untested. Condition is reflected in the pictures.
Camera Model:
The Pacemaker Crown Graphic was produced from 1947-1973, in 2¼ x 3¼, 3x4, & 4x5. Same as the Pacemaker Speed Graphic but without the focal plane shutter, resulting in a thinner, lighter camera. No focal plane shutter.
Background:
From 1912 to 1973 Graflex produced large format and medium format press cameras in film formats from 2¼ × 3¼ (6 × 9 cm) to 4 × 5. They also produced rangefinder, SLR and TLR cameras in a variety of formats ranging from 35mm to 5 × 7.
The first of the Graflex-branded cameras, released in 1898, was the Graflex camera, also known as the Graflex Reflex, or Graflex SLR. It quickly became popular for sports and press photography in the early 20th century due to its use of a focal plane shutter. To produce shutter speeds fast enough to appear to freeze rapid motion, early Graflex cameras employed a cloth shutter with a narrow slit that quickly moved across the film plane, exposing only one small strip at any given moment in its travel. To set the shutter speed, the photographer wound the shutter spring to one of a series of calculated tensions using a key, and selected the slit width with another control. A table on the side of the box gave the shutter speed for each combination. The Graflex Reflex was also popular among early 20th Century fine art photographers, leading several lens manufacturers to design special soft-focus lenses, including the famous Wollensak's Verito, to support the camera's creative potential.
Graflex Speed Graphic folding cameras, produced from 1912 to 1973, also employed a focal plane shutter, but with somewhat simplified operation, although they have also often been used with "between-the-lens" shutters mounted to the front lens board as more typically seen on large format cameras. Like the earlier Graflex Reflex cameras that proceeded the Speed Graphic, it too became a popular press and sports camera. The so-called "top-to-bottom" motion of the focal plane shutter in the Sped Graphics exposed the upper portion of the film first (i.e., the "bottom" of the inverted image as sen on the focal plane), so many photographs of automobile racing taken with Speed Graphics depicted the wheels of cars in an oval shape leaning forward. This feature was so ubiquitous in racing photography that it came to be a conventional graphical indication for speed, influencing many cartoonists who drew wheels in this style same way to indicate fast motion.
Speed Graphics have also been used with success by many fine art photographers, as they work quite well with special un-shuttered lenses that were manufactured originally for the Graflex Reflec. Speed Graphics are still widely used by modern fine art photographers because of their unique image creation capabilities and simple, easily serviced mechanical design.
The Crown Graphic models of this same period were similar in overall design to the Speed Graphics, but omitted their focal plane shutter, allowing Crown Graphic models to be about one inch (2.5 cm) smaller and 1 pound lighter (.5 kg) Furthermore, their lack of a focal plane shutter allowed lenses to be mounted closer to the film plane, enabling the use of wider angle lenses on these models.
The Rochester Folmer plant also manufactured the Century Studio Camera, which was marketed under both the Kodak and Graflex nameplates. However because Graflex printed separate catalogs for its studio and portable offerings, many erroneously believe the Century Studios to have been manufactured elsewhere.Featured Video:
Terms and conditions:All items within this auction are original and come directly from the Filthy Gorgeous Media archives. Each item will be packaged with an item specific
certificate of authenticity
. Each certificate is customized according to lot and signed by the CEO of Filthy Gorgeous Media.
There is NO COPYRIGHT TRANSFER after purchase. Filthy Gorgeous Media retains copyright privileges for all imagery within this auction.
Upon winning an item at the end of an auction, please be sure to check the email account you have associated with your live auctioneers account for an invoice. Bidders are responsible for shipping charges. PayPal is our preferred method of payment. For questions or assistance feel free to call (201)258-3770 Monday - Friday between 9:00AM and 5:00PM EST.
Categories: Pictures, Photographs, Models, Images, Nude Photos, Negatives
Condition
Very Good. Untested. Images reflect condition.
Discover Items You'll Love