CHINA-KWEICHOW 1928 Auto Dollar Silver, NGC MS63
Don't Miss Your Next Treasure.
Set up a search alert to hear when Silver Coins, Currency & Stamps items arrive.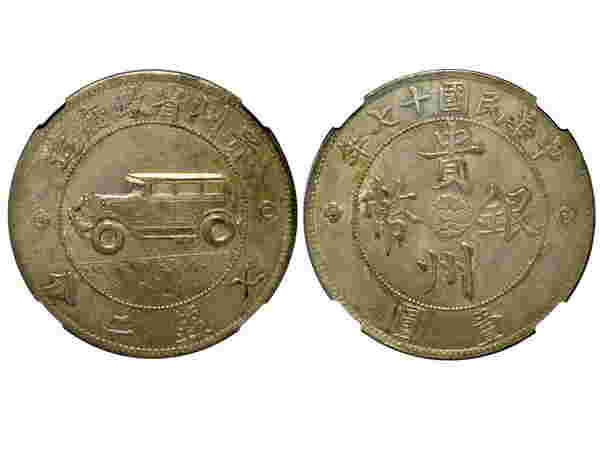 Lot 0093 Details
Description
CHINA-KWEICHOW 1928 Auto Dollar Silver, 2 blades of grass, Y428, L&M609, K757, NGC MS63. From Glendining Von Halle November 24th 1966 Sale, Lot 779, realized 125 pounds (US $350). Highest graded by grading service. H.F.Bowker East Asia Collection. This coin is also the plate coin of No.28 on book "TOP CHINESE COIN Silver Coinage" published by Champion.
RECALLING THE VON HALLE COLLECTION OF CHINESE COINS
by Bruce W. Smith
"Silver Coins of China and the Colony of Hong Kong" was the title of an important auction of machine struck Chinese coins, conducted on 24 November 1966 by the London coin firm of Glendining Company. The sale consisted of 626 lots, some of which were illustrated on the ten plates at the end of the catalog. This was the most extensive sale of Chinese silver coins ever held in England, and until the Kann sale in 1971, was probably the largest such sale held anywhere in the world. The cataloging was apparently done by D. J. Crowther, but we know almost nothing about the collector. His name is given as W. Von Halle and the preface to the catalog suggests he had not been collecting for very long. The name suggests he may have been German rather than English. He purchased coins from dealers and auctions all over the world, including pieces from the Wayte Raymond collection, sold by Glendining in November 1963. The Von Halle sale was so important that in 1967 a red hard cover reprint was produced with text, plates and prices realized. The reprint rights were purchased by Sidney Frey (1921-1968), who in the previous year had purchased the rights to and reprinted the Kann catalog. Frey was the president of a company which produced record albums, but he also had an interest in Chinese coins. In 1967 he tried to organize the Asiatic Numismatic Society, but was unsuccessful.
As the title of the sale indicates, there were no gold coins in the auction. There were, however, a number of patterns in pewter, copper or other metals. The prices realized are given in British pounds (there was no buyers fee in those days), which at the time was worth U.S. $2.79 or roughly three dollars per pound. Nine coins sold for over 200 pounds:
Lot 567 Chekiang Dragon Dollar with Chinese legend in "Kai" style, Heaton Mint CHE - KIANG 1902 Kann 119i 320 pounds
Lot 801 Communist Army Dollar 1931 Kann 801 320 pounds
Lot 768 Chang Tso-lin Dollar 1928 Kann 688 320 pounds
Lot 767 Chang Tso-lin Dollar 1926 Kann 685 250 pounds
Lot 69 Chu Yu-pu Dollar 1927 Kann 690 260 pounds
Lot 746 Yuan Shih-kai Flying Dragon Dollar with L. GIORGI Kann 663a 275 pounds
Lot 528 Hupeh Pen Sheng Dollar Kann 35 230 pounds
Lot 843 Maritime Ku Ping Tael (circa 1868) Kann 925 280 pounds
Lot 1072 Hong Kong 1866 Dollar Proof Pridmore 1a 245 pounds
Other coins which brought over a hundred pounds were:
Lot 779 Kweichow Auto Dollar 1928 Kann 757 125 pounds Lot 510 Kwangtung 1889 Dollar 7.3 variety Kann 16 130 pounds
Lot 533 Hupeh 20 Cents 1909 Kann 46 115 pounds
Lot 566 Chekiang Dollar with Chinese legend in "Wei Stele"style, CHEH - KIANG 1899 Kann 119 170 pounds
Lot 588 Peiyang Dollar 1896 Kann 181 110 pounds
Lot 587 Yunnan 1910 Spring Dollar Kann 177 [fake] 90 pounds
Lot 677 Kirin 1908 Dollar "11" in center Kann 573a 110 pounds
Lot 692 Sun Yat Sen Dollar 1929 with A. MOTTI Kann 614a 120 pounds
Lot 708 Sun Yat Sen 1932 Gold Standard Dollar Kann 628x 80 pounds
Lot 709 Sun Yat Sen same 1932 but plain edge Kann 628a 180 pounds
Lot 710 Sun Yat Sen same but 1929 struck in copper Kann unlisted 110 pounds (lots 708-710 were all from the Wayte Raymond Collection sale 1963. The unlisted piece is mentioned by Kann on page 205 where he dismisses it as a mint sport. In later correspondence with Howard F. Bowker, Kann says that paragraph should be deleted because he had discovered the coin was in fact made at the Philadelphia Mint to test the reverse die.)
Lot 739 Yuan Shih-kai 1914 Dollar with L. GIORGI Kann 645a 130 pounds
Lot 719 Sun Yat Sen 1936 Half Dollar with security edge Kann 635 105 pounds
Lot 720 Sun Yat Sen 1936 Half Dollar with reeded edge Kann 635 105 pounds (Kann does not record any security edge coins in his catalog, but they are hinted at on page 207 in the text following the description of K 635, where he shows a table of coin specifications, which includes the remark: "Too thin for security rim". This table is clearly the results of experiments made using a security edge.)
The coins from the Von Halle Collection found their way into many other collections. Irving Goodman, for example, bought lots 719 and 720 mentioned above. Italian collector, Enrico Manara, also bought coins from the Von Halle sale, and I suspect Norman Jacobs did as well. Von Halle's collection was especially rich in high quality coins and patterns.
CHINA-KWEICHOW 1928 Auto Dollar Silver, NGC MS63
Estimate $10,000 - $20,000
Aug 22, 2016
Shipping, Payment & Auction Policies
Ships from
Kowloon, Hong Kong