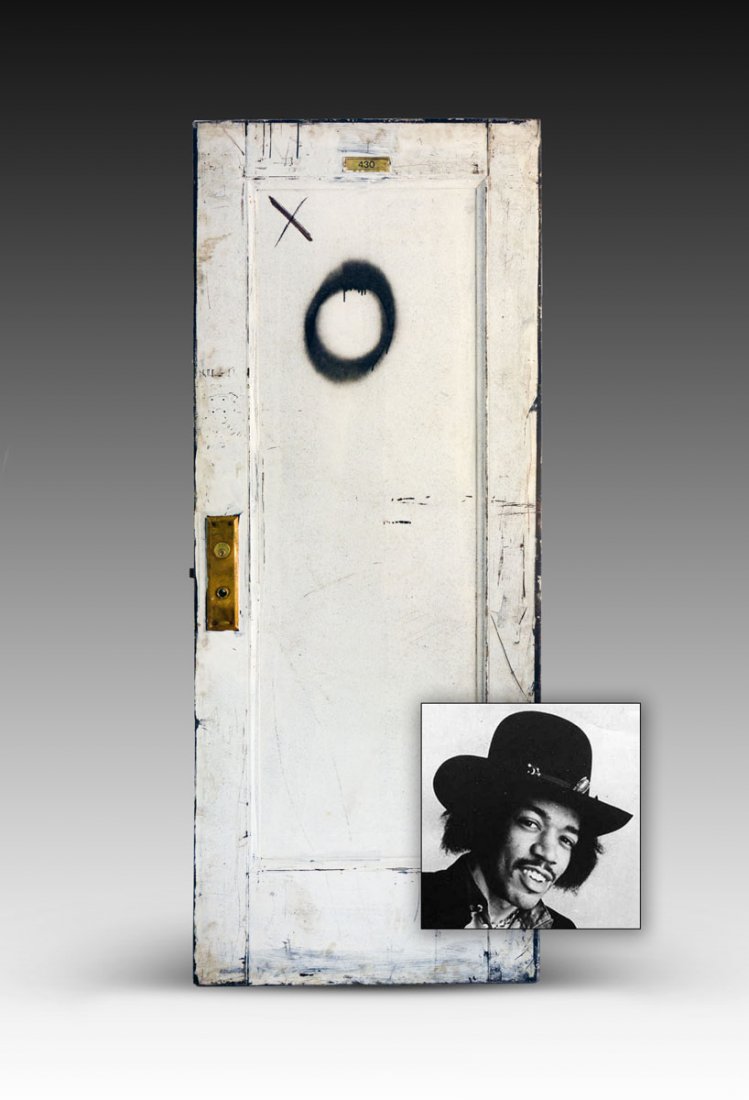 Jimi Hendrix (November 27, 1942 - September 18, 1970) resided, guested, and visted the hotel often. He stayed in this particular room often. Reportedly, at one point while Hendrix was residing at the Chelsea, he was in the lobby and was mistaken by an elderly woman for a busboy. Instead of informing her of her mistake, he was kind enough to carry her bags to her room.

Door measures approximately 77 x 31 1/2''.

This door has been consigned by Mr. Jim Georgiou, an accomplished man who had been a previous tenant at the Chelsea (along with his dog, Teddy). Unfortunately, Jim ended up having to leave his beloved home at the hotel, winding up on the street. During this time, he would occasionally return to the Chelsea, to use the restrooms. This was during the beginnings of the renovations on the building. It was as a result of one of these forays into the Chelsea that Jim recovered the doors. Mr. Georgiou recognized the doors' importance as symbols of the accomplished and controversial figures that lived in the hotel when it was a bohemian haven.

Jim Georgiou is now no longer without a home, but certainly remembers his time on the streets. Per his request, a portion of the proceeds from the auction of the doors will go to City Harvest, the non-profit organization that pioneered food rescue in 1982. This year, City Harvest will rescue 59 million pounds of nutritious food and deliver it to 500 community food programs across New York City, helping to feed the nearly 1.3 million New Yorkers facing hunger.

The attributions of the Doors of the Chelsea to their associated icons have been made based on extensive research, both of material written on the figures of the Chelsea, as well as interviews with previous residents and employees of the Hotel. Many of these attributions are borne out by various sources, and are confirmed almost beyond a doubt. Some are based upon knowledge of where in the hotel a figure was staying, and can be considered 'looser' attributions.

This item is being sold without reserve.

Although the attributions of the Doors of the Chelsea to their associated icons have been made based on extensive research of material written on the figures of the Chelsea, as well as interviews with previous residents and employees of the Hotel, and many of these attributions are borne out by various sources, no definite attribution is possible. As such, each door is purchased "as is" and neither Guernsey's nor the consigner is able to provide any warranty or representation confirming the provenance of any door. See Section 1 of the terms and conditions of sale. No statement by anyone or in the catalogue, in any advertisement, or which is made at the sale, in the bill of sale or invoice, or elsewhere, shall be deemed a representation or guarantee of attribution or an assumption of liability.

Bibliography

Interviews with: Jerry Weinstein (Chelsea Hotel Front Desk Manager 1979-2007, in possession of Chelsea front desk registers), Chris Von Hummel (resident), Raymond Foye (resident starting in 1976), Kyle Taylor, Rita Barros (resident), Francis Love (habitué), Timur Cinquente (desk worker/bellman), Rick Librizzi (tenant, 30 years), Norman Gosney, Storme Delarverie, Lola Schnabel, Dan Cohen, Maureen Meloy, Zev Greenfield, Drew Straub, Arnold Weinstein. Also with the help of: Stanley Bard, David Bard, Michelle Bard, Gerald Busby, Michelle Zalopany, Arthur Weinstein, Colleen Weinstein, Dahlia Weinstein, Jon Berg, Susan Reiner, Debbie Martin, Ed Hamilton, Scott Griffin, Steve Willis, Brian Bothwell, Meli Pennington, David Remfry, Martine Barat, Arthur Nash, Tim Sullivan, Carolyn Hansberry, Judith Childs, Tony Notaberradino, Mark Timmerman, Richard Markowitz, Merle Lister, Gerard DeColl, Abel Ferrar, Kevin Eggers, Dan Courtenay, Laura Kaplan, Robert Lambert, Sathima Bea Benjamin, Abdullah Ibrahim, Sakwe Ibrahim, Jeanne Gray, Joe O'Neil, Joe Andoe, Ivan Cordoba, and Julio Valdeon.


Baral, Robert. Turn West on 23rd Street: A Toast to New York's Old Chelsea. Fleet Publishing, 1965.
Barros, Rita. Chelsea Hotel: Fifteen Years (Bilingual Edition). Lisbon: Camara Municipal De Lisboa, 1999.
Beecher , Jonathan. Charles Fourier: The Visionary and His World. University Of California Press, 1986.
Behan, Brendan & Paul Hogarth. Brendan Behan's New York. Bernard Geis Associates, 1964.
Bellamy, Edward. Looking Backward: 2000-1887. Modern Library, 1950.
Bockris, Victor. Beat Punks. DeCapo Press, 1998.
Bourdon, David. Warhol. Harry N. Abrams, 1989.
Brooks, Van. John Sloan: A Painter's Life. E.P. Dutton, 1955.
Burroughs, William S. Naked Lunch. Grove Press, 1959.
Burrows, Edwin G. & Mike Wallace. Gotham: A History of New York To 1989. Oxford University Press, 1999.
Charters, Ann. Kerouac: A Biography. Warner Books, 1974.
"Chelsea: A Walking Tour." Cue: The Weekly Magazine of New York Life. May 6, 1967
Cunningham, Ernest. The Ultimate Bogart. R Books, 1999.
Fitzgibbon, Constantine. The Life of Dylan Thomas. Atlantic-Little Brown, 1965.
Hamilton, Ed. Legends of the Chelsea Hotel: Living with Artists and Outlaws in New York's Rebel Mecca. Thunders Mouth Press, 2007.
Shapiro, Harry. Jimi Hendrix: Electric Gypsy. St. Martin's Press, 1990.
Heylin, Clinton. Bob Dylan Revisited-Behind The Shades. Harper-Collins, 2000.
Hilmes, Oliver. Berlin 1936. Other Press, 2016.
Kaplan, Fred. 1959: The Year Everything Changed. John Wiley & Sons, 2009.
Kostelanetz, Richard, ed. Virgil Thomson: A Reader-Selected Writings 1924-1984. Routledge New York, 1992.
Letters Of H.L. Mencken. Selected By Guy J. Forgue. Knopf, 1961.
Lough, James. This Ain't No Holiday Inn: Down and Out at the Chelsea Hotel 1980-1995. Schaffner Press, 2013.
Lipman, Samuel. The House Of Music: Art In An Era Of Institutions. Godine Press, 1989.
Madonna. Sex. 1992.
Masters, Edgar Lee. Across Spoon River. University Of Illinois Press, 1991.
O'Connor, Richard. Hell's Kitchen. Lippencott, 1958.
Padnani, Amisha. "From Thomas Wolfe to Sid Vicious, Artists from the Chelsea Hotel." The New York Times. February 14, 2017. Online.
Reid, David. The Brazen Age - New York City and the American Empire: Politics, Art and Bohemia Pantheon, 2016.
Rich, Nathaniel. "Where the Walls Still Talk." Vogue. October 8, 2013. Online.
Rublowsky, John & Ken Heyman. Pop Art. Basic Books, 1965.
Sawyer, Christopher. An Invisible Spectator: A Biography of Paul Bowles. Laucanno, Weidenfeld & Nicholson, 1989.
Schumacher, Michael. Dharma Lion: A Biography of Allen Ginsberg. St. Martin's Press, 1992.
Shafer, Benjamin, ed. The Herbert Hunke Reader. William Morrow, 1997.
Sullivan, Denise. Shaman's Blues. Sumach-Red Books, 2014.
Thomson, Virgil. Virgil Thomson. E.P. Dutton New York, 1962.
Thomson, Virgil. The State Of Music & Other Writings. W.W. Norton New York, 1939.
Tippins, Sherrill. Inside the Dream Palace: The Life and Times of New York's Legendary Chelsea Hotel. Houghton Mifflin Harcourt, 2013.
Tomkins, Calvin. Off The Wall: Robert Rauschenberg And The Art World Of Our Time. Penguin, 1980.
Turner, Florence. At the Chelsea - A Personal Memoir of New York's Most Famous Hotel. Foruli Classics, 2013.
Vidal, Gore. Palimpsest: A Memoir. Penguin Books, 1995.
Wallenfeldt, Jeff. "11 or 12 Things Remembered Well About the Chelsea Hotel." Encyclopedia Britannica - Arts & Culture. Viewed 2/28/18. Online.
Wind, Edgar. Art and Anarchy. Knopf New York, 1964.
Jimi Hendrix
Thu, Apr 12, 2018 11:30 PM UTC
18 

Days
18 

Hrs
18 

Min
Until Auction Starts
Register to Bid

Guernsey's
65 East 93rd Street
New York, NY 10128
United States

Discover Items You'll Love