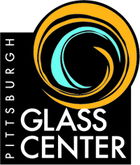 Pittsburgh Glass Center is a nonprofit, public access school, gallery and state-of-the-art glass studio dedicated to teaching, creating and promoting glass art. World-renowned glass artists come here to make studio glass art. People interested in learning more about glass come here to take a class, explore the contemporary glass gallery and watch live hot glass demonstrations. As one of the top glass art centers in the world, we pride ourselves on providing exceptional resources and instruction to expand the skills and knowledge of our students and artists. We strive to foster a new generation of glass artists and enthusiasts here in the Pittsburgh region. Pittsburgh Glass Center is known for throwing the hottest parties in Pittsburgh. From celebrity glass artists blowing massive molten glass art to innovative cuisine by Pittsburgh's best chefs, events at PGC are always fun and highlight world-renowned glass artists and talented regional artists that support Pittsburgh Glass Center. Plus, there are always opportunities to purchase one of kind glass art directly from the artists or through our annual auction. Each year our visiting artists donate glass art for our annual fundraiser the Art on Fire Celebration & Auction. Artwork ranges from delicate flameworked jewelry to massive blown glass sculptures. The proceeds benefit programs at Pittsburgh Glass Center from cutting edge exhibitions to teen scholarships. This year we have an impressive line up of over 80 one-f-a-kind works of glass art from artists such as Sidney Hutter, Nancy Callan and Stephen Rolfe Powell, to name a few. Only the top 20 will be available in the live auction. Visit our web site to see the full list of artwork that is for sale during the Art on Fire Celebration & Auction on Friday, September 25. Learn more about Pittsburgh Glass Center and the event on our website.
Upcoming Auctions from Pittsburgh Glass Center
has no upcoming auctions. auctioneer to hear about new auctions.
Past Auctions from Pittsburgh Glass Center
Pittsburgh, PA, US
Auction Ended
Pittsburgh, PA, US
Auction Ended