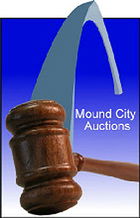 Let Mound City Auctions handle your Appraisal and Auction needs. We specialize in custom marketing to sell your property using the Auction Marketing Method. We are Industry leaders with 600 documented World Record prices. Both of our auctioneers have earned the highest designation the NAA offers (the Certified Auctioneer's Institute, CAI). We offer auction services for Estate Auctions, Real Estate, Comic Books and other Collectibles, Business & Restaurant Liquidations, and Charity Auctions. We conduct Personal Property Appraisals and are members of the Certified Appraisers Guild of America (CAGA).
Upcoming Auctions from Mound City Auctions
has no upcoming auctions. auctioneer to hear about new auctions.
Past Auctions from Mound City Auctions
Overland, MO, US
Auction Ended
Overland, MO, US
Auction Ended
Record Auction Results for Mound City Auctions
See All