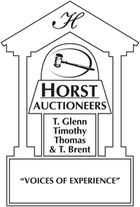 The Horst family has been in the auction business since approximately 1900. Started by A. A. Landis, Tim and Tom's great-grandfather, and carried on by his son-in-law, Titus S. Horst. Titus continued to call auctions part-time, as well as building homes as a master carpenter. His experience was passed on to his son, T. Glenn Horst, who entered the auctioneering business in 1956. T. Glenn carried on his dad's tradition of building custom homes by day, and calling sales in the evenings and on Saturdays. In the early 1960's, T. Glenn offered his services to the Cocalico Valley Historical Society, calling their sales on a volunteer basis until the late 1980's. T. Glenn's oldest son Timothy decided in 1976 to follow in his father's footsteps and became an auctioneer and carpenter. Listening to his dad's calling ever since he was a child, Tim became an auctioneer at the age of 16. He drew heavily from his dad's experience. Tim and T. Glenn worked a full schedule building custom homes and conducting auctions, all the while enjoying their opportunity to work side by side. In 1982, T. Glenn's youngest son, Thomas, joined the family business by way of clerking at sales and building homes. After many years of prodding by his dad, Tom finally decided to step up to the microphone and help call sales in 1988. The company continued calling sales on-site for estates, and began to rent fire halls to conduct consignment sales and catalogued antique sales. As the business grew, it became increasingly more difficult to juggle the demands of building custom homes and conducting a large number of auctions, so a decision had to be made. The family decided to pursue the auction business full-time. After much consideration, the Horst family decided that the time had come to build a facility that was specifically designed to hold public sales. With experienced auctioneers/builders in charge, a building was constructed that could accommodate the size and quality of sales that the business had grown into. The Wednesday evening consignment sales became an immediate success for both buyers and sellers alike. In addition, the catalogued antique sales continued to increase in attendance and antique quality. While all sales hold special memories, some of the highlights have been the estate collection of well-known antique collectors and authors Earl and Ada Robacher, the sale of items from the Snow Hill German Seventh Day Baptist Society, and the total dispersal of items from the Victorian Mountain Springs Hotel. These are just a few of the many sales that the Horst family has had the honor and privilege to conduct over the past 100 years. The Auction Center Facility The Horst Auction Center was constructed in 1991. Our facility has a seating capacity of approximately 600, with heat and air conditioning to allow for year-round comfort. The Auction Center sits on a three acre tract at the corner of Rt. 322 and Durlach Road just outside the Borough of Ephrata, PA. We have a paved parking lot for approximately 230 cars, with a large grass meadow for overflow parking. The facility includes an auction gallery that measures 55' x 105', with built-in display cases along one wall. The gallery also has a stage for displaying furniture, with a loading dock conveniently located off the stage level for easy loading of larger items. We also have a three bay garage set up to sell all kinds of items including tools, outdoor items such as mowers or outdoor furniture, and box lots of household goods. These two areas (the gallery and garage) comprise the main selling areas of the Auction Center. In the auction gallery there is a small lunch counter with a seating capacity of 18, where you can select from a menu of meals, sandwiches, snacks and many delicious Pennsylvania Dutch home made desserts. Located within the building complex are five large secure warehouses for storage of all types of items. Individual pallets are carefully packed with each consignors' items as the items are received. Guns received for our gun sales are locked in a secure vault with fireproof gun safes. Outdoor Sales (On-site) The Horst Auction company has the ability and experience to handle any kind of on-site sale from large farm dispersals to small estate sales. We have a self-contained clerking trailer which is powered by a generator mounted in our box truck. We provide both 6' and 8' folding tables for setting up all on-site sales. Large display cases can also be provided if needed. We can also provide you with all the extra help you might need to set up your sale prior to the sale day at a very reasonable rate. Contact the Auction Center for more information.
Upcoming Auctions from Horst Auction Center
has no upcoming auctions. auctioneer to hear about new auctions.
Record Auction Results for Horst Auction Center
See All