Weekly Auctions of Exceptional Items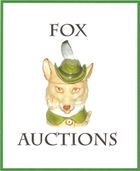 Welcome to Fox Auctions, the leading auction house in the sale of antique beer steins and other drinking vessels. With our 35 years of experience in the business, our auctions offer some of the rarest and unique antique drinking vessels available. Fox Auctions holds five auctions each year containing approximately 500 lots. We print a high quality, all color catalog, which is mailed to over 2000 active collectors world-wide. Fox Auctions handles every stein classification such as, Mettlach, Character, Regimental, Pewter, Sports, Glass, Silver, Ivory, Wood, Faience, Stoneware, Souvenir, Whites Utica, Lenox, Rookwood, Royal Vienna, Meissen, and more. We value our buyers and sellers equally, and handle our dealings in an honest and respectful manner. Attitudes are never part of our business. Ron Fox, owner of Fox Auctions , tells of the greatest business compliment he ever received. For decades, the greatest name in American antiques has been Israel Sack. In 1988, Fox Auctions had a Colonial silver tankard in their live sale, in St Louis. Mr. Israel Sack was interested, and personally had a private viewing of the piece prior to the sale. He informed us that he would send a representative to St Louis for the live bidding. The night before the sale Mr Sack called Ron. He said, "I have thoroughly checked you out young man, and you have a Sterling reputation." He went on to directly give his six-figured bid saying he was confident it would be handled honestly and professionally. Our business has always be handled in that manner, with honesty and ethics. Ron Fox is one of the founders of The Beer Stein College, a two day interactive workshop promoting stein research, that travels throughout the country. Ron is an active member and officer of Stein Collectors International. He is the editor of Prosit, a quarterly publication on the subject of beer steins. He is a worldwide recognized authority on the subject, and gives lectures throughout the country. Fox Auctions maintains a user friendly website, that offers photos of every auction item, as well as additional photos for most items.
Upcoming Auctions
News
Reviews
Past Auctions
Record Results
Upcoming Auctions from Fox Auctions
Fox Auctions has no upcoming auctions.

Follow this

auctioneer to hear about new auctions.
Bidder Reviews for Fox Auctions (167)
8 Latest Top ReviewsSee All
Edward
Seattle, Washington
george
Canonsburg, Pennsylvania
website
great website, very easy to do business with. the item was well described.
Robert
Whitefish Bay, Wisconsin
seamless
Fox packs and ships!!!
All went well
Fox Auctions did well, customer is happy.
Keith
Charlestown, Indiana
I've known Ron Fox for many years and he is absolutely one of the best!!!
I've known Ron Fox for many years and he is absolutely one of the best!!!
Jim
Carnegie, Pennsylvania