Bidder Reviews for Sterling Associates

(

118

)
Quick Responses
1-50 of 118 Reviews
Douglas Brock
Yorba Linda, CA
Excellent!
Excellent in every way. Prompt, professional and reliable. Thank you!

They helped me out big time
I usually don't bid at places that don't have in house shipping. I happened to do a search for an item and saw one selling within an hour. I bid and won. I got extremely high quotes from the 3rd party shippers. Sterling Associates helped me out by taking the item apart and it cut my shipping in half. They were very quick to respond each time I messaged. I am very pleased with the end result of the total price and quality of the item I purchased

Catherine
Flagler Beach, FL
Very trustworthy company that finds really good things in area estates
This company was a delight to buy from. They come across unusual merchandise in local New Jersey and New York estates. They're very friendly, honest people and go out of their way to help bidders. I love my painting, which I re-matted, and it's hanging over my office fireplace.


Worst Seller on Actioneers
Will Not buy again

Sterling Associates
Dec 29, 2021
We are sorry you were disappointed with your experience with our auction. If a bidder wins a lot for a bargain price, but the 3rd party shipping costs are more than the purchase, the auction house should not be considered a bad seller. In the future, our auction as well as most auctions on Liveauctioneers, we suggest getting shipping quotes prior to bidding. Thank you.

You will not be disappointed!
Excellent customer service-items in pristine condition-the whole process from bid to pick up went smoothly-Thank You!



Items received were as described
Items received were as described
Douglas
Southern Pines, NC
Very professional, easy pick up
I was satisfied with the transaction and the staff were friendly and courteous

Sterling Associates
Aug 19, 2019
We are sorry you were not 100 % satisfied, but we do stand by our description listing and ten photographs. Please always remember to get condition reports prior to bidding if you have any questions or concerns about any lot.
Sharon
Hamilton Square, NJ
EXCELLENT
1st Rate Auction House
GDPR Deleted
New York City, NY
Aaa + + +
***** 10 STAR SALUTE *****
Quality and service exceeded my expectations
I was very satisfied with the quality of my item, and Sterling associates answered all my questions and gave me even more background on my items history. They were very accommodating when it was time for me to pick up my item. I would love to do business with them in the future.
Way, way too expensive to ship. (Third Party Shipper)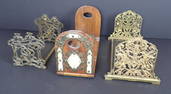 Larry
Highland Heights, OH
Wish you had your own in house shipping department.

This is my 2nd auction buy from Sterling. It was a straight forward, easy transaction with quick shipping at a reasonable cost. Thank you!