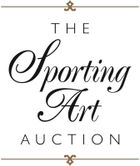 With demand for fine sporting art confirmed, Keeneland and Cross Gate Gallery will conduct an annual Sporting Art Auction every November. This year's auction will feature 189 high-quality lots representing fine sporting art, American paintings and sculpture from renowned artists. The Sporting Art Auction represents an inspired collaboration between Keeneland, the world's premier Thoroughbred auction house and Cross Gate Gallery, the country's leading source for fine sporting art and contemporary British figurative painting. Keeneland offers the perfect venue in its state-of-the-art Sales Pavilion as well as its auctioneering expertise. Keeneland Vice President of Sales Walt Robertson lends his experience as a knowledgeable sporting art collector and auctioneer. Greg Ladd, owner of Cross Gate Gallery and the collection's curator, traveled throughout the United States and Europe to acquire important pieces for the auction. The 2019 collection will be on display in the Keeneland Sales Pavilion through the auction's Nov. 17 date.
Upcoming Auctions from The Sporting Art Auction
The Sporting Art Auction has no upcoming auctions. auctioneer to hear about new auctions.
Record Auction Results for The Sporting Art Auction
See All