Todd Mueller Autographs, Inc.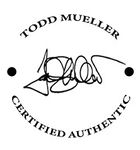 Todd Mueller Autographs, Inc.
TOP RATED
Todd Mueller has been in the Autograph industry as a highly regarded dealer and collector for 40+ years. A longstanding member of the Manuscript Society and a Sotheby's Associate, Todd has been buying and selling authentic autograph collections small and large since 1978. Along with his vast personal collection, we also accept consignments from all over the world. Do you have a collection to sell or consign to our weekly auction? We Buy Autographs! Contact Todd directly today: Todd@ToddMuellerAutographs.com or 719-494-1990 or 972-896-7742.
Upcoming Auctions from Todd Mueller Autographs, Inc.
has no upcoming auctions. auctioneer to hear about new auctions.
Bidder Reviews for Todd Mueller Autographs, Inc.

(

41

)