Weekly Auctions of Exceptional Items
East Coast Fine Arts, LLC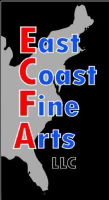 East Coast Fine Arts, LLC
533 Followers
Specializing in fine art paintings, prints and sculpture. Also interested in antiques, fine decorative objects, collectibles, etc.
Upcoming Auctions
Reviews
Past Auctions
Record Results
Upcoming Auctions from East Coast Fine Arts, LLC
East Coast Fine Arts, LLC has no upcoming auctions.

Follow this

auctioneer to hear about new auctions.
Bidder Reviews for East Coast Fine Arts, LLC (41)
8 Latest Top ReviewsSee All
Excellent communication and service. I'll be keeping an eye out for future auctions.
Sergey
Sunny Isles, Florida
Richard
North Chatham, Massachusetts
I'm relatively new to online bidding, but I found ECFA to be easy to navigate, the descriptions very good and the shipping and packaging first rate. When I emailed a question regarding a delay in shipping, I received an immediate explanation and apology from the company owner. This certainly impressed me, and my purchase arrived in less than a week.
Rosemary
Flagstaff, Arizona
David
New Smyrna Beach, Florida
Mari
Tewksbury, New Jersey