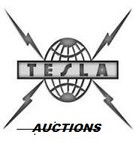 Tesla Auctions, Inc is a High Quality family owned Auction House operating out of West Palm Beach Florida We are actively seeking Consignments of Fine Art Designer Jewelry and Rare Antiques. We have Private Buyer's waiting for your High End Fine Art & Antique Artifacts. We offer complete Appraisal services from our experts in the Fine Art and Jewelry Fields We also can Appraise your Antiques Call us at 786 461-7818 to book an appointment We are dedicated to providing the highest level of service and professional standards in the business to buyers and sellers. We have an extensive network of buyers including our local following, online bidders from around the world and bidders through our partner sites. With our resources, we are able to bring sellers a fair market value for their items while upholding our high levels of integrity and confidence. We have a full-time, knowledgeable staff available Monday through Friday from 9:00 AM until 5:00 PM. Please call with any questions regarding appraisals, consignments, outright sales and any other inquiries.
Upcoming Auctions from Tesla Auctions, Inc.
has no upcoming auctions. auctioneer to hear about new auctions.
Record Auction Results for Tesla Auctions, Inc.
See All