Weekly Auctions of Exceptional Items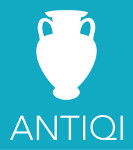 It all started when... The collectors bug turned into a business. With decades of experience in fine arts, it is our passion to buy and sell decorative arts to our many clients. Antiqi is not just a typical antique business. We are here to celebrate all things antiqi. Please do not hesitate to contact us. Thank you.
Upcoming Auctions
News
Reviews
Past Auctions
Record Results
Upcoming Auctions from Antiqi
Antiqi has no upcoming auctions.

Follow this

auctioneer to hear about new auctions.