Weekly Auctions of Exceptional Items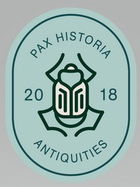 Antiquities dealer and gallery located in Toronto, Canada. Including, but not limited to, Ancient Roman, Greek, Egyptian, Chinese and Pre-Columbian art! Guaranteed 100% Authentic Artifacts.
Upcoming Auctions from Pax Historia Gallery
Pax Historia Gallery has no upcoming auctions. auctioneer to hear about new auctions.
Bidder Reviews for Pax Historia Gallery

(

3

)
2 Latest Top ReviewsSee All
Great
Good service and great in-house shipping.
Great Auction house
A + + seller