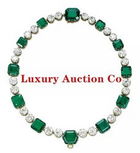 The Company is a global platform for resellers and collectors. Our main focus is on reselling authentic second-hand handbags and jewellery. Photo captions and valuations are the crafted by fully certified experts and assessors,We have been in this business for many years and we can guarantee that all our products are 100% authentic and if you have any authorized stores for each brand saying it is not, we will provide a full refund guarantee in the return of the product. We do not handle defective or counterfeit goods. If you have any questions can contact us, the phone number may be somewhat busy, we will reply to the mail in a timely manner. Email: luxuryauctionco@outlook.com.
Upcoming Auctions from Luxury Auction Co.
Luxury Auction Co. has no upcoming auctions. auctioneer to hear about new auctions.
Past Auctions from Luxury Auction Co.