Hyde Park Country Auctions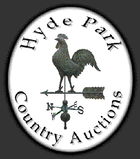 Hyde Park Country Auctions
TOP RATED
Settle Estates * Specializing in Country and Victorian antiques. * Buy Outright or Consign- one piece to entire estates. * Complete house and barn clean out services. * On site auctions available at your home or business. Appraisals * One piece or entire contents. Consignments * Competitive rates based on merchandise quality. * One piece or entire estates. * Merchandise pickup available.
Upcoming Auctions from Hyde Park Country Auctions
has no upcoming auctions. auctioneer to hear about new auctions.
Bidder Reviews for Hyde Park Country Auctions

(

319

)
Record Auction Results for Hyde Park Country Auctions
See All