Weekly Auctions of Exceptional Items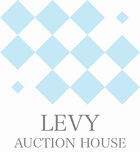 Upcoming Auctions
Reviews
Past Auctions
Upcoming Auctions from Levy Auction House
Levy Auction House has no upcoming auctions. auctioneer to hear about new auctions.
Bidder Reviews for Levy Auction House

(

5

)
3 Latest Top ReviewsSee All
Tarcisio
Fort Lauderdale, Florida
These people are professional and fast. Great service
Excellent service. Professional and fast. They know what they do
William
Alexandria, Virginia
Process very easy with total satisfaction.
Excellent doing business with!!!!!
Steven
Marcellus, New York
Interesting items and good service
Good and safe service and interesting items A + + +