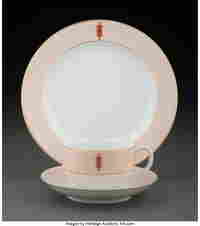 67071: Frank Lloyd Wright (American, 1867-1959) Twelve-
Sold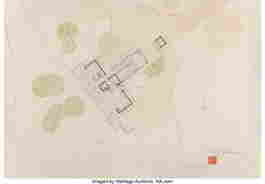 2018
67058: Frank Lloyd Wright (American, 1867-1959) Drawing
See Sold Price
Sold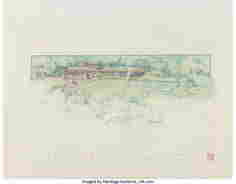 2018
67061: Frank Lloyd Wright (American, 1867-1959) Drawing
See Sold Price
Sold

2021
67006: Frank Lloyd Wright (American, 1867-1959) Taliesi
See Sold Price
Sold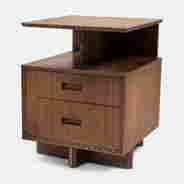 2022
Frank Lloyd Wright (American, 1867-1969) End Table Heritage Henredon, USA
See Sold Price
Sold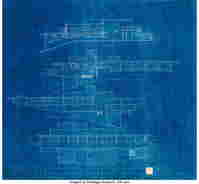 2019
67127: Frank Lloyd Wright (American, 1867-1959) Bluepri
See Sold Price
Sold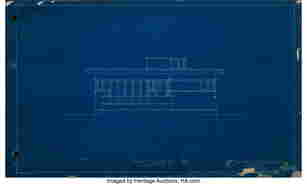 2021
67105: Frank Lloyd Wright (American, 1867-1959) Bluepri
See Sold Price
Sold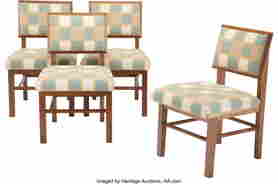 2021
67038: Frank Lloyd Wright (American, 1867-1959) Set of
See Sold Price
Sold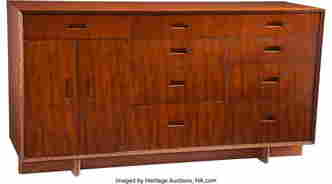 2021
67017: Frank Lloyd Wright (American, 1867-1959) Taliesi
See Sold Price
Sold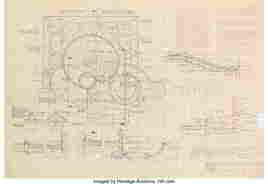 2019
67126: Frank Lloyd Wright (American, 1867-1959) Plans f
See Sold Price
Sold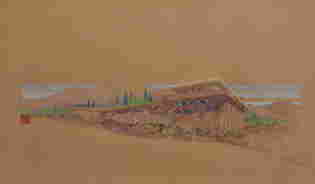 2019
FRANK LLOYD WRIGHT, (American, 1869-1959), Presentation
See Sold Price
Sold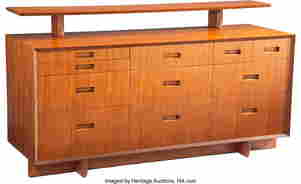 2021
67015: Frank Lloyd Wright (American, 1867-1959) Taliesi
See Sold Price
Sold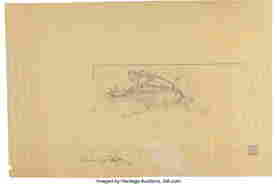 2020
67082: Frank Lloyd Wright (American, 1867-1959) Plan fo
See Sold Price
Sold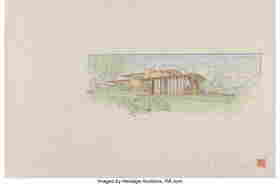 2018
67056: Frank Lloyd Wright (American, 1867-1959) Drawing
See Sold Price
Sold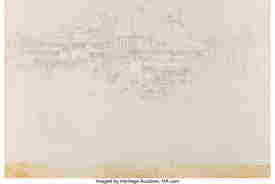 2020
67019: Frank Lloyd Wright (American, 1867-1959) Present
See Sold Price
Sold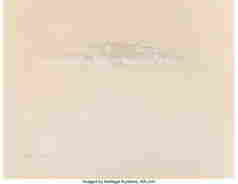 2020
67020: Frank Lloyd Wright (American, 1867-1959) Present
See Sold Price
Sold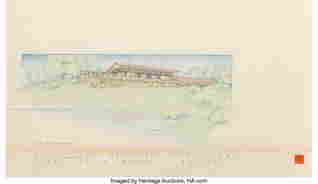 2019
67067: Frank Lloyd Wright (American, 1867-1959) Drawing
See Sold Price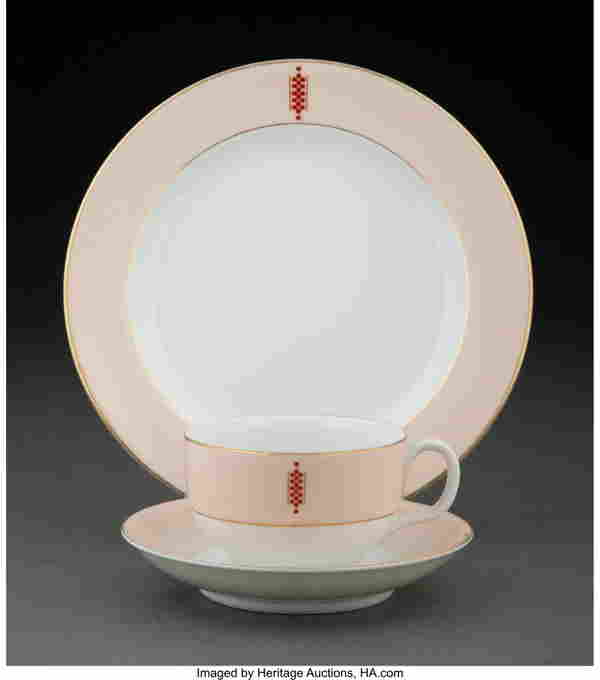 Item Details
Description
Frank Lloyd Wright (American, 1867-1959) Twelve-Piece Porcelain Luncheon Service for the Imperial Hotel, Tokyo, 1958-59, Noritake Partial-gilt porcelain 2-1/8 x 4 x 3-3/8 inches (5.4 x 10.2 x 8.5 cm) (tallest, teacup) Stamped manufacturer's mark to underside of each A set of twelve porcelain pieces, containing four teacups, four saucers, and four luncheon plates, in Noritake's Royal Pink pattern, each with the Imperial Hotel monogram, designed by Wright in 1922, transfer-printed to the encircling pink band. HID03101062020 © 2022 Heritage Auctions | All Rights Reserved
Condition
Set in overall very good condition, with a one and a quarter inch hairline to the well of one saucer, and moderate rubbing to gilt details.
Heritage Auctions strongly encourages in-person inspection of items by the bidder. Statements by Heritage regarding the condition of objects are for guidance only And should Not be relied upon as statements of fact, And do Not constitute a representation, warranty, Or assumption of liability by Heritage. All lots offered are sold "As Is"

Buyer's Premium per Lot:
25% on the first $300,000 (minimum $49), plus 20% of any amount between $300,001 and $3,000,000, plus 15% of any amount over $3,000,001 per lot.
Buyer's Premium
25% up to

$300,000.00

20% up to

$3,000,000.00

15% above

$3,000,000.00
67071: Frank Lloyd Wright (American, 1867-1959) Twelve-
Shipping, Payment & Auction Policies
Ships from Dallas, TX, United States
Auction Curated By
Brent Lewis
Director Design
www.liveauctioneers.com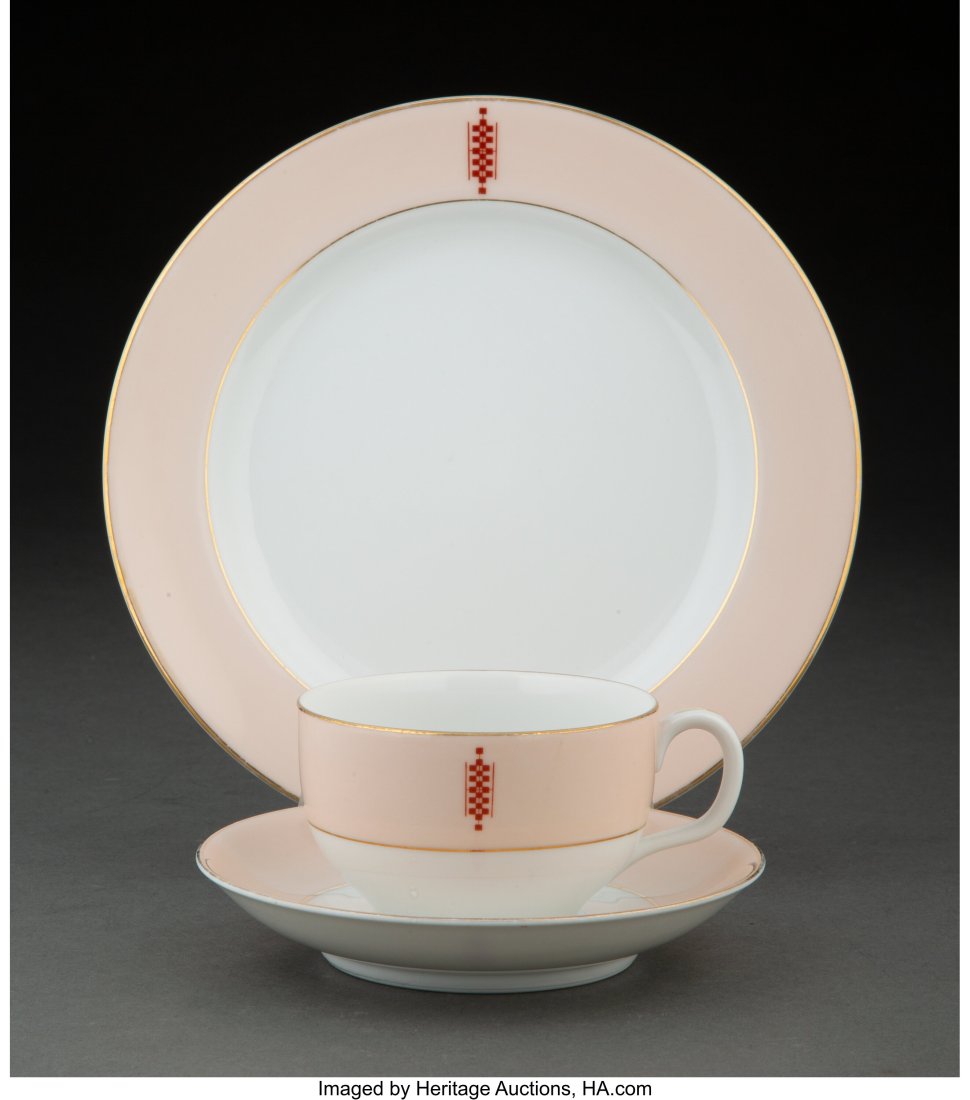 67071: 67071: Frank Lloyd Wright (American, 1867-1959) Twelve-
Est.

$1,000

-

$1,500
•
Starting Price

$500
Design - #8087
Jul 21, 2022 12:00 PM EDT
Buyer's Premium 25%
Lot 67071 Details
Description
Frank Lloyd Wright (American, 1867-1959) Twelve-Piece Porcelain Luncheon Service for the Imperial Hotel, Tokyo, 1958-59, Noritake Partial-gilt porcelain 2-1/8 x 4 x 3-3/8 inches (5.4 x 10.2 x 8.5 cm) (tallest, teacup) Stamped manufacturer's mark to underside of each A set of twelve porcelain pieces, containing four teacups, four saucers, and four luncheon plates, in Noritake's Royal Pink pattern, each with the Imperial Hotel monogram, designed by Wright in 1922, transfer-printed to the encircling pink band. HID03101062020 © 2022 Heritage Auctions | All Rights Reserved
Condition
Set in overall very good condition, with a one and a quarter inch hairline to the well of one saucer, and moderate rubbing to gilt details. <br> Heritage Auctions strongly encourages in-person inspection of items by the bidder. Statements by Heritage regarding the condition of objects are for guidance only And should Not be relied upon as statements of fact, And do Not constitute a representation, warranty, Or assumption of liability by Heritage. All lots offered are sold "As Is"<br><br>Buyer's Premium per Lot:<br />25% on the first $300,000 (minimum $49), plus 20% of any amount between $300,001 and $3,000,000, plus 15% of any amount over $3,000,001 per lot.
Contacts
Heritage Auctions
214.528.3500
LiveAuctioneers Support
info@liveauctioneers.com