436: 1920's WHIRLY TINKER PULL TOY MADE BY THE TOY TIN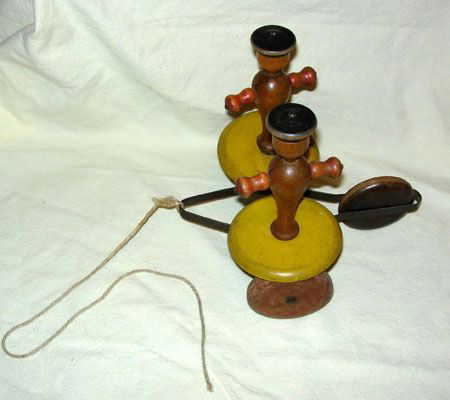 See Sold Price
Don't Miss Your Next Treasure.
Set up a search alert to hear when Tin Pull Toys items arrive.
Auction ended on May 6th, 2006 UTC
436: 1920's WHIRLY TINKER PULL TOY MADE BY THE TOY TIN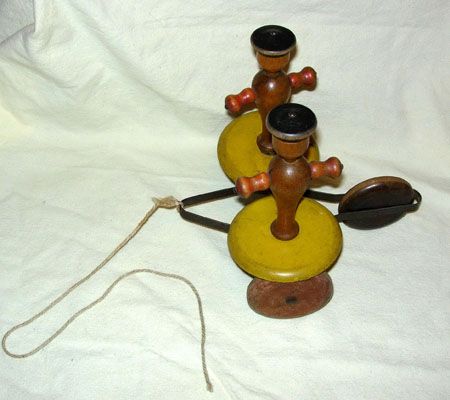 This is a very unique PULL TOY from the 1920'S. The name of this VINTAGE WOODEN AND METAL PULL TOY was called the "WHIRLY TINKER" and it was made by THE TOY TINKERS OF EVANSTON, ILLINOIS U.S.A. This WHIRLY TINKER is a wooden toy that pulls and it looks someone like a tricycle design and as the toy was pulled the metal rings turn and the WOODEN SAILERS SPIN AROUND. This piece is in very good shape. It shows some wear, but overall it is still very nice. The history of this toy is especially interesting. Charles H. Pajeau and Robert Pettit are the founders of The Toy Tinkers of Evanston, Illinois, and the creators of the TINKERTOY construction toy set. The two gentleman met while commuting by train from Evanston to Chicago for work. Charles was a stone mason and Richard was a trader at the Board of Trade. Each gentleman disliked their chosen professions. Determined to make a change, they soon formed a partnership that would last almost 30 years. The inspiration for the TINKER TOY CONSTRUCTION SET came to Pajeau while he was watching children play with pencils and empty spools of thread. He noticed that children would play for long periods of time by mixing simple household items with lots of creativity. Charles also observed that children had a natural curiosity about the world around them and enjoyed taking things apart to see how they work. Most importantly, he noticed that they enjoyed disassembling and re-assembling the same parts and creating whatever their imagination could dream up. With these fundamental principals in mind, Charles and Robert set out to create a toy construction set made out of sticks and spools that would inspire the imagination of children everywhere. Charles thought of drilling 8 holes around the perimeter of the spools and one through the center. This cornerstone piece, when combined with sticks of varying lengths, formed a construction system based the Pythagorean Principal of the progressive right triangle. This means, a triangle composed of sticks and spools could become the sides of an even bigger triangle, and a three dimensional object could be built with infinite possibilities. Knowing they had a hit product, they formed a company by the name of THE TOY TINKERS OF EVANSTON, ILLINOIS. They then started to manufacture this toy and they named it TINKERTOY. It was in 1914 that Charles and Robert FIRST introduced THE TINKERTOY CONSTRUCTION SET to the public. It was in 1914 that they first started to market this new toy, but, they were met with resistence at first. It was a hard sell in the beginning. It was only after they set up displays of their TINKER TOYS in Chicago Retails Stores that children could see the possibilities and the product started to sell. Soon the company began to take more orders than they could fill, and it quickly became necessary to move to larger facilities to meet the demand. 1915 was a very good year for The Toy Tinkers of Evanston, Illinois! From 1915 until 1929, the Toy Tinkers experienced a tremendous growth for the company, and their product lines. While the TINKERTOY construction set continued to be a keystone toy in their product line, they also created dolls, pull toys (OF WHICH THIS WHIRLY TINKER PULL TOY IS ONE OF THEM), bowling games, rattles, wood beads, flying toys, table games and more. Success smiled on the Toy Tinkers, and by 1929 they had incorporated the company (they became Toy Tinkers, Inc., Evanston, Illinois) and moved into a 65,000 square foot state of the art facility. This piece was made before they became incorporated and thus we know this piece was made prior to 1929. But, the stock market crash of 1929 was almost fatal for this company. People did not have excess money to spend on toys. They had to sell their building, downscale their operation and make difficult decisions. However, the company continued on into the 1930's, the 1940's and then World War II hit the company. This caused more struggles for the company. But, they survived and after World War II the country saw the Baby Boomer Generation being borm and with the influx of new children the TOY TINKERS OF EVANSTON, ILLINOIS HIT RECORD SALES AND PROFITS. But, one of the owners had passed away and the other owner was elderly and he decided to sell the company to A.G. Spaulding & Company who made TINKER TOYS a HOUSEHOLD BRAND. The company was sold a couple more times, but in 1989 Hasbro bought the company and put it under their umbrella of Toy Companies. Thus, this pull wood toy has a very interesting and glorious history. The marking on this toy is fabulous. Clearly shows the maker as the TINKER TOY OF EVANSTON, ILLINOIS.
Condition
There is a little wear on this toy, but overall it has been well preserved and in good condition.
Discover Items You'll Love